The University of Michigan Social Leadership team is an aggregate group of approximately 50 social media marketing/communications professionals. The team is comprised of one primary representative from each major school, college, campus (Dearborn and Flint) and university department. Social Leadership gathers bi-monthly to address the health of their channels, discuss best practice and receive strategic direction and guidance from UMSocial.
Collectively, social leadership oversees more than 1000 accounts, with a combined audience of more than 5,000,000: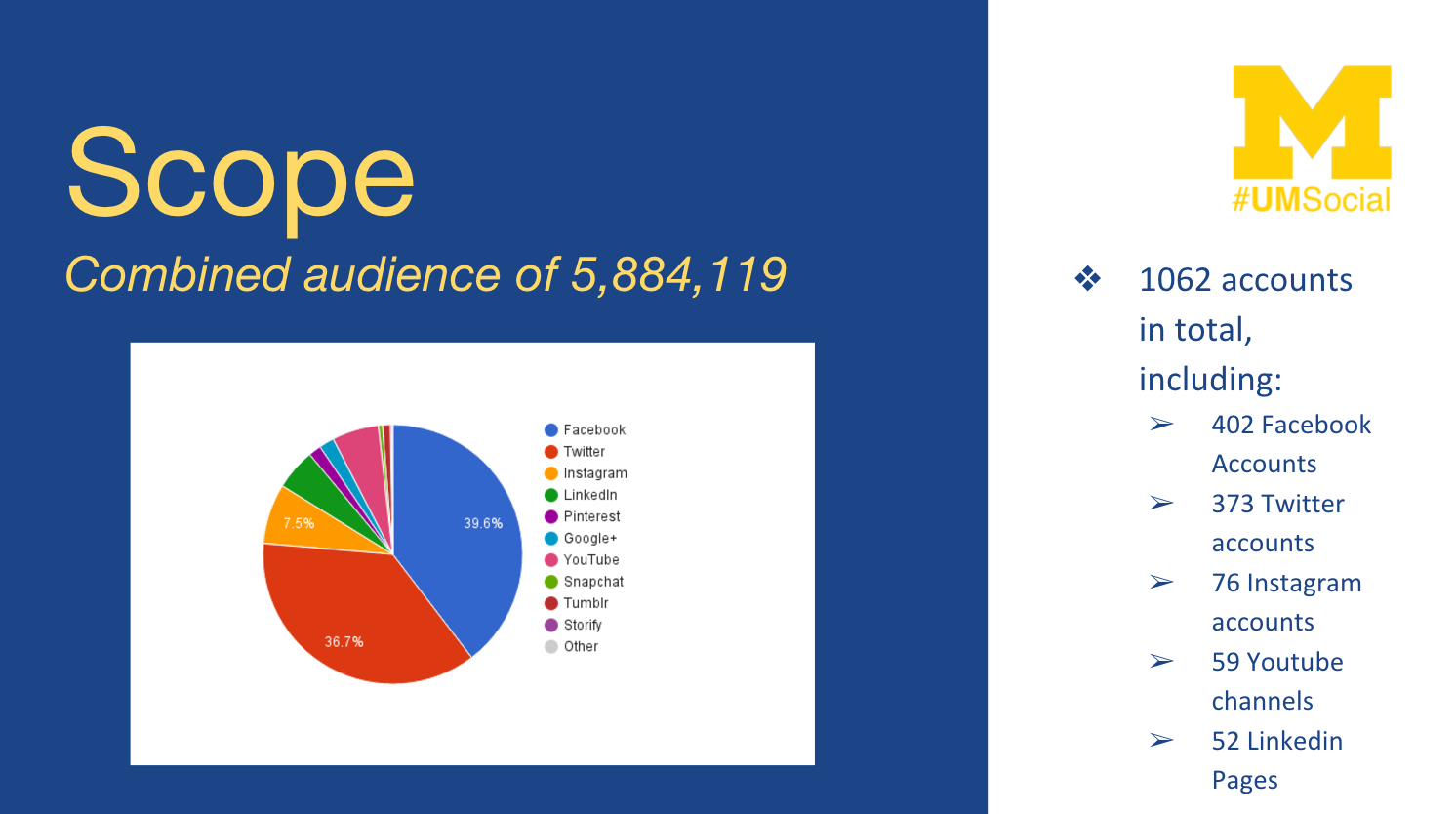 In 2016, content from University of Michigan Social Media perfectly exemplified creativity, knowing your audience, & real-time marketing. Our leaders leveraged current trends in technology and popular culture to produce relevant content that resonated with millions of diverse audience members across the world.
We asked Social Leadership to share their favorite piece of content from the year 2016 with us. Here's what they came up with:
Life Sciences Institute:  What a Scientist Looks Like
What A Scientist Looks Like

"There is no single clear-cut path to becoming a scientist. A scientist can come from any background. There is no cookie-cutter mold of what a scientist looks like. A scientist can look like you, or can look like me." That's what science writer Allie Wilkinson wrote about her This Is What A Scientist Looks Like project, which she started in 2012 to challenge stereotypes.The LSI's video and photos were inspired by her effort, by Fermilab's Who's the Scientist? — which asked seventh graders to draw and describe researchers before and after a visit — and by U-M President Mark Schlissel, who stresses that our dedication to academic excellence is inseparable from our commitment to diversity, equity, and inclusion.

Posted by University of Michigan Life Sciences Institute on martes, 6 de diciembre de 2016

This video exemplified the LSI's goal of shifting perceptions of who can/should be a scientist, while simultaneously highlighting the diversity that exists within their department. With support from paid promotion, it quickly became their highest-performing post of all time. Additionally, this video was re-tweeted several times by the Association of American Universities. 

---

Michigan Research: The Future of Mobility #UMichChat

---

School of Music, Theatre & Dance: You Belong Here

---

Innovate Blue: Made at Michigan
---
 School of Nursing: Mannequin Challenge
It's the #MannequinChallenge with real mannequins when University of Michigan School of Nursing students take on the challenge!

Posted by University of Michigan School of Nursing on martes, 22 de noviembre de 2016

The School of Nursing's mannequin challenge exemplified real-time marketing by incorporating a relevant trend into their social strategy. They made the smart strategic decision to involve current students, thereby leveraging their networks to optimize reach. The results were strong: 800+ Shares and 128k video views.

---

U-M Flint: 60th Anniversary Facebook Live: 

The U-M flint social media team live-streamed an on-campus 3-D projection for their 60th anniversary celebration.  Though this was Flint's first Facebook Live video quickly became their highest performing content of the year, receiving more than 46,000 video views and 6,840 engagements.

---

U-M Libraries: Digitized Islamic Manuscript Collection

---

College of Pharmacy: U.S. News and World Report Ranking

---

College of Engineering: The See Through Battery

---

Michigan Medicine: SMTD Students Bring Disney Magic to Mott Children's Hospital

This heartwarming video showcased meaningful collaboration across departments (Mott and SMTD), and uplifted the audience. After strong initial engagement, the story was picked up by both MLive and The Ann Arbor News. This media attention led to a famous broadway personality connecting with Christina, the video's star. The video received 8,000+ views on Youtube after debuting on FB, where it generated 6.1 million impressions and 60,000+ reactions, comments and shares.

---

Alumni Association: Let It Snow!

Capping off a Michigan Football victory with some "Let It Snow." What a day. #GoBlue

Posted by Alumni Association of the University of Michigan on sábado, 19 de noviembre de 2016
A prime example of real-time marketing, the alumni association, capitalized on the popularity of Facebook Live to maximize the exposure of their content. Their efforts were successful- this video reached nearly 1,000,000 with 430,000+ video views and 3900+ shares.
---
School of Kinesiology: Jumpman Sparks Class Collaboration
---
Office of Undergraduate Admissions: Victors Magazine Direct Mail Campaign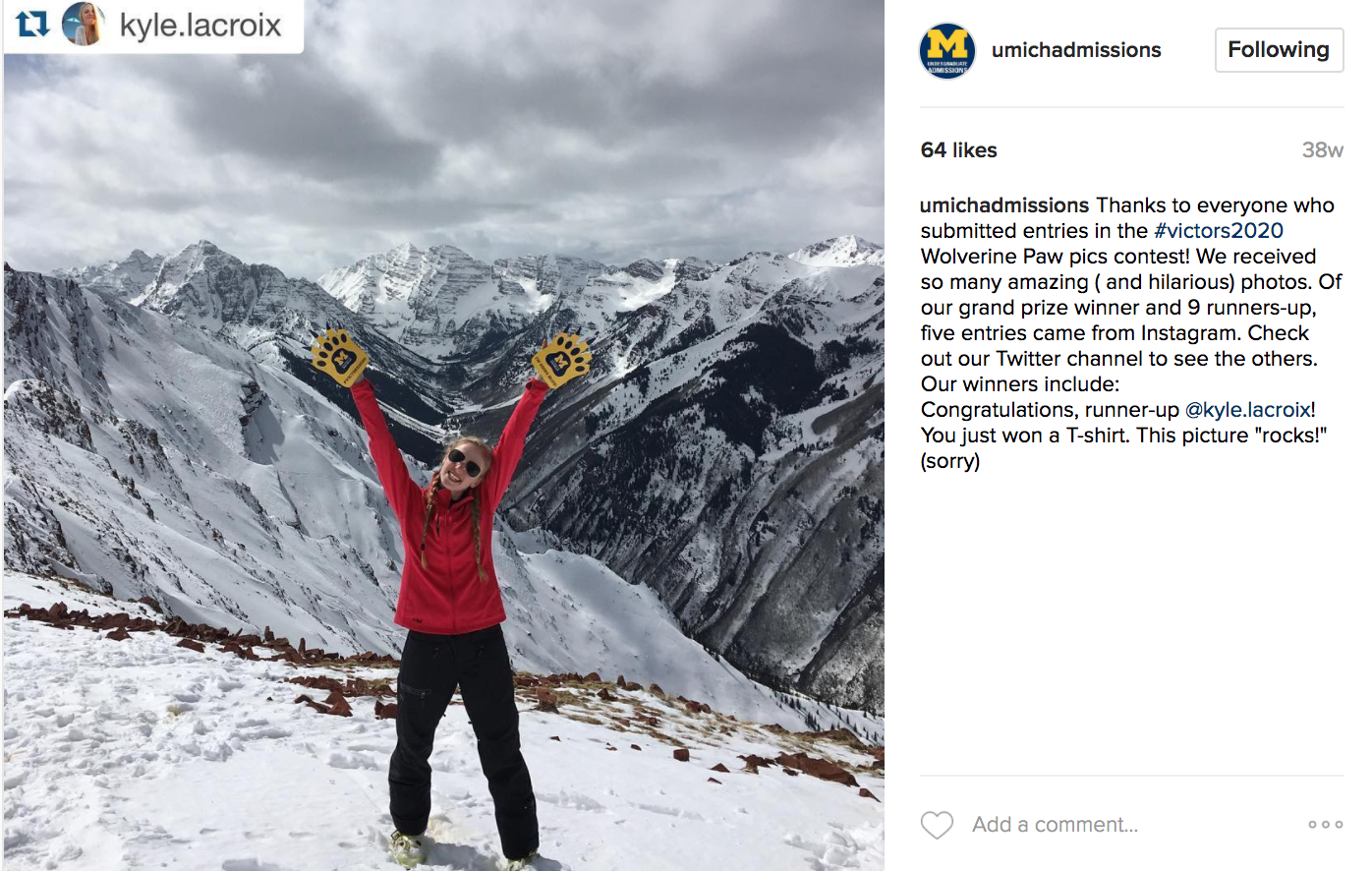 The Office of Undergraduate Admissions solicited contest entries via direct mail and social media.  They ultimately received more than 60 entries from freshmen & transfer students from every school and college. This campaign created a sense of school spirit even before the #victors2020 arrived on campus for orientation.  
---
Ford School of Public Policy: Jesse Jackson Symposium 
The Ford School reached a younger, civically engaged audience by promoting event via Snapchat story and a custom geofilter. They also leveraged content delivery trends by live-streaming the event on Youtube and their website, and live-tweeted event to amplify messaging. They also created and criss-promoted event trailers on Youtube and Facebook, using paid support to maximize reach.
---
Rec Sports: IM Building Re-Opening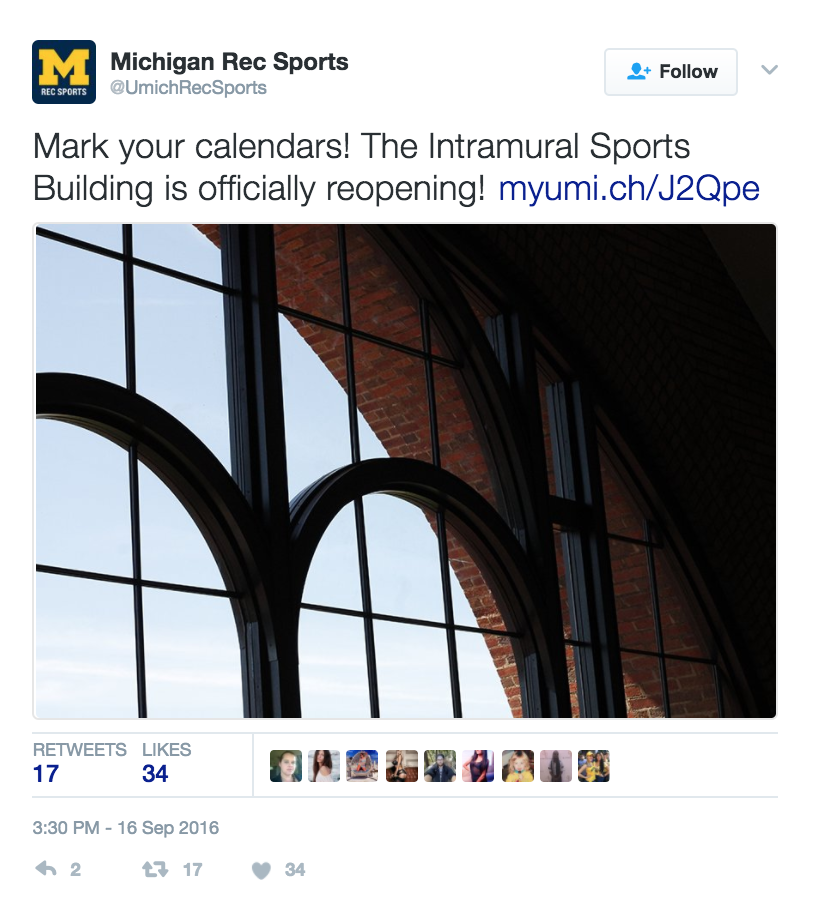 ---
DI&E- Strategic Plan Announcement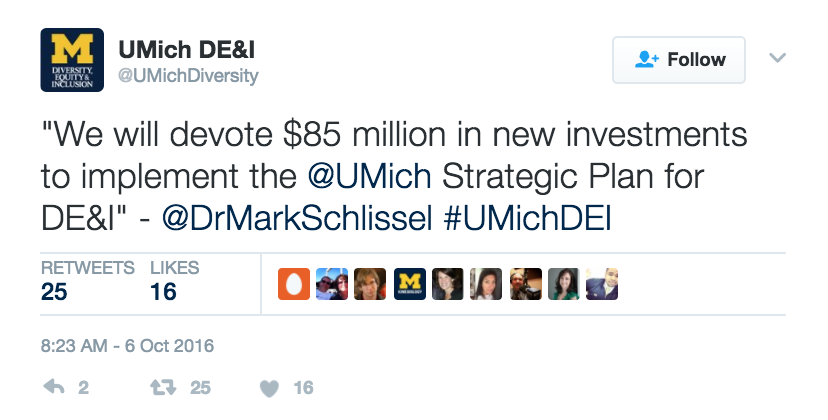 ---
Michigan Dining-Random Acts of Kindness

---
Ginsberg Center- I Am Social Change Instagram Takeover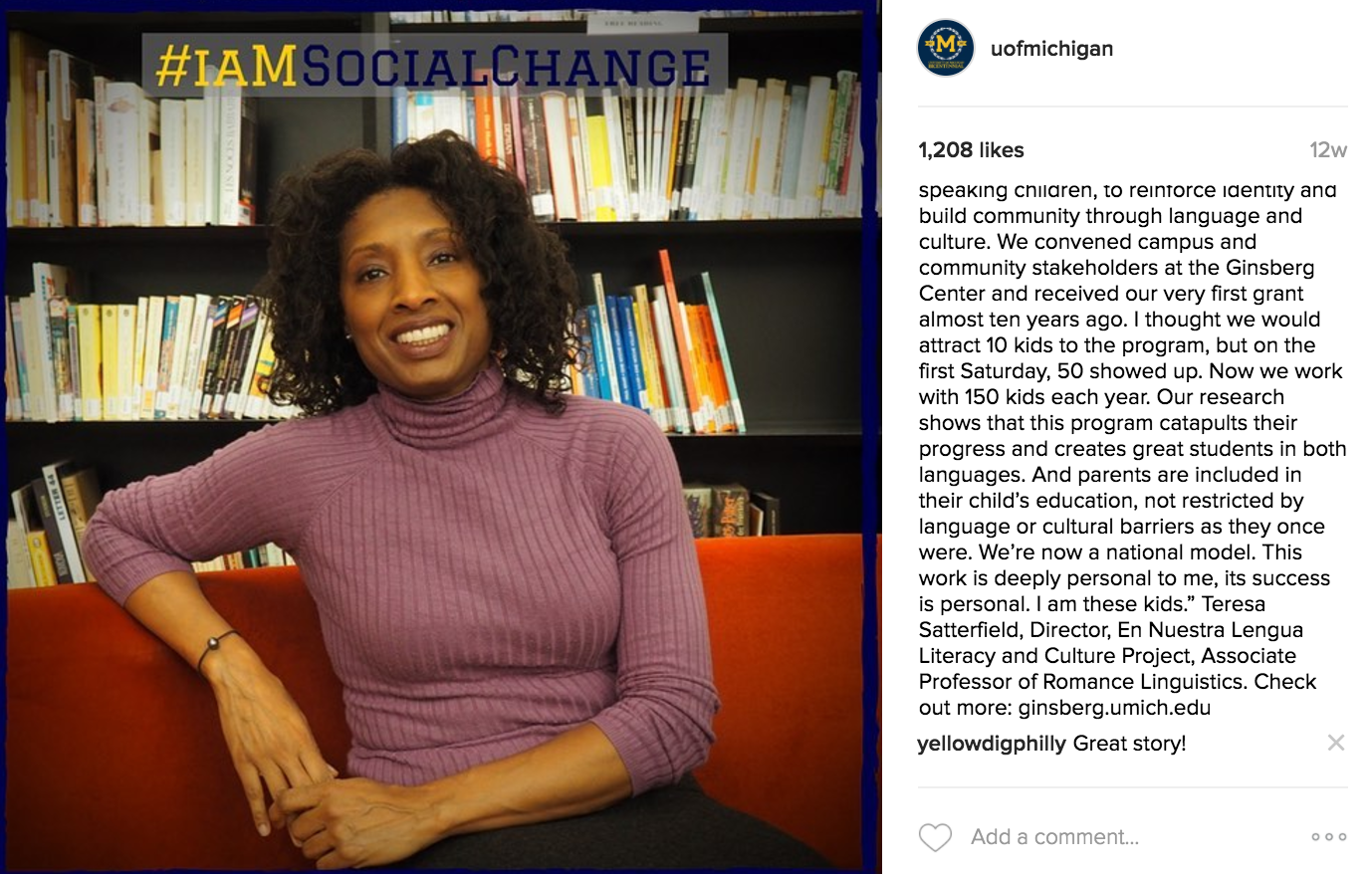 ---
School of Natural Resources and the Environment- Giving Blueday
---
Rackham Graduate School- #IChooseUMich
The Rackham communications team created an interactive map that showcased the diversity of disciplines and backgrounds of Rackham students. Each point on the map corresponded to the hometown of an admitted student. To be included on the map, students were required to post to social media with the hashtag #IChooseUMich
---
Ross School of Business: We Crunched the Numbers 
The social team at the Ross School, capitalized on popular 'listicle' format to share data about Ross and present metrics/accolades in engaging way. On Facebook, their 'We Crunched the Numbers' promotion earned a post reach of over 100K- 5X greater than their audience size. Additionally, this was their most visited blog post of the year. Finally, they witnessed a 22% increase in downloads of the Ross Careers PDF after this campaign was released. 
---
Michigan Athletics: HAIL Michigan Microsite Launch
This cross-platform promotion of the HAIL jordan microsite generate huge engagement. The announcement recieved 41,135 video views on Twitter, 217,112 video views on Facebook and 381,908 pageviews on the microsite itself. The highest page referrals were from direct links, Facebook, and Twitter.
---
Business Engagement Center: Jeff Gordon Visits U-M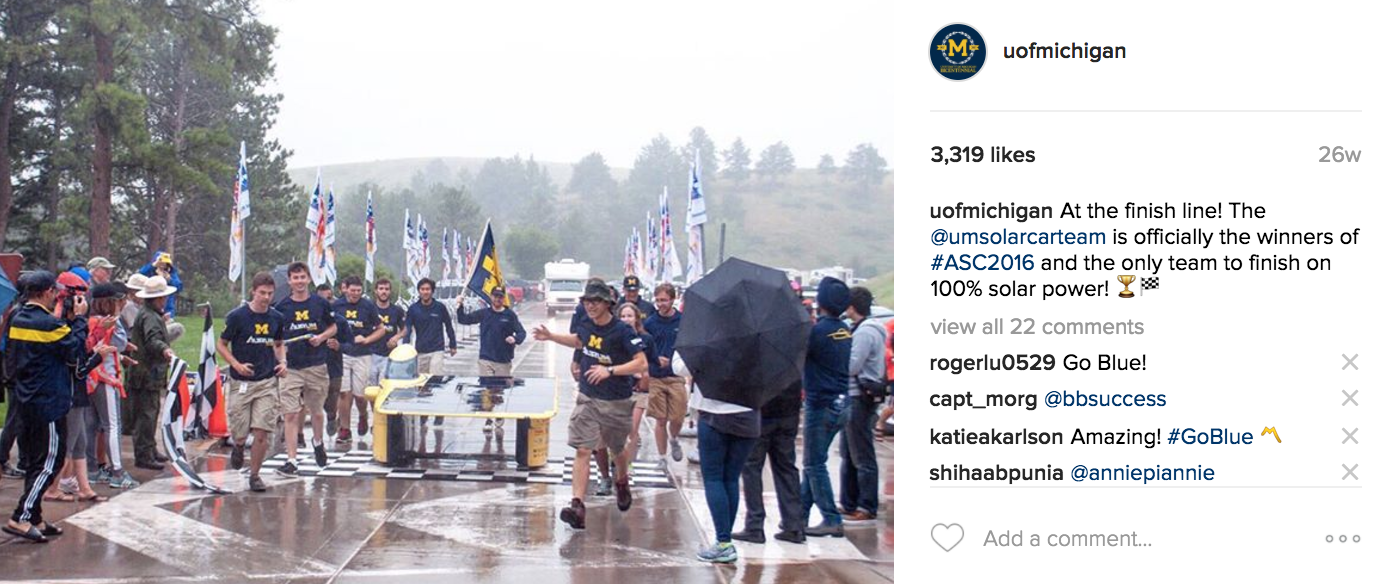 ---
Taubman College of Architecture of Urban Planning- The Case for Regional Transit 
---
School of Public Health- #SPH75
---
For a comprehensive look at individual performance metrics for these campaigns, click here.