Any Given Day
Any given day at #UMSocial is an adventure in itself. I found that my go-to answers for the recurring question "What do you do every day as a social media specialist?" is either "A little bit of everything" or "My best." After all, every day was its own adventure. I'll always remember March 13, 2018 in particular as very bittersweet day.  On one hand, it was my last day in the #UMSocial office—and on the other, Star Wars Episode VIII: The Last Jedi was released on Digital HD. So we'll call it a wash. March 13 was rather quiet: it was just me and our social media manager, Charlotte, in the office. After she left for some meetings on campus, it was just me…and the stray boxelder bug that always managed to somehow find its way in. I was wrapping up a few projects, transferring my files to an external drive, and organizing my desk for whoever ended up sitting at it next.
A New League: The Director and The Jedi
After eating dinner with my laptop open—displaying email windows, a half-finished Photoshop project, and a list of things that still needed my attention—I decided to take a break.  I opened up iTunes, anxious to dive into some of Episode VII's special features and behind the scenes videos.
What I found was a documentary entitled The Director and the Jedi. The 1 1/2-hour doc featured a detailed look at TLJ's director, Rian Johnson, and his production crew's journey in filming their first blockbuster movie. For those who are unfamiliar with him, Johnson is most famous for writing and directing such films as Brick (2005) and 2012's Looper, and for directing a few episodes of AMC's hit drama, Breaking Bad. Although he is a competent director with a library of critically acclaimed work, Johnson's foray into the Star Wars saga dwarfed his other projects.
The Director and the Jedi paints a clear picture of Johnson and his team's mixed emotions of excitement and anxiety, glee and fear. And watching the opening of the documentary at my dinner table, I could relate to his journey. Here was a man who was no stranger to the film industry. He had a strong portfolio of work and a solid understanding of his craft. Regardless of that, he was nervous about taking on the mammoth task of creating the next entry in one of the largest and most beloved franchises in the history of cinema. Johnson wasn't just directing a film: he was also shouldering the (unrealistic) expectations of millions of fans around the globe. He was accepting responsibility for the next installment of one of the most beloved franchises in history. Johnson and his producers were heading into uncharted waters. Now I have never done anything of that magnitude, of course, but Johnson's journey from Brick to Star Wars wasn't unlike my own jump from freelancing videographer to content specialist at #UMSocial.
I spent a year and a half as a social media intern at The University of Toledo and another year and a half freelancing, taking on local video and social media clients after graduation. I was comfortable producing videos, scoping out projects, and managing branded social accounts, but having all of that experience didn't make me any less nervous about becoming the sole visual production specialist at #UMSocial. I wasn't unsure about my abilities to create content: I had been doing that for years. I was worried about pleasing the audience of 10+ million fans and followers that U-M had accrued across its social accounts. There had always been a certain air of prestige to the work done by #UMSocial. There's this magical je ne sais quoi. During my time at UT, our content team looked up to the pioneering work U-M was doing in the social space. We admired their presence, and took inspiration from their inventive content. Much like Johnson's love for Star Wars, I was a huge fan of U-M's social presence and their team. Stepping into a role on that team was just as frightening as it was exhilarating.
Uncharted Territories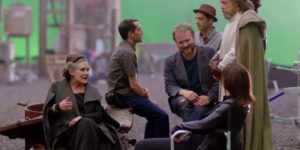 Just as Johnson was stepping up to helm an installment in the iconic Star Wars franchise, I was suddenly made responsible for creating content for a brand that MILLIONS of people LOVE! I'd be lying if I said that I wasn't just a little bit nervous. Sure, I knew how to shoot and edit videos. I knew how to design visual content for web and social use. I had years of experience managing social accounts on behalf of brands. Hell, I had even worked in higher education communications. But stepping into this role was somehow different. I was playing in a new league. People felt strongly about the content we were creating at UT, but people BLEED maize and blue. Michigan fans are passionate, and here I was, on a small team charged with talking directly to them. The stakes were higher than they had been in my past positions and were made even higher given that, at the time, I was the only person on the team with any experience in video production, photography, or graphic design.
The initial nervousness wore off quickly, replaced by a sense of ambition. I didn't have time to think about the "what ifs" and how I was going to make a handful of graphics for a Twitter campaign, write up a report, script a Halloween video, organize an upcoming shoot, and make a few GIFs all before tomorrow. Sometimes I barely had time to think at all. I knew that I just had to press forward, and believe in what I was creating. Johnson showed the same determination on set during principal photography. His producer and friend, Ram Bergman, spends much of his screen time in the documentary talking about just how crazy the production schedule was, and voiced his concerns about getting everything done on time. Despite the seemingly impossible task of staying on schedule and on budget, Johnson's team kept pushing forward, confident in their vision and ability to get everything done.
Of course, there were still nights of panic, and moments where I was sure I'd made a mistake that might cost me time and energy I didn't have—but I just had to power through and keep problem-solving on the fly. Johnson and his production staff were also working on the fly, even though a budget of $200 million and a staff of hundreds often make that easier.  But that's just the nature of any creative job. You do your best and use the skills you have to overcome one challenge, then the next, then the next, until the project is finished and everyone is satisfied with the outcome. Before my time at U-M I was blessed to have professors, friends, and coworkers who handed me the camera during big productions, who asked me to edit important projects, and who challenged me to keep solving my problems creatively in order to keep getting better. People who mentored me, and taught me and believed in me. I was able to learn and grow by relying on them to have my back and save the day if something started to go wrong. At #UMSocial, I learned how to believe in myself. For the first time in my life, I was on a team that was relying on me.
It's a WRAP!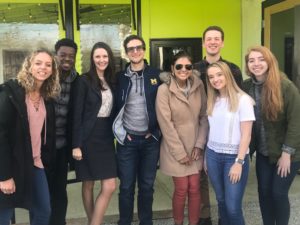 It took me a few days to finish up The Director and the Jedi. I would pop in for a few minutes here and there between projects, or just before bed while I was winding down. The film ends with a short interview clip of Johnson, which perfectly captures my feelings departing from the team at #UMSocial: "Every day there's always a moment in the day where I feel sad that it's going to be over. Like a real moment where I think, 'Oh, we're going to wrap.' It's going to be here before I know it. I'm literally having the time of my life. Someday this war's gonna end. Not the Star Wars of course. That'll go on forever. But this…you and me, we'll go home someday."
This job—which I really poured myself into, which kept me up late into the night editing and got me out of bed at the crack of dawn on frozen Michigan mornings— was something truly special. Despite how challenging it was to keep up with the workload and meet deadlines some days, how tough it was not being able to pass the camera off to someone else when I was feeling tired or sick, and how consumed by work my life often became, it was an experience I wouldn't trade for the world. Every day I got to do what I love. I was part of a team of incredible people. I got to see amazing things. I shot a ton of footage. And, of course, I learned a lot about myself as well.  Those good things made it all worth it. I appreciate having had the opportunity to be a part of this social machine. I will remember it fondly when I look back in all of my future endeavors.
I'll always be social. And you can bet I'll stay social.
Thank you, and may the force be with you.
Post written by Connor Titsworth, (Former) Social Media Content Specialist at The University of Michigan.