Music provides a backdrop for our everyday experiences, helps us remember significant moments in time, and can both lift our mood and provide us solace. Whether it's a bike ride to class, a night out with friends, or an all-night study session, music is present to create a soundtrack to our lives.
With that in mind, the University of Michigan is thrilled to launch the very first university-wide verified Spotify account. By leveraging the robust listening library of the popular music streaming service, we aim to engage its 100 million+ active users and connect with our students and stakeholders in a new and unique way.
Music sharing and discovery make up a large part of the college experience. In fact, Spotify recognized the pivotal role of music in collegiate culture in an article exploring music consumption:
"Universities have long been musical hotbeds, as generations of students find much of the music that will stay with them for the rest of their lives. There's a great deal of music being played at college in general, a lot of which is formative listening. From the library to the gym to the party, and even to bedtime, college life often features a soundtrack."
#UMSocial's previous success applying strategic brand-related content into emerging platforms, like Snapchat and Yik Yak, have demonstrated the importance of meeting your audience where they are. Spotify provides us with a similar opportunity to adapt audio resources and integrate content into a network of branded U-M channels.
By collaborating with units, individuals, and organizations campus-wide, we can offer listeners everything from a research-based podcast by a prominent professor to a curated list of top hits from everyone's favorite football coach.
#UMichMixtape
A weekly playlist where students, faculty, and staff share their favorite beats. This week's playlist is curated by Michigan Men's Glee Club President Patrick Kiessling:
Good Vibes
When words fail, music often speaks. U-M's Counseling and Psychological Services offers the Good Vibes playlist. Not only does this playlist include songs to put anyone in a good mood, the playlist description includes the number for the CAPS support line.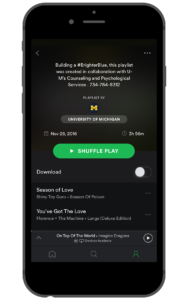 Dad Rock by Michigan Football
We went straight to U-M Athletics to get this mix of 'dad rock' favorites to get you pumped up before a game.
User Engagement
In addition to providing an extremely popular music streaming service, Spotify has revolutionized online customer service. The @SpotifyCares Twitter account uses music to engage with its users. When a user interaction lends itself to a storytelling opportunity, Spotify Cares will create a custom playlist:
@KAFygi Just gives us a shout if there's any way we can help. We made you a playlist to say thanks: https://t.co/KVljXf3Jon 🙂 /L

— SpotifyCares (@SpotifyCares) November 24, 2016
Allowing our account to evolve and continuing to expand our strategies for interacting with stakeholders means we can provide a more personalized and engaging user experience. We look forward to optimizing our account to maximize the capabilities of the platform and partnering with our listeners to introduce uses for the platform we haven't considered.
Have an idea for how we could use Spotify? Contact us at umsocial@umich.edu.
This post was written by @JamesWilsonR, content specialist at #UMSocial.
Edited copy by @NikkiSunstrum, Director of #UMSocial.