Working closely with stakeholders has tremendous benefits to UMSocial and Public Engagement to ensure that a wide array of information is shared from a variety of areas within the institution. Through the addition of a new shared role on the UMSocial team, a dedicated social content specialist who also works with the School of Education, School of Information, and School of Social Work has allowed for more unique voices of stakeholders to further elevate knowledge. 
Through faculty research, relevant news, and narratives highlighting the innovative ways the schools are leaders among their institutional peers, key messages are delivered to audiences daily.
Here are some of the highlights of the successful strategies and promotions in 2021, the first year of this shared role: 
SCHOOL OF EDUCATION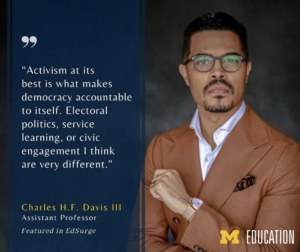 The University of Michigan School of Education saw consistent growth throughout their social media channels through the year — the Facebook audience increased by 3.9%
, Twitter followers increased by 4.4%, and Instagram followers increased by 9.8%. Community members within the School of Education remained highly interactive on social media as engagements on the Facebook page increased by 8.3%, Twitter engagements increased by 1.2%, and Instagram engagements increased by 14%. Impressions also grew by 25.1% on Facebook, 2.6% on Twitter, and Instagram by 21.4%.  
The  School of Education had several larger social media projects this year. 
Alumni Features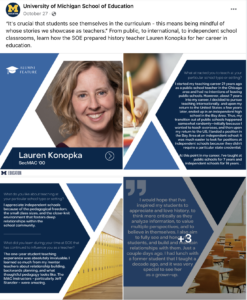 Alumni Features highlights graduates who demonstrate the SOE values as an educator. In collaboration with the Career Services team within the School of Education Office of Student Affairs, social media posts were created to inform prospective students about career opportunities in education. The individual Alumni Features were created as a carousel of graphics that display a brief summary of the alum's work and advice about getting into the field. 
Centennial Stories and Conversations 
In recognition of the School of Education Centennial, stories of the school's history and significant events were shared throughout a series of features published weekly. The hashtag #UMichEd100 was used on all social media channels to engage with the audience, SOE community members, and partner organizations. As part of the celebrations, the Centennial Conversations series was created to engage the SOE community in virtual sessions featuring faculty and alumni experts who address critical questions that are important to explore as the school strives to make education more equitable and just. 
Awards, Grants, and Research
The School of Education's social media audience and community members were highly engaged in content regarding the success of people within the SOE community. The promotion of awards, grants, and research on the school's channels received positive engagements. The community were invited to join the conversation using the hashtag #SOEproud to demonstrate their accomplishments or congratulate other SOE community members.
Faculty Ne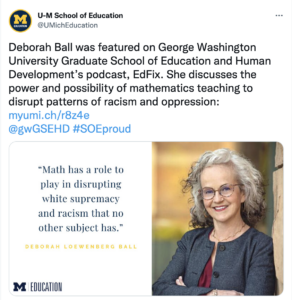 ws and Media Quotes
School of Education faculty members are frequently featured in external media. Quotes by SOE faculty members and important research that has been cited by news outlets are promoted on the school's social media channels.
Dissertation Defense and Doctoral Announcements 
The School of Education's social media audience engages robustly with content about SOE doctoral candidates. To celebrate their achievements, doctoral students are featured on the school's accounts in a post that shares their dissertation information and uses the #SOEpround hashtag. 
SCHOOL OF SOCIAL WORK
This year, the University of Michigan School of Social Work expanded their audience on all social media channels with a 7.4% increase in Facebook following and a 7.8% increase in Twitter following in comparison to the previous year. The School of Social Work also celebrated its centennial this year, with many social media projects targeting audience constituencies  throughout the community, including a podcast series and alumni awards. These projects embraced the school's mission of developing a more equitable, caring, and socially just society by showcasing faculty research, alumni achievements, and students who have made significant contributions to the community.
These were some of the significant social media projects  from the School of Social Work this year:
Research Discoveries
School of Social Work researchers develop solutions to society's most difficult challenges. This work is shared with the school's community through Research Discoveries, which features timely research from faculty within the school. In addition to the website, the School of Social Work highlights these discoveries on their social media channels.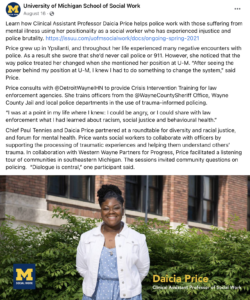 ONGOING Magazine
The ONGOING Magazine is published twice annually, showcasing individuals within the school who are demonstrating leadership and innovation in the field of social work. The Spring 2020 issue of ONGOING included three main features: "Teaching Law Enforcement: New Ways to Engage", "Run for Office", and "Building Relationships to Reduce Poverty".  These feature stories were shared on Facebook and Twitter to expand the reach of the important research findings, lessons, and community involvement of U-M Social Work.
Centennial Distinguished Alumni
The School of Social Work's Centennial Distinguished Alumni Award recognizes alumni whose achievements exemplify the values of the school, and those who have made an exceptional impact on the profession, the community and/or social work education. By sharing the news of achievement and stories of the alumni on the school's social media, the audience engaged with the content. The inspiring stories and work of the award recipients were highly received on the school's channels.
Oral Histories (Centennial)
In celebration of its centennial, the School of Social Work produced a podcast series called Oral Histories, in which Social Work community members were invited to share first-person narratives of their experience. These stories were shared on social media, with illustrations of the storyteller and a link to the podcast episode. Over 30 community members within the school shared their experience.
Trauma-Informed Programs and Practices (TIPPS)
TIPPS is the School of Social Work's Trauma-Informed Programs and Practices, which translates research and shares strategies that help students realize their potential and become more resilient to the effects of trauma. Key features of TIPPS were shared with the School of Social Work's social media audiences to inform educators of trauma-informed teaching practices, and aim to create safe and inclusive learning environments for all students.
DEI Impact Awards
The School of Social Work's Office of Diversity, Equity and Inclusion established the Award for Impact in Diversity, Equity & Inclusion to recognize individuals or groups who have made significant contributions to advancing diversity, equity and inclusion in the school or in the community. This year's recipients were featured on the school's social media channels to highlight the leading and innovative work being conducted.
SCHOOL OF INFORMATION
In 2021, the School of Information created a LinkedIn account to share faculty news, promote the school's innovative research, and connect with UMSI community members. The LinkedIn account saw immense growth in its first year — 8,010 followers, 9,00 engagements, and almost 200,000  impressions. UMSI also saw increases on all other social media platforms: Facebook followers increased by 2.3%, Instagram followers increased by 8.8%, and Twitter followers increased by 17.6%. The school reached a milestone on Twitter, surpassing 1.5 million impressions, which was an increase of 15.2% from the previous year. UMSI also saw a 48% increase in impressions on Facebook and a 3.1% increase on Instagram. Engagements grew 26.1% on Facebook and 25% on Twitter. 
Featured below are some of the School of Information's primary social media projects of this year:
Alumni Spotlights
UMSI features former students who are using their education to conduct industry-leading research or pursue a unique career in the field. Through the Alumni Spotlights, individuals provide details on how their degree helped them get to where they are now in their careers, and offer advice to prospective students who are interested in the information science industry.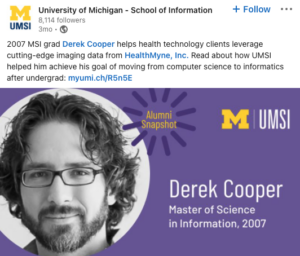 Faces of UMSI
The Faces of UMSI project highlights current students, giving the audience an inside view of what it is like to be a UMSI student. Other students and alumni often interact with these posts to support their peers in their studies.

Faculty News and Media Quotes
Faculty within the School of Information are consistently developing world-class technologies and designs that capture the attention of major media outlets. When faculty are mentioned in the media, UMSI shares the information and research with their community through their social media accounts. These timely news pieces give their audience insight into groundbreaking innovations and research being conducted by  faculty.
#DataBytes 
Brief and industry-relevant news shared through infographics help keep audiences engaged and updated on important updates within their field. The hashtag #DataBytes represents these small, digestible pieces of information.