On February 16, in collaboration with Michigan Medicine and the U-M Adolescent Health Initiative, UMSocial facilitated a Facebook Live #UMichChat Panel that addressed the topic of digital dating abuse.This chat was inspired by the work of Quyen Epstein Ngo, a research assistant professor in U-M's Department of Emergency Medicine. Epstein-Ngo is a licensed clinical  psychologist with specializations in substance use and violence and trauma. Her current research at U-M has earned her a career development award from the National Institute on Alcohol Abuse and Alcoholism, which has allowed her to develop technology-enhanced interventions to reduce co-occuring instances of violence penetration and alcohol use among teenagers.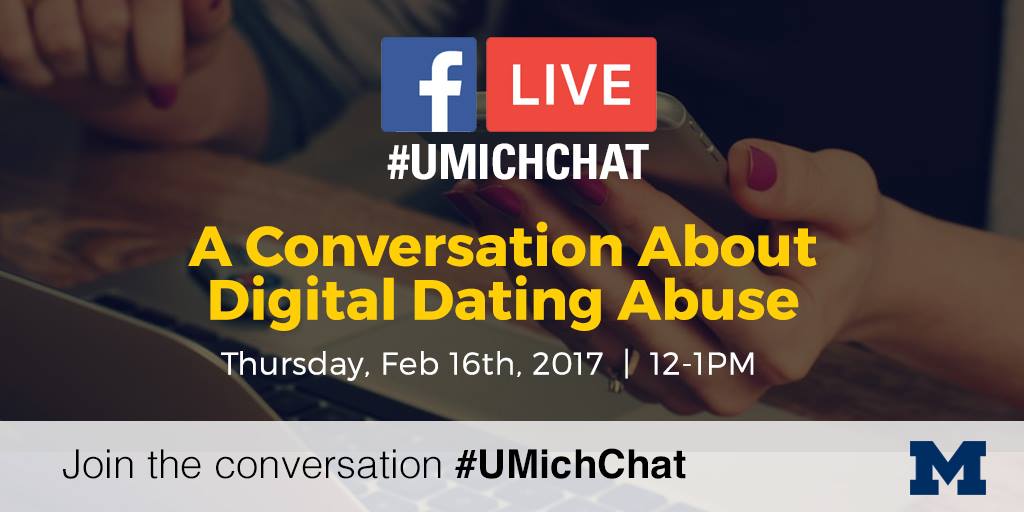 Epstein-Ngo served as the host of this chat, and was joined by two of her undergraduate research assistants, Nyla Hart and Devin Lovegrove. Over the course of the half-hour, our three panelists discussed this important topic through the lens of current research and trends. Along with sharing the findings from and implications of recent U-M studies, they also spoke about instances of digital dating abuse behaviors that they or people they know have experienced in real life. Toward the end of the livestream, our panelists answered user-generated questions from our audience members:
This brief yet illuminating conversation generated a significant amount of engagement. At its peak, this chat had 221 unique viewers. In total, more than 14,000 people tuned in at some point during the livestream. Between those viewers and their social networks, the post with the livestream reached an estimated audience of more than 80,000 people. Finally, the video generated over 200 reactions, comments, and shares.
This chat was also the perfect way to promote the upcoming Conference on Adolescent Health, which will feature dozens of prominent scholars and practitioners in the field. Epstein-Ngo will be there presenting her research. at the conference, which takes place April 24 and 25 at the Ann Arbor Marriott in Ypsilanti. View more event details here.
For more information about the Adolescent Health Initiative and their work to advance adolescent centered healthcare, you can visit their website.
If you missed this #UMichChat, you can re-watch the entire conversation on our Facebook Page. We hope you'll join in for next month's installment!
As always, #StaySocial and #GoBlue!
This post was written by Sarah Barnitt, UMSocial Senior Intern. #StaySocial with her on Instagram and Twitter @SarahBarnitt