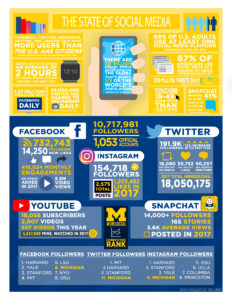 The UMSocial Top 5 :
1. Happy 200th Birthday
On August 26 U-M officially celebrated its yearlong 200th birthday! The "Happy Birthday" video was shared on our Facebook page, quickly becoming a top-performing post. Overall, the post received a total of 112,916 views and a reach of 396,378.
2. 2017 Holiday Video
UMSocial collaborated with Michigan Dining, Planet Blue, Dicks and Janes A Capella Group, the Wolverines Trooper, The Ann Arbor Violin Monster, The M Den and the University of Michigan Athletics to bring back the Ann Arbor elf to spread some holiday cheer to students and faculty during exams. The video generated a total of 65,831 views in its first four days. 
UMSocial launched a new weekly video series in November called "Campus Convos," where we dive in and engage directly with students every week on hot topics and events on campus. At UMSocial we try to immerse ourselves in the everyday lives of U-M students, so we have a better idea of what they're interested in. We make it a goal to understand the students and engage with them directly, motivating them to do the same with our content.
The significant impact of social media on present-day society presented a unique opportunity for UMSocial to engage our online audiences to join us visually and virtually to celebrate the bicentennial. In partnership with many campus organizations, we asked students, staff, faculty, friends, and fans to mark this moment in history through user-generated photo submissions. The nearly 10,000 photos were printed and curated into a 5ft by 8ft mosaic art piece that will be hung on campus and enjoyed well into our third century.
5. Houston We Have A Wolverine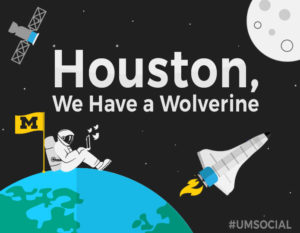 UMSocial intern Peter Schultz spent two days in Houston, Texas representing #UMSocial at a #NASASocial event. NASA had tweeted a call to action, looking for social media users with the potential to 'reach a large number of people using digital platforms.' Peter documented his time in Houston by using a combination of Instagram posts and stories, Snapchat stories, and the @UMichStudents Twitter account to craft an informative and entertaining narrative.
Other UMSocial 2017 Highlights:
1. #UMich200:
With UMich celebrating its 200th year, we worked with the Bicentennial Office to publish tweets every weekday at noon with the hashtag #UMich200 throughout the yearlong celebration. The five stories provided to us each week showcased key moments in Michigan's history. The tweets got exceptional responses and engendered a sense of nostalgia. 
2. Poverty Solutions Facebook LIVE with President Schlissel: 
On January 17, in partnership with U-M Poverty Solutions, we hosted a particularly special Facebook LIVE #UMichChat featuring President Schlissel. U-M had just announced a significant investment in the Poverty Solutions initiative that would support new research from U-M faculty and amplify the efforts of community partners in and around the city of Detroit. This chat was the perfect way for stakeholders to discuss the implications of the investment and the opportunities it will provide. Schlissel, who explained the initiative's broad vision and the role of the university in developing community-based solutions to ameliorate poverty was joined by five other panelists who represented important voices from the initiative's academic and community partners. This chat generated a great deal of engagement thanks to a cross-promotional strategy that advertised the chat via UMSocial, Michigan Medicine, School of Public Health, and the Institute for Healthcare Policy and Innovation. Overall, it had a reach of over 200,000 people by the end of the half-hour livestream.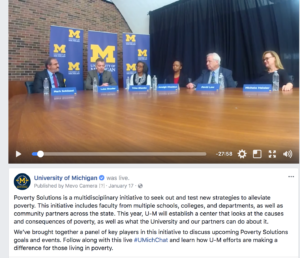 3. Detroit Tigers Snapchat Collaboration:
In January, the Detroit Tigers made a stop at the Big House as part of the 2017 Winter Caravan. The players toured the stadium and met U-M baseball and softball players. We were there to witness the team members gifting President Schlissel with an honorary Tigers jersey with the number 200 in honor of the university's bicentennial celebration. Given that many U-M students are Tiger fans, it was one of our highest view counts of the month, receiving nearly 6.5k views at its peak.
4. U-M Men's Basketball Wins Big 10 Championship:
Wolverine pride was monumental in March, as the Michigan men's basketball team won the B1G championship and advanced to the Sweet 16 in the NCAA tournament. The top four March Madness-related Instagram posts received a combined total of 38,208 engagements.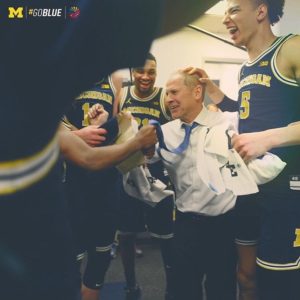 5. The Spirit of Detroit: 
Our photo album of the Spirit of Detroit decked out in #UMich200 gear reached over 280,700 people and received more than 8,800 total engagements.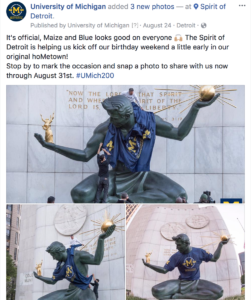 6. September 11 Memorial Carillon Performance: 
UMSocial livestreamed Assistant Professor of Music and U-M carillonneur Tiffany Ng performing a reflective recital of September 11 memorial works in Burton Tower. The livestream was extremely successful and had 70,242 views and a reach of 214,748. It was a touching commemoration of the events of 9/11 that showcased an often-heard (and often-overlooked) campus treasure.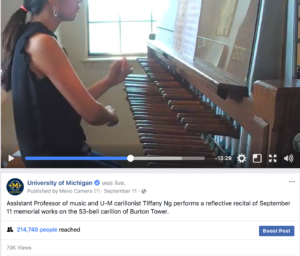 7. "Out of the Tunnel" On Spotify: 
In September, we launched "Out of the Tunnel," a new playlist series created in collaboration with Michigan Athletics. The playlist features all the songs played in the Big House, updated after each home game!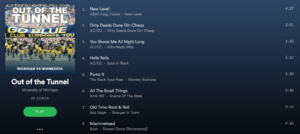 8. UMSocial Introduces a Weekly Blog:
In September we launched a new weekly blog series. Every Friday we publish a blog that focuses in on topics related to social media, including trends, tools, tips and tricks, and timely news. Our most popular blogpost so far has been "Breaking Down Net Neutrality," with 302 views.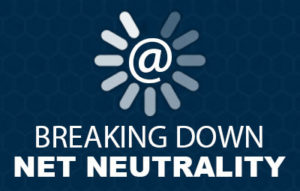 9. 2017 Halloween Video: 
In collaboration with Michigan Athletics, UMSocial created a branded Halloween video, which paid homage to the popular "Stranger Things" series and the recent release of the remake of the horror movie IT.  The video also conveyed a "Stay in the Blue" safety message for students celebrating Halloween. The video generated a total of 52,634 views. 
10.  Wolverine Waldo Instagram Campaign:
In November we introduced a new Instagram series called #WolverineWaldo, a campaign that leverages the popular Where's Waldo? puzzle books.  The photos feature the University of Michigan's very own "Waldo," sporting maize and blue stripes in various locations around campus. For this campaign, which brought out a sense of nostalgia in many students, UMSocial focused on creating engaging and whimsical content that encouraged the students to have fun while showcasing campus from a new and interesting perspective.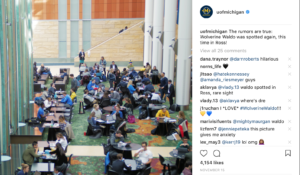 11. Snapchat Takeovers:
Weekly collaborations have continued with Arts & Culture and LSA. Meanwhile,  Snapchat got a bit of a makeover in 2017 with the introduction of Wellness Wednesdays, where faculty, staff, and students from the School of Public Health take over Snapchat to create stories. Look for more Snapchat collaborations in 2018 like Throwback Thursdays with the Bentley Historical Library.
12. Schlissel Goes to Marquette Snapchat Story: 
In March, President Schlissel took a trip to Marquette, in Michigan's Upper Penninsula, to connect with students and share some of U-M's research and engagement initiatives. He visited Marquette High School and Northern Michigan University and discussed the economic and social benefits of university research. UMSocial wanted to capture his experience, so we partnered with Lauren Belpedio, a U-M alumna, President's Office staff member, and a graduate of Marquette High School. She accompanied Schlissel and took over UofMichigan Snapchat to chronicle a day in the life of the president. She also served as narrator, providing our wider audience with a taste of life with the president.