What did your significant other do for you this Valentine's Day?
Did they pick you up a box of chocolate truffles and surprise you with them at work?
Did they buy you a thoughtful gift and make you a beautiful dinner?
Did they dress up as an emoji and interrupt your bio lecture to deliver a bad pun and a rose to your professor?
No? Was that just us? Huh….
At #UMSocial we recognize all major holidays and identify fun ways to celebrate them with our audience. Sometimes we create an animated gif or graphic with an appropriate greeting. Popular holidays like Halloween, or the Christmas/Hanukkah/Kwanzaa winter celebrations, call for the production of a short narrative film or music video. And then there are special cases, like Valentine's Day.
In the past, we've leveraged Valentine's Day to explore student and alumni love stories. We often partner with Michigan Medicine and encourage our social audiences to send valentines to patients at C.S. Mott Children's Hospital. This year, we decided to show our students and faculty just how much they mean to us by hand-delivering valentines.
STEP 1: Designing the Perfect Valentine
Valentine's Day cards may have been popularized by Hallmark, but they were perfected by Imgur, Twitter, and Tumblr communities. In recent years we have seen the rise of the extremely popular "Bad Valentine." These poorly crafted e-cards feature crudely photoshopped graphics and cheesy romantic puns or pickup lines, usually revolving around a pop culture reference.
We decided to put our own creative spin on these cards, choosing to focus our messaging on references to campus locations, public figures, and U-M culture. We tasked our interns with creating a library of pickup lines and they did not disappoint. Before we knew it, we had too many options.
We narrowed down our favorite greetings and quickly started designing the cards, careful to keep them just crude enough to match the popular aesthetic while retaining a distinctive U-M look and feel. After getting the valentines and their captions approved by Public Affairs, the cards were ready to release.

STEP 2: Lights! Hidden Camera! Action!
In deciding how best to launch the valentines, we settled on shooting a hidden-camera-style video. It's no secret that video posts are some of the most engaging pieces of content across all platforms. We decided to assign two of our interns to take turns handing out valentines to unsuspecting members of the U-M community, while we captured their reactions from afar.
In order to make the interns seem a little more approachable and get them into the holiday spirit, we decided to purchase some special attire.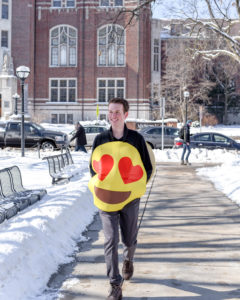 We also decided that, given the popularity of The Bachelor (both among the masses and several members of our staff), we should offer students some roses as well.
One hundred valentines, a few dozen roses, and a very successful day of shooting later,  we moved into the editing phase. We had a rather tight timeline, with a 24-hour turnaround. Knowing that we wanted to release the video simultaneously across all our major platforms, we decided to put together three cuts of the video: a "master" for Facebook, a shortened condensed version for Instagram, and three separate segments for Twitter.
STEP 3: Release Day!
We released all the videos on the morning of Valentine's Day, starting with our Facebook version. Using Exposure.co (which we frequently do when creating our weekly wrapup and analytic reports), we created a downloadable gallery of our cards. We then  posted a link in the comments to encourage our audience to download their favorite cards and send them to their "Harbae." We took a similar approach on Instagram, releasing our optimized video and placing a link to the valentines in our bio.
Our most intensive release of the day was on Twitter. Using the thread functionality we devoted our entire morning tweet schedule to promoting the valentines. We developed three short videos and released them all within two hours of each other. In between each video segment we attached three or four of the cards that had been referenced in that specific segment.
The launch was a resounding success across the board.
The Twitter thread proved to be an effective way to distribute our library of 10 images and three videos. We were able to provide all our Valentine's Day content in one string of tweets—delivering more visual content to our audience than a single tweet would have been able to provide—and continue to build out Valentine's Day content all morning long to keep the audience engaged and content near the top of our followers' feeds. We saw a combined total of 11,200 views on the videos and 3,300 media engagements on the tweets with the valentines. We were also pleased to see the tweets reach 87 combined retweets and 382 likes.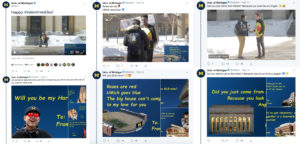 On Instagram we saw an incredible 29,800 video views, the highest count among any of the videos, along with 4,260 likes and a whopping 138 comments, in which friends tagged one another, blue and gold hearts filled the screen, and we got such loving reactions as: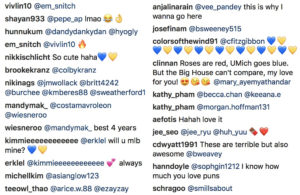 Our Facebook post also attracted 43 comments of a similar nature. Although we're still seeing the repercussions of Facebook's new algorithm, we were still overjoyed by the reactions we received. Those comments, plus 13,000 views, plus 239 positive reactions, and 200 hits on our link to download the valentines made the project worthwhile.



At the end of the day, we could simply have celebrated Valentine's Day by retweeting or sharing content from any number of the other campus entities. We could have just as easily looked for more student and alumni love stories, or made another animated gif. Instead, we decided to take a nontraditional route and spur engagement with our students on the most basic level: face to face interaction. We got out and met the  audience where they live. We inspired some genuine smiles and plenty of laughs, and that came through in our video, as well as the reactions and feedback we received.
We love our audience and we love what we do.
As always,
Be social. Stay social. #UMSocial
Post written by Connor Titsworth, Social Media Content Strategist at The University of Michigan