August brings students old and new back to Ann Arbor for the start of the semester. Move-in activities and birthday celebrations kept UMSocial busy as we highlighted student experiences and university accomplishments. Follow along for some key highlights.
Facebook
U-M celebrated its 200th birthday on August 26, and the video shared on our Facebook page that day quickly became our top-performing post of the month. The video was viewed more than 108,000 times, with 32,000+ of those viewers watching for at least 10 seconds.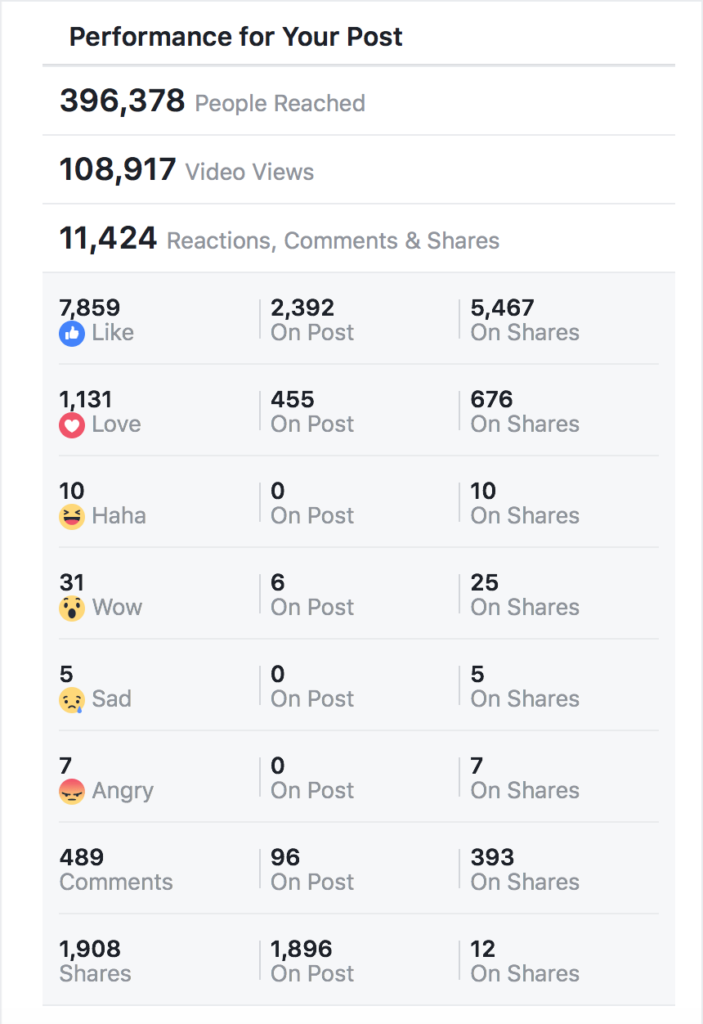 Our photo album of the Spirit of Detroit decked out in #UMich200 gear also performed well, reaching over 280,700 people and receiving more than 8,800 total engagements.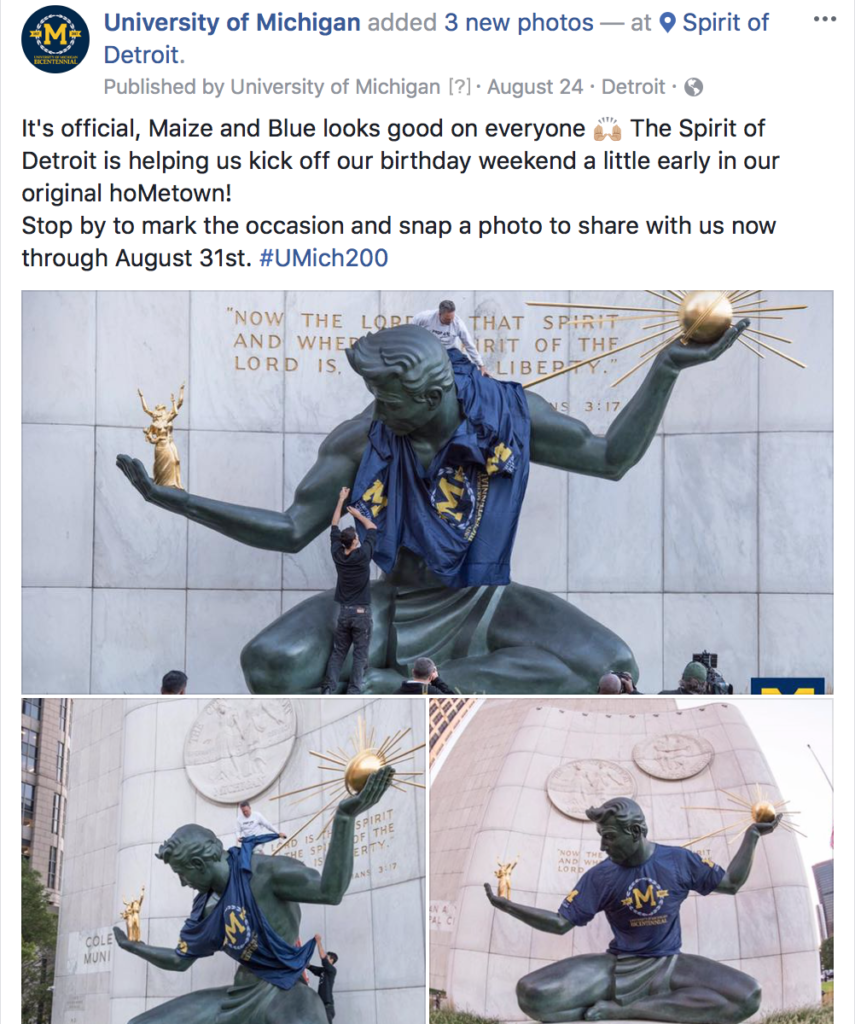 Twitter
Our top tweet of the month featured an inspirational quote and an image of Al Glick Field House, U-M's Indoor Football Practice Facility. This tweet garnered 91,000+ impressions and received more than 7,000 total engagements.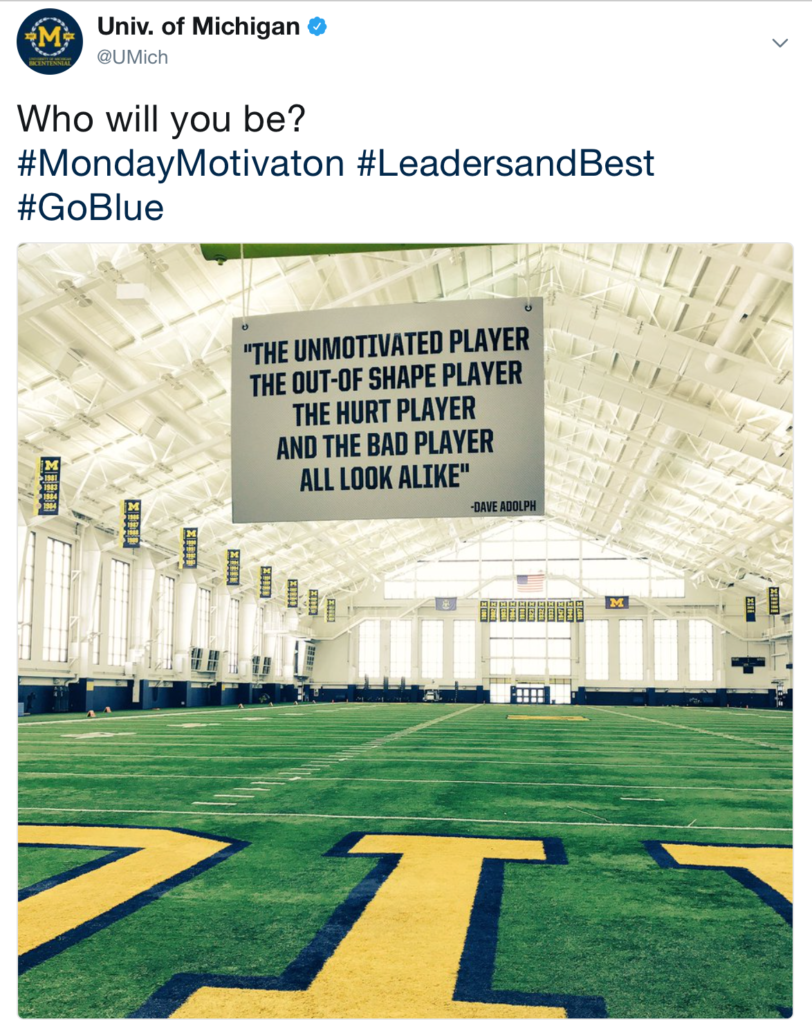 Instagram
Adding on to the "Monday Motivation" theme, our top-performing Instagram post of the month was user-generated content featuring one of our #Victors2021 and her adorable sister getting pumped up for the year ahead in some Michigan swag. This post received 116K impressions and 9,412 likes.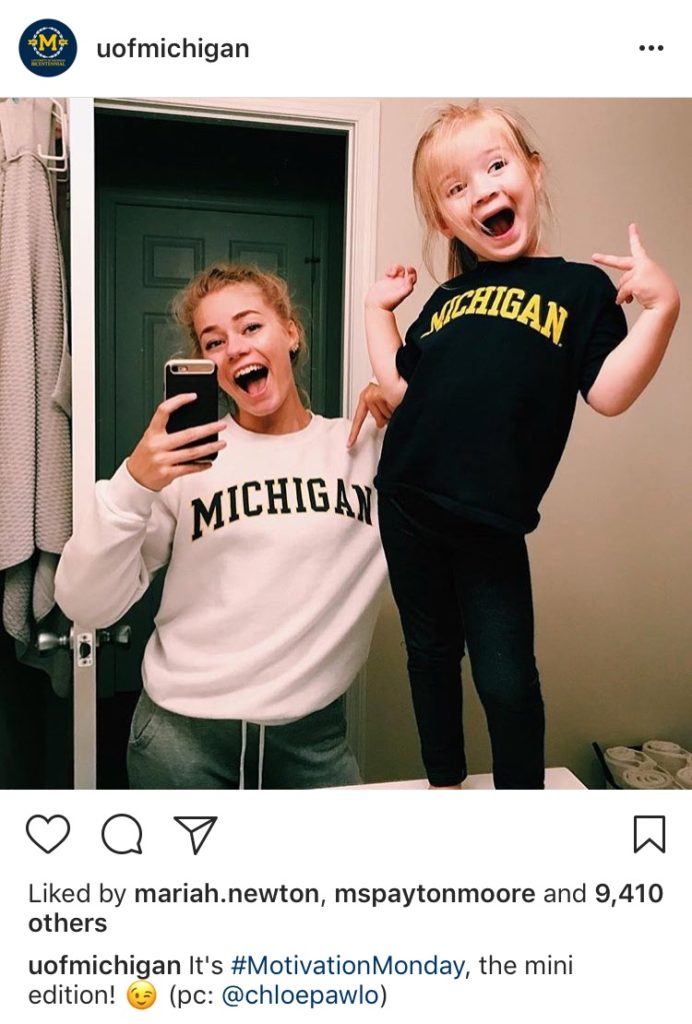 Snapchat
On August 25, we gathered a group of students from different backgrounds, majors, and student organizations to share their advice about student life at U-M and in Ann Arbor. From their favorite dessert spot in Ann Arbor to the best way to spend fall break, each student provided experience-based advice that will be relevant to both incoming freshmen and seasoned seniors alike.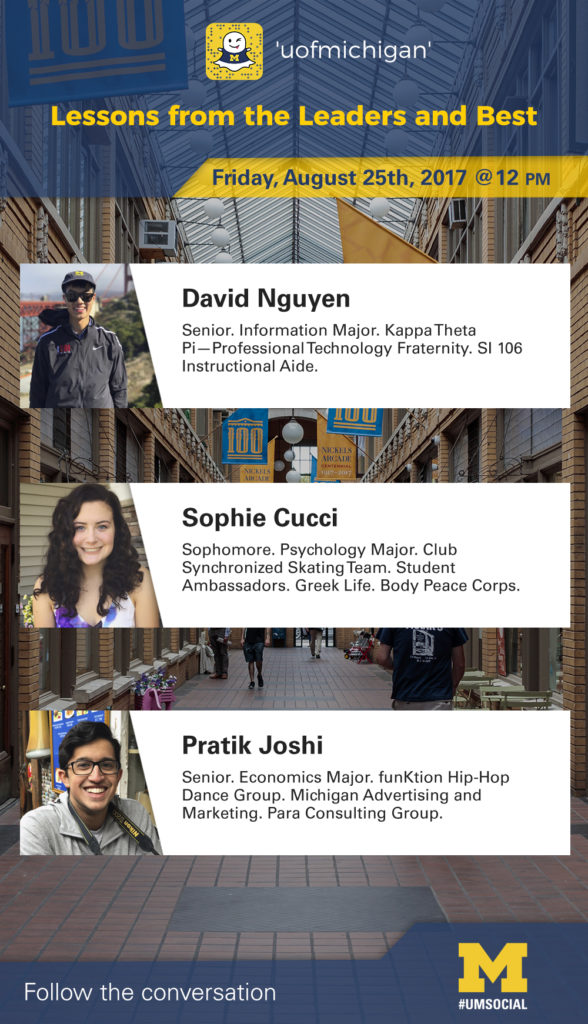 We hosted this conversation on Snapchat for the first time in #UMichChat history to better reach the student demographic. Although platform norms, such as the encouraged 10-second video format, limited the breadth of topics we were able to cover and the length of our panelists' responses, more than 4.9K of our followers interacted with the story in some way. We look forward to further developing our Snapchat #UMichChat strategy so we can utilize the platform to facilitate more conversations in the months to come!
You can find a recap of the chat here, or view the entire chat on YouTube.
Spotify
At the end of the month, we published a "Move-In Mix" to celebrate U-M students' return to campus. Cross-promotion from several university departments, including the School of Public Health and the U-M Library, helped the playlist quickly gain more than 150 followers. We hope to create more playlists that act as the soundtrack for big moments in student life throughout the semester.
Thanks for following along! Check back soon for reflections and insights about our creative campaigns and top-performing posts of September.
This post was written by Mackenzie Francisco, UMSocial Intern. #StaySocial with her on Twitter @mackenzie_fran