So let's talk about race.
Every day.
For a whole month.
Let's celebrate Black History—in a momentous, tumultuous, and historic time in America through the amplification of Black voices, past and present, at the University of Michigan. This was the premise for our February U-M Social content strategy, as we sought to strike the perfect balance between performative acts of solidarity and genuine action to show continued intentionality and progress. It's important to acknowledge the University of Michigan's checkered past vis a vis issues impacting the Black community, and that makes it vitally important to ensure that the messages, stories, and visuals get it right. With this as our charge, we tackled February and conveyed the Black experience at U-M head on.
At its heart, the purpose of Black History Month is to honor those who came before, steadfastly serve those around us today, and pave the way for those to come.
At a university where the Black population represents less than 4 percent of the student body—and the non-student-athlete Black population is less than 1 percent—we centered our strategy on highlighting the achievements of those who fought for change, those who fought to be heard, and those who laid the groundwork for the  students, faculty, and staff that are here at U-M today.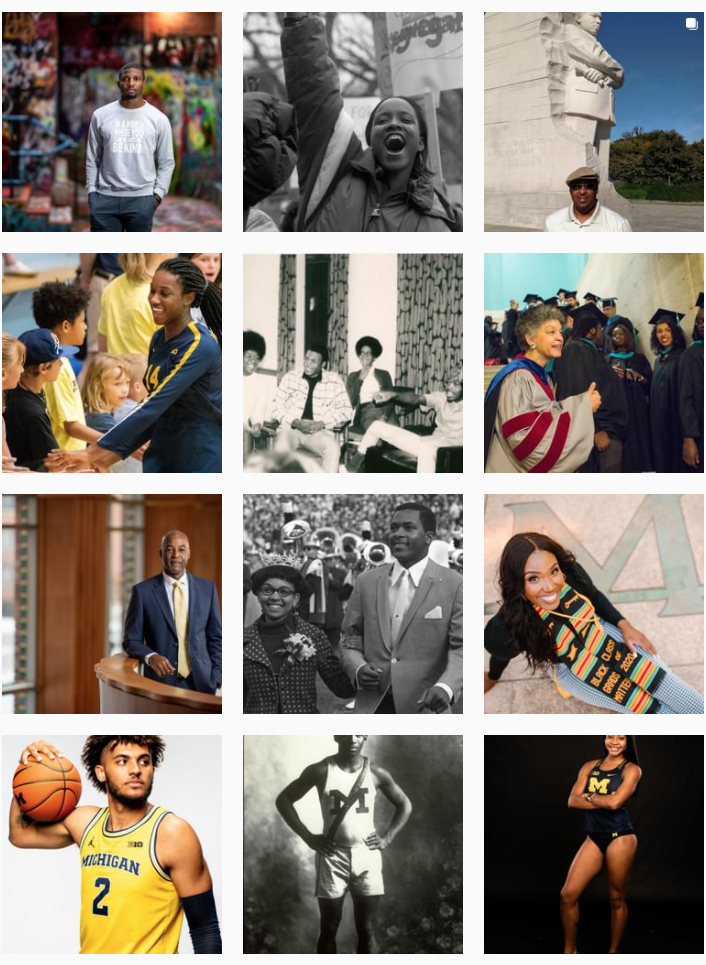 In honor of those who came before, we looked to our alumni, some of whom have gone on to become Olympians, doctors, scholars, scientists, and much more. We shared their stories of trial and tribulation and their spirit of determination to stand tall in the face of adversity. One of the most eye-opening commonalities between these historical stories of Black Wolverines was that they all reflected the societal struggle for equality the Black community was experiencing across the United States. To many today, the fact that Black Americans were facing pronounced hardships in the 1960s, just a mere 55-60 years ago, is often forgotten. The tenacity of those fighting for equal rights across the nation was shared with those fighting for recognition, representation, and acceptance across our own university, making our efforts to share these lessons vitally important as we continue to shape the future.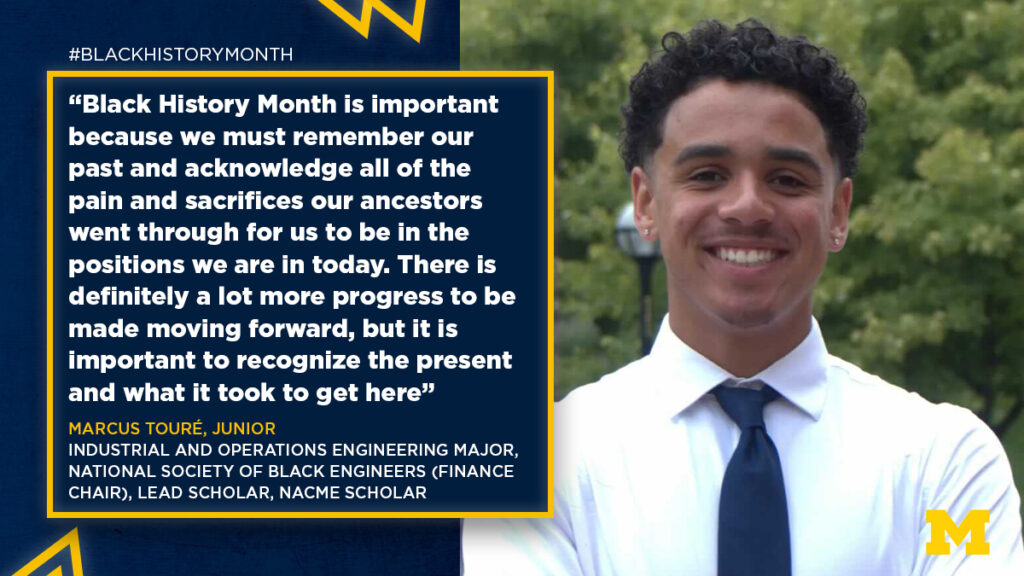 Steadfastly serving those around us came in the form of sharing personal narratives and reflections from current students and young alumni. Whether an undergraduate student studying engineering or a graduate student pursuing an advanced degree in music education, the sentiment of collective solidarity within the Black community at U-M was felt widely in their testimonials. Amid an ongoing pandemic, in a nation that has spent the last year struggling with societal discontent and protests against police brutality and systemic racism, the messages of unity and survival shared throughout this month showed small flickers of hope in the darkness. And in a sea of faces, where Black faces are few and far between, the simple joy and reassurance of encountering a smile from across a room, or in your feed, from someone who looks like you, is sometimes all that is needed to make it through a tough day.  
I remember my first class at U-M, organic chemistry. As I sat in a room of nearly 400 students, I quickly realized that I was the only one. The only Black student in a class of close to 400 students.
Four hundred. In that moment I felt extreme pride, to be the one, but also the pain of isolation and loneliness that comes from the fear of not fitting in. On that day, I chose to seize the opportunity provided to me by being 'the one'; to speak up and speak out, to share experiences and messages that some otherwise would not otherwise hear. 
As the saying goes, it takes a village to raise a family, and Black Wolverines are a family whether they know one another personally or not. Each of us owes a deep sense of gratitude to our Black Wolverine ancestors, and carries  a sense of responsibility for those who will represent us in the future. This is most poignantly reflected in the words of  Jessica Robinson, Ford School of Public Policy sophomore and U-M volleyball player:
"Being a black student-athlete means throwing the mini volleyballs to the little girl with Afro puffs in the stands during the pre-show because I want to make sure someone does, someone lets her know that she's seen. It's being a role model and example whether you like it or not and having the courage to use that position and status as a Black student-athlete to make change wherever you can."
The online reaction to posts like Jessica's and others has shown just how meaningful this undertaking has been. Community members and alumni from around the world have chimed in to offer encouraging sentiments. Fellow classmates have lifted each other up with praise and affirmation, and prospective students have been given the opportunity to see themselves and the excellence of the Black community reflected back on them.
But it has not been all sunshine and roses. The smattering of hostile comments reveals the world we currently live in, a world that includes  hate but will not be consumed by it. A world where the hardship and struggle of one generation can inspire the growth and determination of the next. A world where dedicating social media feeds to depicting the breadth and depth of Black excellence at the University of Michigan during Black History Month is not only heartwarming, but essential. 
So let's talk about race.
Every day.
Period.
This blog piece was written by Josh Nichols, #UMSocial Intern and Michigan Ross Graduate Student and edited by @NikkiSunstrum, U-M Director of Social Media and Public Engagement. 

The 2021 Black History Month Instagram grid was a joint project by Mr. Nichols and Cam Turner, #UMSocial Intern and Junior in the School of Literature, Science and the Arts.