Managing social media for a higher-ed institution means that some of the most important eyes viewing our content belong to students. A common challenge colleges and universities face—particularly those operating their own unique social channels—is finding a way to efficiently streamline their social efforts campus-wide (Russell, 2017). At UMSocial we try to immerse ourselves in the everyday lives of U-M students, so it's easier for us to know what they are choosing to engage with than it might be at other institutions. We make it a goal to understand the students and engage with them directly, motivating them to do the same with our content.
The number of young adults in the U.S. choosing to attend college has skyrocketed, forcing social media professionals to be more strategic about how to recruit and capture the attention of prospective students. In the fall of 2017, some 20.4 million students were expected to attend American colleges and universities, an increase of about 5.1 million since fall 2000 (NCES, 2017). And social media is becoming more ubiquitous among high school students, who now have the opportunity to explore their higher-ed options and connect with colleges before ever setting foot on campus.
Through Twitter and Instagram hashtags, Snapchat takeovers, and Facebook campaigns, schools are able to promote themselves in new and more effective ways. Social media is where many students find and share information, engage with others, and join communities (Weindling, 2017). We work to interact with that community by creating content that gives insight into campus culture.
Recently, UMSocial implemented "Campus Convos," a weekly video series that aims to speak candidly with students about social trends, events, and campus life—and to have some old-fashioned fun and play games. Catching students one-on-one and having hot topic discussions or important conversations drive greater engagement and that is the content you can't plan for. The most valuable content will be timely, and will resonate with the student population; and that is what is going to drive greater engagement (Patterson, 2016). We open ourselves up to the students, and at the end of the day, that two-way engagement is how we have had the most success in effectively reaching our audience.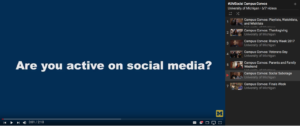 We created the Campus Convos series to explore our core demographics' outlook on campus, college life, Ann Arbor, and social media. We made being a crucial part of the campus community a priority, not only to leverage our content for prospective students but also to ensure that our content is engaging current students as well. Content needs to amplify all aspects of what it means to be a Michigan Wolverine.
As always,
Be social. Stay social. #UMSocial
Post written by McKenna Whipple, Social Media Content Strategist at The University of Michigan
NCES. (2017). Fast Facts. National Center Education Statistics.
Patterson, Michael. (2016). 11 Best-In-Class Strategies For Social Media in Higher Education. SproutSocial. 
Russell, Jylian. (2017). Social Media in Higher Education: Strategies, Benefits, and Challenges. Hootsuite. 
Weindling, Winona. (2017). Why More Colleges Are Using Social Media to Recruit Students. HigherEdJobs.