The President's Bicentennial Colloquium—Campus of the Future—invited U-M students from all schools and majors to submit projects that reenvision spaces and methods for learning and teaching at Michigan in the 21st century. From putting different furniture in classrooms to creating new departments and disciplines, students were asked to propose creative solutions to problems existing within the modern university.
Campus of the Future is led by two Presidential Bicentennial professors—Joanna Millunchick and Mika LaVaque-Manty—who served as our moderators for this #UMichChat. Our panelists included four students from some of the teams participating in the colloquium: Dahlia Rockowitz, "MOOC through Engaged Learning: Students Creating for Students"; Robert Gitten & Nicholas Krawec, "U-M Satellite Campus—On Mars"; and Shira Shwartz, "Instagram for the Extended Classroom" and "Detroit City Study."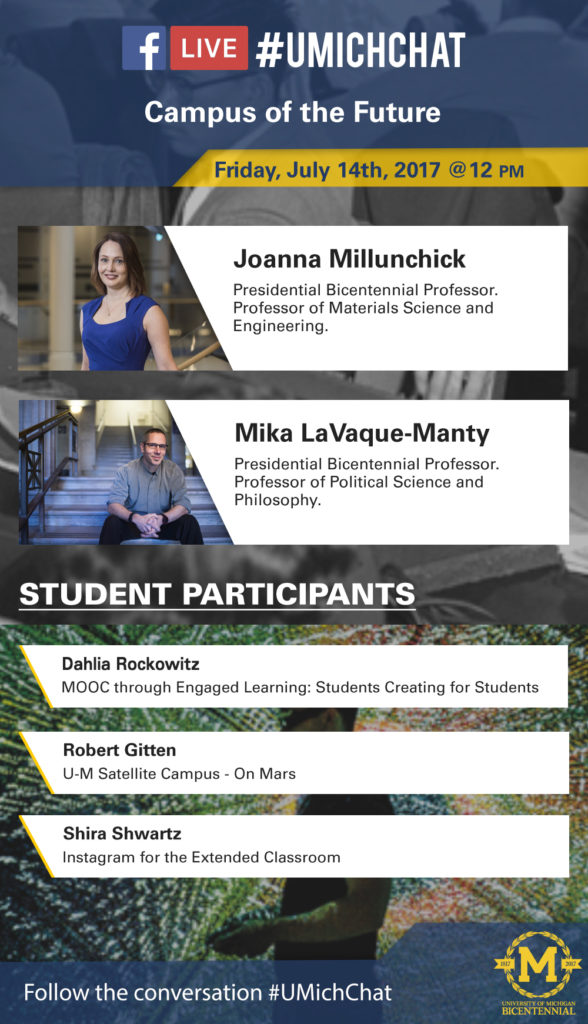 The first portion of the livestream was dedicated to introducing Campus of the Future to those members of the U-M community who might not be familiar with the colloquium. Our moderators explained the general premise of the colloquium, how the winning projects will be decided, and how Campus of the Future fits into U-M's larger bicentennial celebration. The remainder of the livestream focused on the projects being completed by our student panelists.
Our post invited the audience to chime in with their own vision for Michigan in the 21st century.
At its peak, this chat had nearly 100 unique viewers, and the livestream garnered more than 16,000 video views in total. The post itself reached over 95,000 people and received 252 reactions, comments, and shares.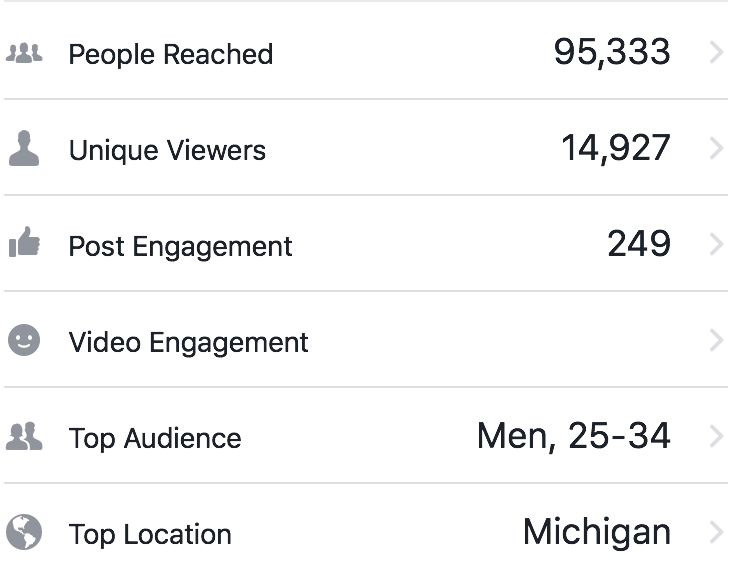 Selected projects will be on public display for the public in the Duderstadt Center on Thursday, October 26 from 9:00 a.m. to 3:00 p.m. A panel of nationally recognized experts in the fields of technology, design, and higher education will discuss the projects and award $25,000 in prize money to the best ones at a keynote event later that day from 4:30 to 5:30 p.m. in the Power Center for the Performing Arts.
For more information about Campus of the Future, click here. If you missed this conversation, you can still watch the entire livestream on Facebook. We look forward to highlighting more of the unique events occurring on campus in the months to come!
This post was written by Mackenzie Francisco, UMSocial Intern. #StaySocial with her on Twitter @mackenzie_fran