Facebook was originally designed to bring people closer together. It was a place to stay connected with new friends and reconnect with old ones. Our News Feeds were meant to be filled with meaningful posts from people we cared about. After 13 years of changes and developments, Facebook has decided to steer our News Feeds back to its roots of family- and friend-oriented posts.
Last week, Facebook released a statement in regard to their News Feed "update." CEO Mark Zuckerberg said that the vast increase in posts from publishers had made the News Feed experience less satisfying. "These are posts that inspire back-and-forth discussion in the comments and posts that you might want to share and react to — whether that's a post from a friend seeking advice, a friend asking for recommendations for a trip, or a news article or video prompting lots of discussion" (Newton, 2018).
The company is shifting the focus after research showed that using Facebook to stay connected and communicate with people who matter to us can lead to long-term happiness. The statement alluded to a 2015 paper in the Journal of Experimental Psychology that showed that passive usage of the website, even for just 10 minutes a day, had a negative effect on students' sense of well-being (Bromwich & Haag, 2018). On the other end, for those who passively scroll through News Feeds plastered with articles and videos, the results are not as satisfying. Research and anecdotal evidence alike suggest that Facebook can make people feel isolated, inadequate, or alienated as they experience a phenomenon known as "fear of missing out," or FOMO, something we have touched on here before. Teenagers are particularly prone to "Facebook depression" as they try to measure up to and fit in with their peers, according to the American Academy of Pediatrics (CBS News, 2018). Knowing this, and seeing more and more data to support it, Facebook made changes they felt would most appropriately mitigate the problem. Zuckerberg explained that Facebook feels personally responsible for making sure their services are both fun and good for user well-being (Stefanou, 2018).
Facebook's statement continued:
"With this update, we will also prioritize posts that spark conversations and meaningful interactions between people. To do this, we will predict which posts you might want to interact with your friends about, and show these posts higher in the feed. These are posts that inspire back-and-forth discussion in the comments and posts that you might want to share and react to — whether that's a post from a friend seeking advice, a friend asking for recommendations for a trip, or a news article or video prompting lots of discussion" (Mosseri, 2018).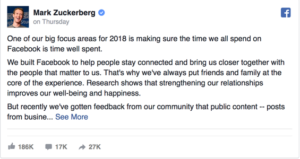 So what will Facebook look like now? Well, posts by businesses, organizations, and media outlets are being demoted and the lives of our family and friends will climb back to the top. The goal is for users to see posts with content that is engaging and that will spark meaningful conversations between people who chose to be personally connected. What Facebook wants you to spend less time doing: passively scrolling through updates on your timeline, reading articles and watching videos, but not interacting with others. It is being called the "closer together" initiative and it seeks to make Facebook a happier, more user-friendly environment (Lekach, 2018). Users will also see posts with a high number of lengthy, meaningful comments. So yes, those cooking videos we all love will soon be much harder to find (if there at all) along with using Facebook as a news source. But never fear: Facebook is allowing users to "filter" their News Feeds.
Users who want to see posts from their favorite brands, or who want to read the articles about topics they're interested in, will still be able to do so. Under the News Feed tab on Facebook, users will be allowed to prioritize the pages, friends, and posts they most want to see (Bromwich & Haag, 2018). This gives users a choice and allows them to determine which content fills their feed. Implied in the changes is the idea that this will help users avoid the mindless use of Facebook and viewing content that has no substance—in other words, social junk food. Also addressed was the possibility that this will most likely make Facebook users spend less time on the platform, which the company is aware of. "I expect the time people spend on Facebook and some measures of engagement will go down," Zuckerburg said in his post about the changes. "But I also expect the time you do spend on Facebook will be more valuable" (Bromwich & Haag, 2018). Those who use it for news will find less to read; and those who rely on the platform for videos will find fewer of those too. On the good side, there will also be fewer advertisements, therefore fewer distractions, which should allow users to maximize their time.
So what does this mean for businesses who rely on Facebook for exposure and engagement with their brand? There are a few things brands can do to keep (and maintain) Facebook as a tool in their tool belt:
Encourage Post Sharing — Users can still share posts with their friends, so optimizing content for sharing will maintain reach. Post engaging images and write welcoming headlines, and always include calls to actions to share. Adapting to the new personal atmosphere Facebook wants to create will help leverage your content to the appropriate audiences. Consider the user's journey and build momentum by creating meaningful interactions before expecting readers to share. Let your readers speak their mind, tell their story, and direct your work (Galperin, 2018).
Groups — Facebook allows you to create groups and attach them to your page. Develop a community strategy and use the group as a tool to further engagement and a space to engage a dedicated audience (Galperin, 2018).
Cross posting — Working together with partners to cross-post can also increase reach. Collaboration creates the opportunity to accomplish more, rather than trying to do everything solo. Pay close attention and keep an eye out for collaborative opportunities, learning from others to incorporate different strategies into your own content. (Galperin, 2018).
The most important thing—really the only thing—businesses can do is to adapt their strategies and content plans to the new Facebook updates, no matter how many there may be. This is not the first time we have talked about a Facebook update affecting how we reach and engage with audiences, and I suspect it will not be the last. Embrace every opportunity to grow and explore new ways to create. That's good advice for "real life" too.
As Always,
Be social. Stay social. #UMSocial
Post written by McKenna Whipple, Social Media Content Strategist at The University of Michigan.
Beardsley, Steven. (2018). New Facebook rules about business as much as 'meaningful interactions'. Deutsche Wells.
Bromwich, Jonah & Haag, Matthew. (2018). Facebook is Changing. What Does That Mean For Your News Feed? The New York Times. 
Galperin, Simon. (2018). How to prepare for the removal of publisher posts from Facebook's news feed. Medium.
Guynn, Jessica. (2018). Facebook is making a big change to your news feed. USA Today. 
Lekach, Sasha. (2018). Facebook announces a big News Feed — change and just wants you to be happy. Mashable.
Mosseri, Adam. (2018). News Feed FYI: Bringing People Closer Together. Facebook Newsroom. 
N.A. (2018). What Facebook's News Feed change means for users and businesses. CBS News. 
Newton, Casey. (2018). Facebook's startling new ambition is to shrink. The Verge. 
Newton, Casey. (2018). Facebook says it plans to transform the News Feed to promote "meaningful posts". The Verge.
Stafanou, Eleni. (2018).  Facebook's News Feed change won't help social media addiction. The Guardian.