With Facebook, everything has a price tag. On the one hand, Pages can grow organically and let the algorithm have a go at their content. Facebook decides how many people who have liked the Page will see each piece of content and use the engagement numbers from one post to determine whether it is worth showing the next one. With the exception of a few promoted organic posts, this has largely been how we at the University of Michigan have approached Facebook.
The alternative to letting Facebook act as a gatekeeper to your content is to invest financially in it and see exponentially more Page likes and engagements. But at what cost? The Facebook algorithm is a closely guarded secret so there is no telling how Facebook will distribute your content organically once it knows that you are willing to pay to play.
Until now, spending money on Facebook to either grow the Page or increase engagement with content has not been part of U-M's social plan. Now that Facebook's latest algorithm update is prioritizing content from friends over content from pages, we decided to seek out more fans who are most likely to engage with our content and share it with their friends. This was our first follow campaign so the ad had a double purpose of giving us some baseline metrics on our cost per fan and do some imagery testing at the same time!
Since we want to get our content in front of audiences already familiar to the University of Michigan, we broke out our ad sets into a few 'warm' segments who don't already follow the University of Michigan Page:
U-M alumni
U-M students
Facebook users who've expressed an interest in our football team
U-M employees
U-M faculty and professors
We were targeting these sets of people for the first time, so we decided to run a test on the creative that accompanied the ad. This would allow us to gain more of an understanding on the type of creative that would best resonate with our targeted audience. We used a still from cover video as the image and our cover video as the video asset. Facebook's ad interface makes it easy to set up A/B tests, which compares two version of something (in this case creative) by splitting an audience to show one portion version A and one portion version B.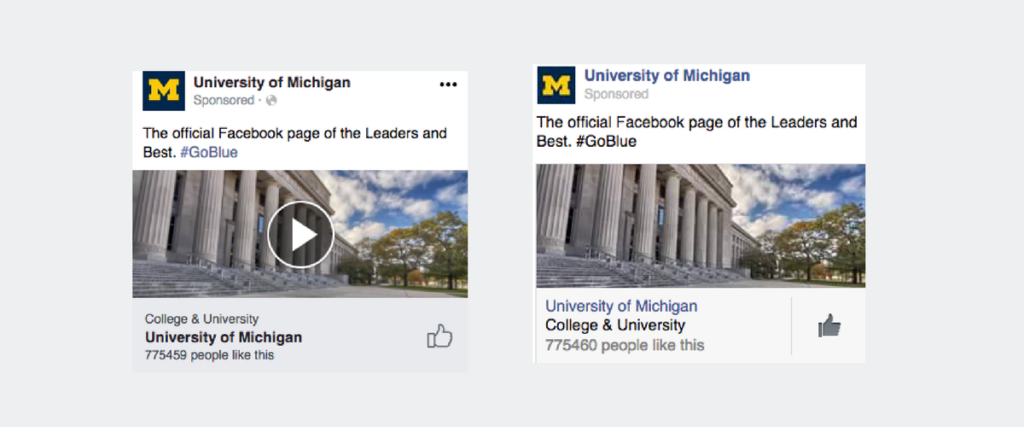 The key to running A/B tests with Facebook ads is to have a clear understanding of what questions you want answered. You can test just about anything when creating Facebook ads but if you are testing too much, you end up with more questions than answers in the end.
When the pilot run of our Facebook ad finished up last week, we walked away with some great learnings! Unsurprisingly our alumni targeted ad set was the most successful. Facebook assigns a 'relevance score' on a scale of 1-10 to your ads, which helps you understand how well your creative is resonating with your audience. The relevance score for our alumni ad set was 9, nearly perfect, which combined with their low cost per follow, told us that they are a good audience for us to continue targeting.   
On the flip side, U-M employees as an ad set proved to be far less responsive to our ad. With a cost per follow nearly 3 times more expensive than alumni and a relevance score of 6, they were not our most successful audience.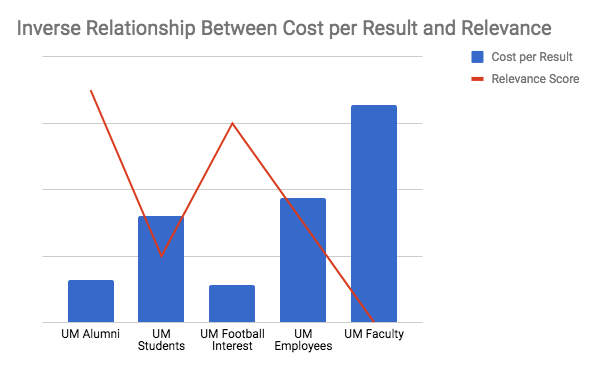 As for the ad creative A/B test, video was unsurprisingly the cheapest cost per follow. We assumed going into the test that video would perform better based on Facebook's preference for video content. We were pleased to find that the data supported our assumptions so that we can move forward with the video content and perform a different type of test for the next round of ads!
So, was it worth it? Yes. We obtained baseline metrics for future follow campaigns and started to build up an audience of people who are more likely to engage in our Michigan-focused content and are more likely to share it with their Facebook friends in the future. Instead of going out of our way to buy whatever fans are cheapest on Facebook, we took the time to carve out ad sets that were specifically relevant to Michigan.
Be social. Stay social. #UMSocial