Ever regret sending that snap? Or receive a scandalous image that made you blush? The proliferation of sharing images through social media—many of them intended to be ephemeral—has given life to a network of exchange that one could liken to the baseball card phenomenon of the '80s or the Pokemon cards of the late '90s. Brought to light most publicly in 2011, by then-U.S. Congressman Anthony Weiner, it is the publicizing of these images beyond their originally intended audiences that has had profound repercussions for so many and continues to be an overlooked potential consequence by the younger members of the photo sharing community.
Over a year ago, Facebook added the capability to report intimate images shared without the subject's consent, also known as "revenge porn." In May, Facebook announced it's taking the initiative a step further by "partnering with safety organizations on a way for people to securely submit photos they fear will be shared without their consent, so [they] can block them from being uploaded to Facebook, Instagram, and Messenger."
According to the announcement, users will be now able to safely upload these intimate images to "trained members of Facebook's Community Operations Safety Team" where a unique fingerprint called a "hash" will be created that blocks photos containing the same data from being uploaded to Facebook's properties.
The decision to provide additional measures to protect potential victims of nonconsensual pornography (NCP) came after findings of a 2017 Nationwide Online Study of Nonconsensual Porn Victimization and Perpetration.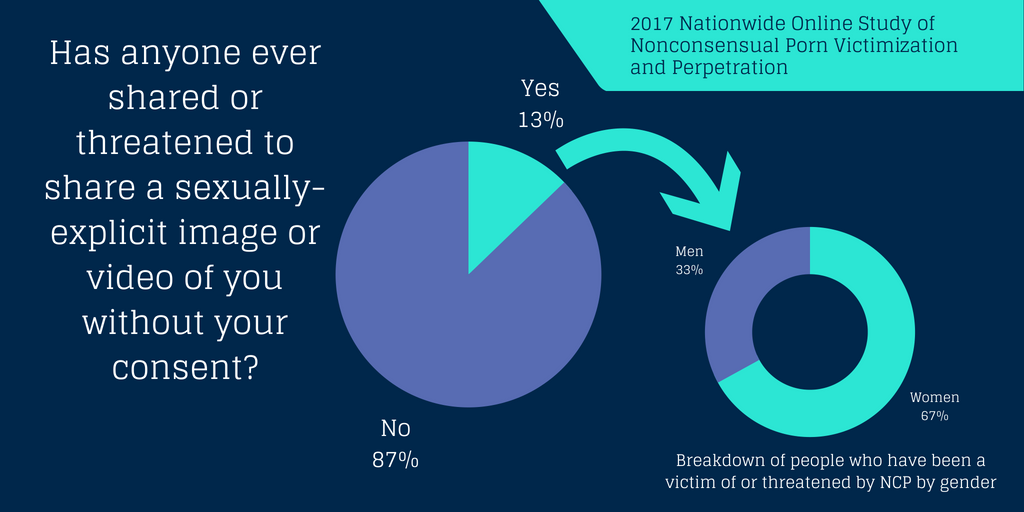 More than 1 in 10 respondents reported that someone has shared or threatened to share a sexually explicit image of them without their consent. Two-thirds of those threatened or victimized were women.
"California was one of the first states that adopted what colloquially would be known as a 'revenge pornography statute,' which makes it a misdemeanor crime to post intimate photos of someone without their permission," says University of Michigan professor Faith Sparr.
Many states have since adopted similar laws criminalizing revenge porn, including Michigan. The law, as it applies to individuals 18 or older, states that "a person shall not intentionally,  with the intent to threaten, coerce, or intimidate, disseminate any sexually explicit visual material of another person if ALL of the following conditions apply":
The other person is not younger than 18. If the person is younger than 18, juvenile laws would apply.
The other person is identifiable from the image or information displayed in connection with the image. This does not apply if the identifying information is supplied by a person other than the disseminator.
The person obtains the sexually explicit image of the other person under circumstances in which a reasonable person would know or understand that the sexually explicit visual material was to remain private.
The person knows or reasonably should know that the other person did not consent to the dissemination of the sexually explicit image.
If all these conditions are met, the offender can be charged with a misdemeanor that is punishable by up to 93 days in jail and a fine of up to $500. Repeat offenses can result in up to one year of imprisonment and up to $1,000 in fines.
The criminal prosecution likely won't stop there, though. University of Michigan Police Officer Kaitlin Deslatte explained that other charges can stack up against offenders if they choose to disseminate this sexually explicit material via cell phone or computer device. According to the NCP survey, the majority of perpetrators use a computer device to share the intimate images. In the state of Michigan, perpetrators can be charged for using a computer to commit a crime.
Perpetrators could also be charged with malicious use of a telecommunications device. Michigan law prohibits the unauthorized use of any electronic medium of communication; doing so could constitute as a felony punishable by imprisonment up to two years and up to $1,000 in fines.
While it's important to remember that the images and content you post are almost always shareable and could conceivably fall into the wrong hands, it is also important to know that you have rights and options when content is  shared without your consent.
You are encouraged to familiarize yourself with your own state's laws regarding revenge porn.
Sparr also noted that claims such as invasion of privacy, intentional infliction of emotional distress, and blackmail may aid victims in bringing a civil case in instances of revenge porn.
If you believe you are a victim of revenge porn, you can submit an online form to the Division of Public Safety and Security (DPSS) or call the DPSS non-emergency line at 734-763-1131 to report the crime.
Post written by Ashley Preston, Division of Public Safety and Security Social Media Strategist and #UMSocial Content Specialist at the University of Michigan