January 2017 @UMSocial
 The first month of 2017 was full of action as students returned to campus to for winter semester, and UMSocial captured the goings-on. Follow along to learn more!
Facebook:
On January 17, we hosted a Facebook Live #UMichChat in partnership with U-M Poverty Solutions, a series of community and academic research partnerships that aims to develop and test unique models to alleviate poverty. Earlier this month, U-M announced investments in the Poverty Solutions Initiative that will support new research from U-M faculty as well as amplify the efforts of community partners in and around the city of Detroit. This chat was the perfect way for stakeholders to discuss the implications of these investments and the opportunities they will provide.
The chat was moderated by Luke Shaefer, the director of the Poverty Solutions Initiative. He was joined by U-M President Mark Schlissel, who explained the initiative's broad vision and the role of the university in developing community-based solutions to ameliorate poverty. The other panelists represented important voices from the initiative's academic and community partners: Michelle Heiser, Dr. Joneigh S. Khaldun, Dave Law, and Trina Shanks.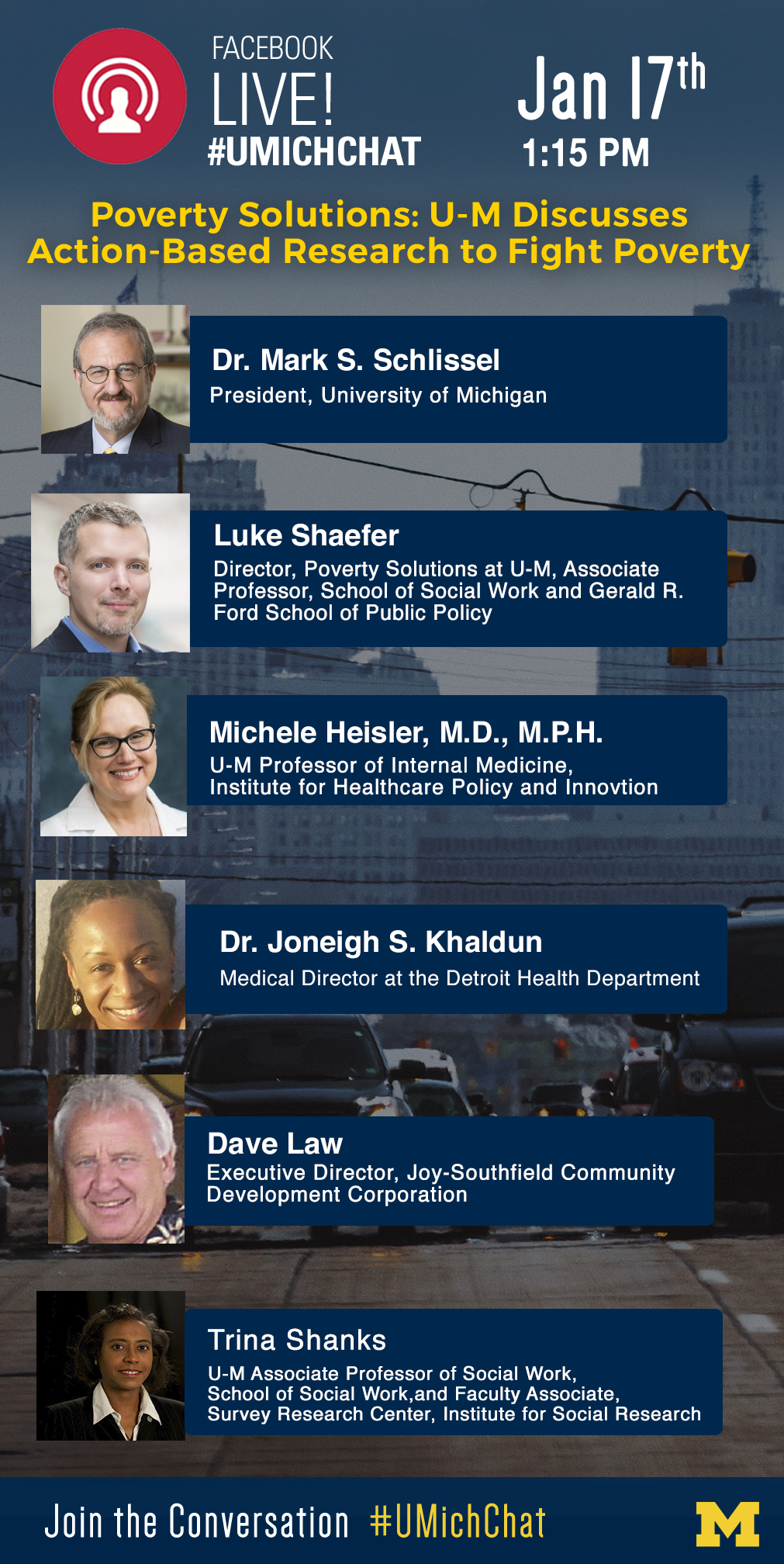 This chat generated a great deal of engagement thanks to a cross-promotional strategy that advertised the chat via UMSocial, Michigan Medicine, The School of Public Health, and the U-M Institute for Healthcare Policy and Innovation. Additionally, a teaser video produced by Michigan Creative (U-M's internal ad agency) helped create more awareness of and interest in the chat. As a result of this marketing campaign—and because of the importance of the topic—the chat reached over 200,000 people by the end of the half-hour livestream.
You can read our recap of the chat here. Additionally, you can watch a recording of the chat on our Facebook page.
Another one of our top-performing Facebook posts was a 1-minute PSA, which is part of the larger #UMich200 bicentennial celebration that will continue throughout 2017. U-M Social published the video on January 9, subsequently releasing a call to action to members of the U-M Social Leadership team to promote the video. Thanks to this cross-promotion, this video received more than 20,000 unique views in 12 hours.
In coming months, UMSocial will be releasing a storytelling series featuring scenes from the PSA, to encourage our audiences to learn about pivotal moments in the university's history. We are confident that continued cross-channel efforts will maximize the exposure of this significant campaign.
Twitter:
The kickoff of U-M's MLK Symposium on January16provided a perfect opportunity for our first #UMichTalks lecture coverage of 2017.  We live-tweeted the Memorial Keynote lecture, which featured Golden Globe-nominated writer/producer Issa Rae and award-winning investigative journalist Amy Goodman. Both women spoke powerfully on the topic of "sounds of change," and how their personal and professional experiences shaped them as leader and activists for social good.
When you hear a person's story, "you began to understand where they are coming from." A path to peace. -AG. #UMichTalks #UMichMLKDay2017

— Univ. of Michigan (@UMich) January 16, 2017
"Our lives begin to end when we become silent about things that matter" – @IssaRae #UMichMLKDay2017 #UMichTalks

— Univ. of Michigan (@UMich) January 16, 2017
We were able to continue this narrative of change-making with our next installment of #UMichTalks, a lecture by activist Shaun King. In addition to live-tweeting, we also utilized Youtube Live to stream King's  Talk directly to our audience. Followers were encouraged to join the conversation using #UMichTalks and #ShaunKingatUMich.
#ShaunKingatUMich tomorrow evening, join the #UMichTalks conversation. pic.twitter.com/Q5glWb14PV

— Univ. of Michigan (@UMich) January 22, 2017
It is hard to understand a historical era when you are living it. #UMichTalks #shaunkingatumich

— Univ. of Michigan (@UMich) January 23, 2017
Both of these #UMichTalks generated considerable engagement from our followers; by the end of each session, the event-specific hashtags (#UMichMLKDay2017 and #ShaunKingatUMich) were trending regionally.
Instagram:
Along with covering the MLK Symposium keynote event live on Twitter and providing a behind-the-scenes look at the event on Snapchat, we also released an Instagram graphic in celebration of Dr. King. featured a photo of Dr. King addressing the crowds at Hill Auditorium during a 1962 Ann Arbor visit—the same building where the symposium keynote has been held for the past 31 years. . We chose to brand the post with one of King's most famous quotes—"I have decided to stick with love. Hate is too great a burden to bear"—to uphold the sentiment of tolerance and justice that prevailed throughout the day.
User-generated content also performed well this month. Scenic shots of Ann Arbor, alumni expressing their pride, and study-abroad photos were among the best-performing shots in January.
This month, we released our first-ever video installment of Wolverines of Ann Arbor on our Instagram account. This video featured U-M sophomore Sakila Islam reading a stanza from her award-winning slam poem "Apology to my Father," which was featured earlier this year as part of Michigan Radio's A Nation Enraged series. We paired a short recording of Sakila reading with an interview about her experiences writing poetry and where she gets her inspiration. We also provided a link to the original story on Michigan Radio, so our followers could hear the entire piece:
Snapchat
This month, the Detroit Tigers made a stop at the Big House as part of the 2017 Winter Caravan. The players toured the stadium and met U-M baseball and softball players. We were there to witness team members gifting President Schlissel with an honorary Tiger jersey with the number 200 (in celebration of the University Bicentennial.) Given that many U-M students are also Tiger fans, it was one of our highest view counts of the month, receiving nearly 6.5k  views at its peak.
Thanks for following along!
This post was written by Sarah Barnitt, #UMSocial senior intern. #StaySocial with her on Instagram and Twitter @SarahBarnitt