It's hard to believe that March is over and the school year is rapidly coming to a close. This past month has been jam-packed with activity, both online and offline.  Follow along for some key highlights.
Spotify:
In honor of International Women's Day, we curated a playlist of powerful songs by female artists, appropriately named Females Are Strong as HAIL. Many of the songs contain the themes of freedom, independence, and womanhood. We're excited to see this playlist gain followers, and plan to create more playlists that are strategically aligned with other events and holidays.
Facebook:
On March 16, we partnered with the College of Literature, Science, and the Arts to host a UMich Chat about the LSA Opportunity Hub, a space where students can explore the connection between their liberal arts education and their professional interests. Speaking on the Opportunity Hub were Andrew Martin, dean of the college of LS&A, and Paula D. Wishart, Assistant Dean of Student Development & Career Initiatives. They were joined by Alvin Garcia and Amanda Grayson, two students who have previously found internships with the assistance of the Opportunity Hub.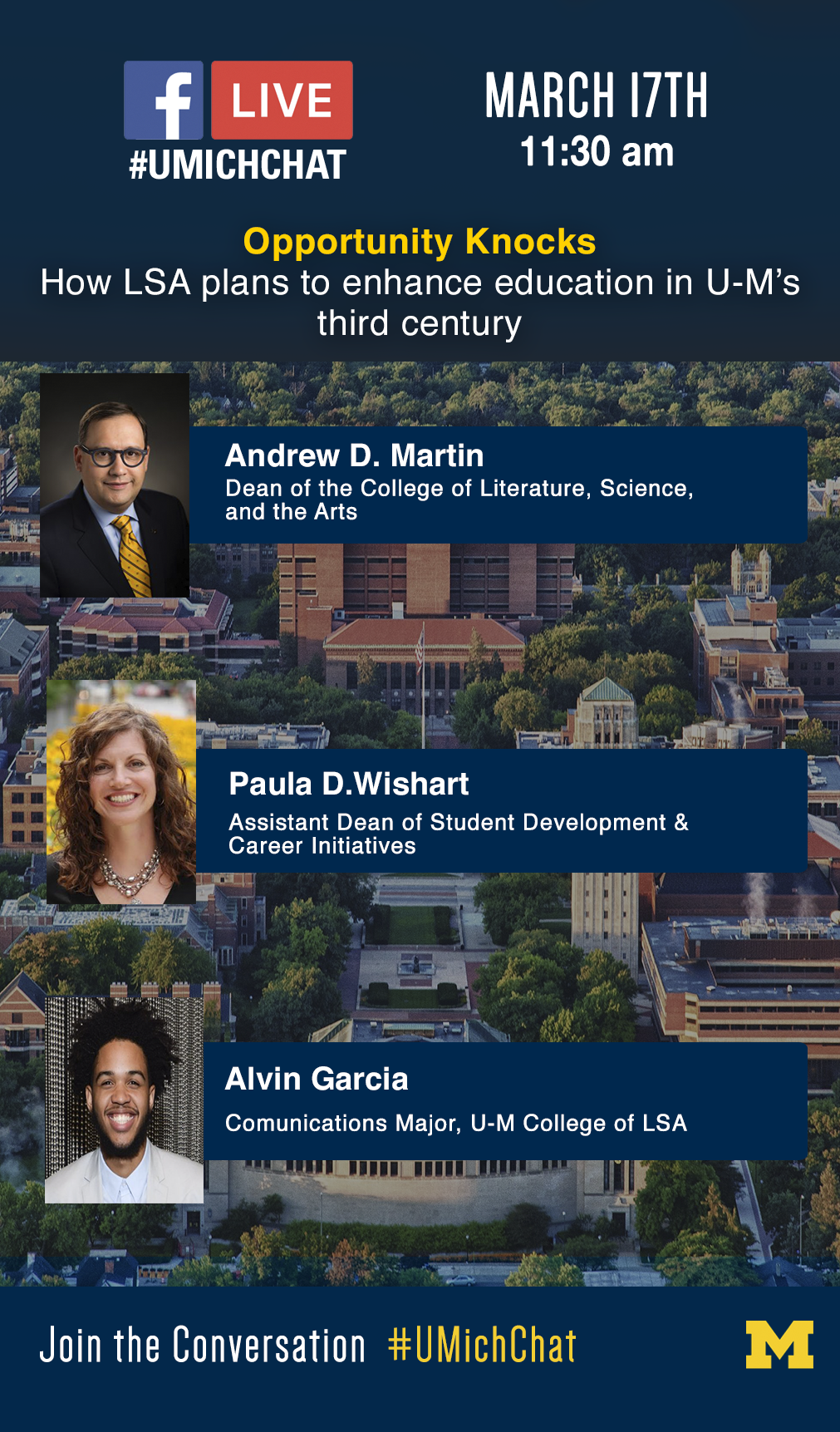 Martin and Wishart explained the four cornerstones of the Opportunity Hub Efforts: internships, employer engagement, coaching and prep, and alumni interaction. They also discussed a planned renovation of the LS&A building to make a permanent home for the Opportunity Hub. Amanda and Alvin then shared their personal stories of how the Opportunity Hub has helped them receive funding, mentoring, and academic credit for their internships.
The livestream attracted 15,575 unique viewers over the course of the chat, and generated 937 reactions, comments, and shares.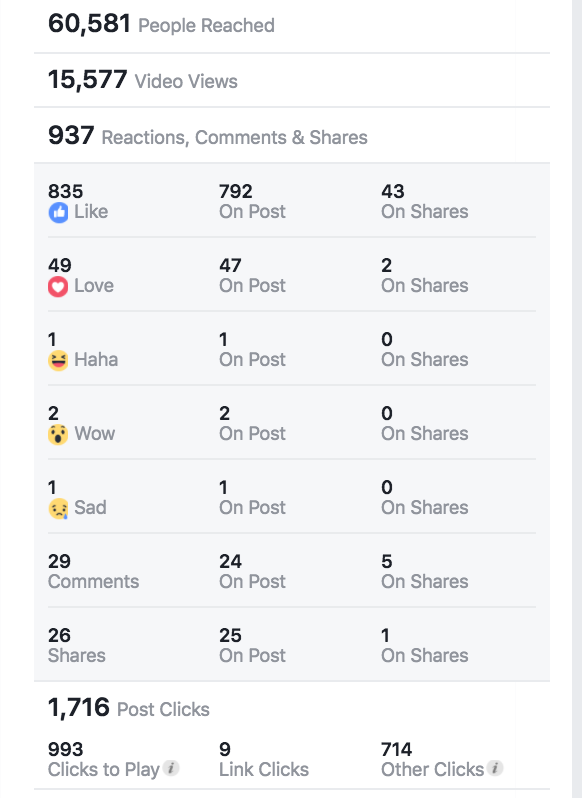 Instagram:
Wolverine pride was monumental in March, as the Michigan men's basketball team won the B1g championship and advanced to the Sweet 16 in the NCAA tournament. So, it's not surprising that the top-performing content this month was related to NCAA March Madness. The top four March Madness-related Instagram posts received a combined total of 38,208 engagements.
Twitter:
This month, our #UMichTalks lecture series brought a handful of dynamic conversations about academic innovation, social change, and identity to our Twitter followers. On March 3, we live- tweeted 'Race, Gender & Identity in the Workplace', the keynote address of the 35th Annual Women of Color Task Force Career Conference. We also covered a high-profile panel discussion on 'Race, Poverty, and Housing in American Cities', where best-selling-authors and poverty experts gathered to discuss this complex and important issue: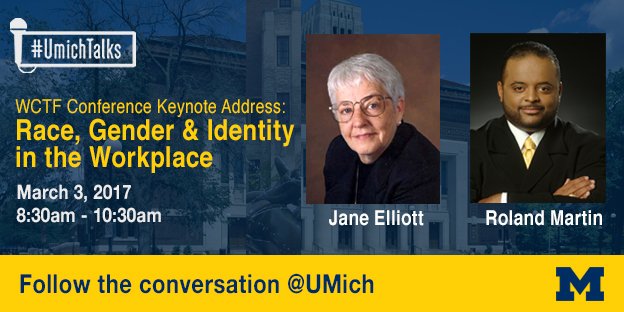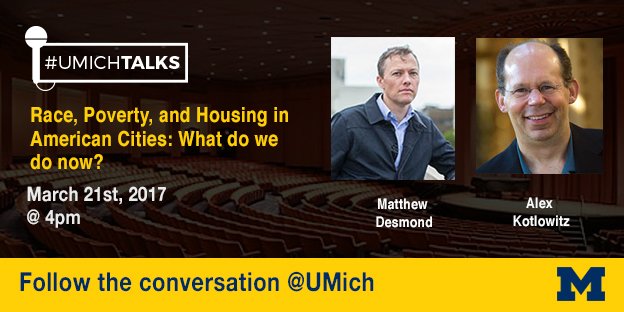 Several other on-campus units utilized the #umichtalks hashtag when live-tweeting their own events. For example, Global Michigan used their hashtag during a lecture by civil rights lawyer and social activist Bryan Stevenson:
Don't miss the 25th Wallenberg lecture tonight at 7:30pm. Follow the conversation with #UMichtalks https://t.co/8mZiB60AVZ

— Global Michigan (@GlobalMichigan) March 7, 2017
The U-M Museum Studies department and Office of Academic Innovation also adopted this format to help their followers follow conversations:
March 17 – conference about museums, libraries, and intellectual freedom #museumstudies #umicharts #umichtalks https://t.co/AajgY41b5Q pic.twitter.com/jG8bTVKnA6

— UMICH Museum Studies (@umichmsp) March 6, 2017
Each global community learning event in the Teach-Out Series will begin on a Fri & run through Sun. https://t.co/HvRWKMlDk8 #UMichTalks

— Academic Innovation (@UMichiganAI) March 17, 2017
We look forward to continue to bring powerful words and ideas to our audience through this series, and are glad that other on-campus units are doing the same.
Snapchat:
On March 20, President Schlissel took a trip to Marquette, in Michigan's Upper Penninsula, to make connections with students and share some of U-M's research and engagement initiatives. He visited Marquette High School, Northern Michigan University, and discussed the economic and societal benefits of university research.
Schlissel was accompanied by Lauren Belpedio, a U-M alum, President's Office Staff member, and graduate of Marquette High School. Lauren took over the uofmichigan Snapchat for the day to chronicle a day in the work of the president. She served as narrator throughout the day, providing our wider audience with a taste of life with the president,
This post was written by Sarah Barnitt, UMSocial Senior Intern. Stay Social with her on Twitter and Instagram @sarahbarnitt