Rivalry week, midterms, and Thanksgiving make November one of the busiest months of the fall semester—both on campus and online—and UMSocial captured it all. Follow along for some key highlights.
Facebook
On November 21, we shared a video from Michigan Medicine. The story highlighted two Ohio State University alumni whose twin boys were saved after a fetal procedure at U-M's Von Voigtlander Women's Hospital. Because some things are bigger than football, Wolverine and Buckeye fans alike shared this, making it our top-performing post of the month.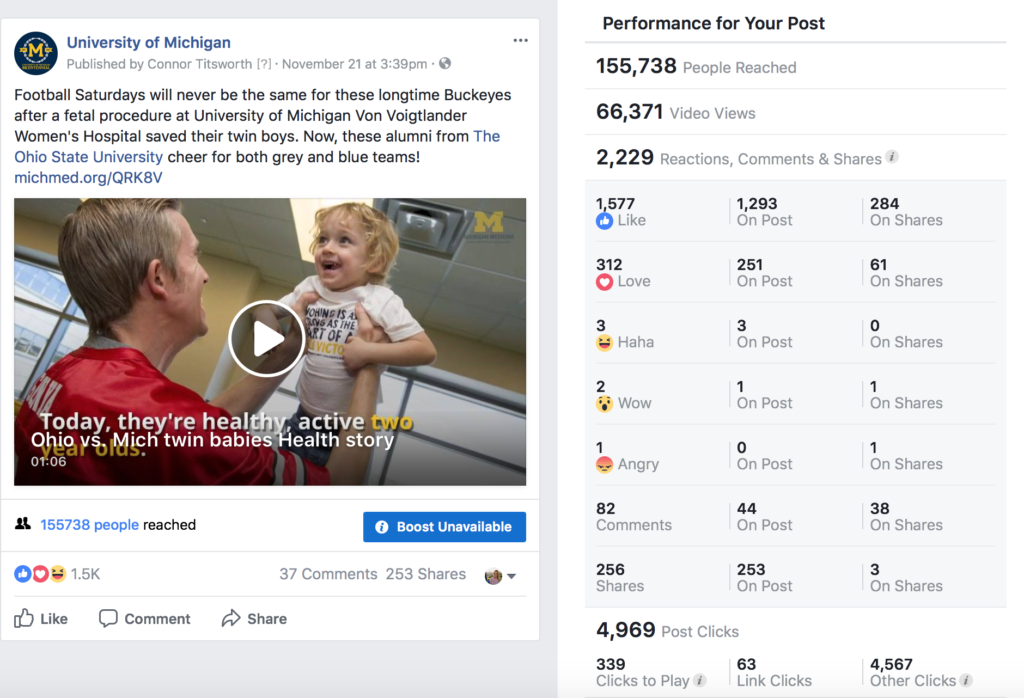 On November 10, we hosted a #UMichChat on Facebook Live about literature, film, and theater in the 21st century. We brought together four U-M experts—Peter Ho Davies, Scott Dennis, Sheila Murphy, and Phil Hallman—to discuss what defines a "classic", whether the criteria varies between genres, and which recent works have the potential to become classics in the future.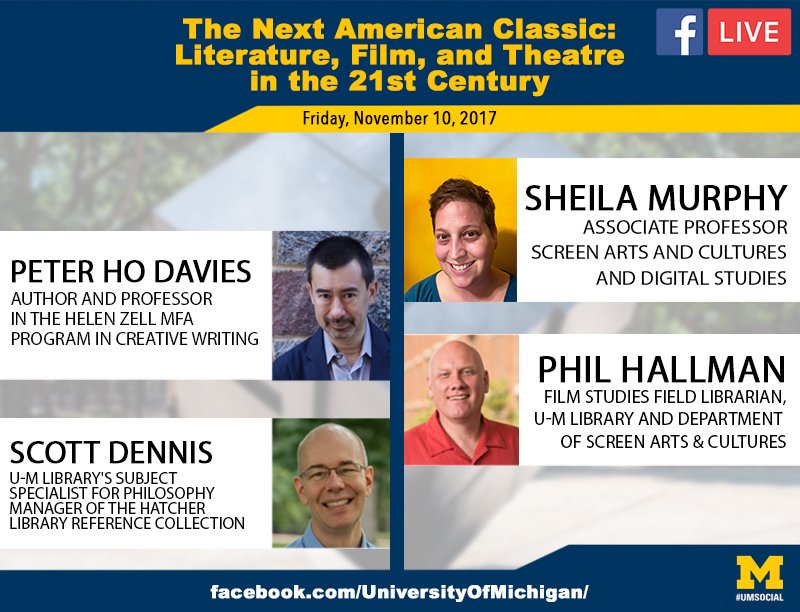 You can find a recap of the chat here, or what the entire livestream on Facebook.
Twitter
Our top tweet this month was one of our daily bicentennial messages. Our audience loved the tweet posted before Michigan Football's game against Minnesota showcasing the origin of the "Little Brown Jug." The tweet garnered over 46,000 impressions and received more than 5,900 total engagements.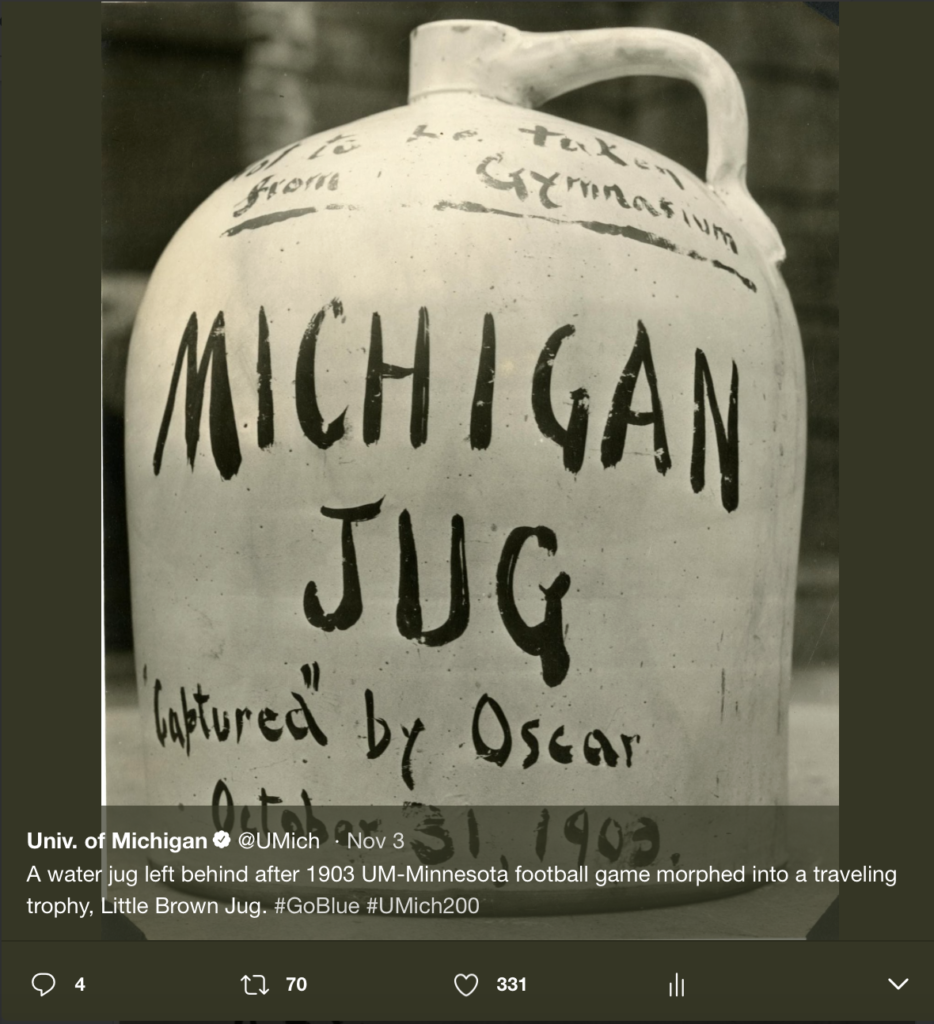 Instagram
Our top-performing Instagram post of the month was a user-generated photo of a favorite campus study spot, the Law Library. This post received 112K impressions and 11.8K likes.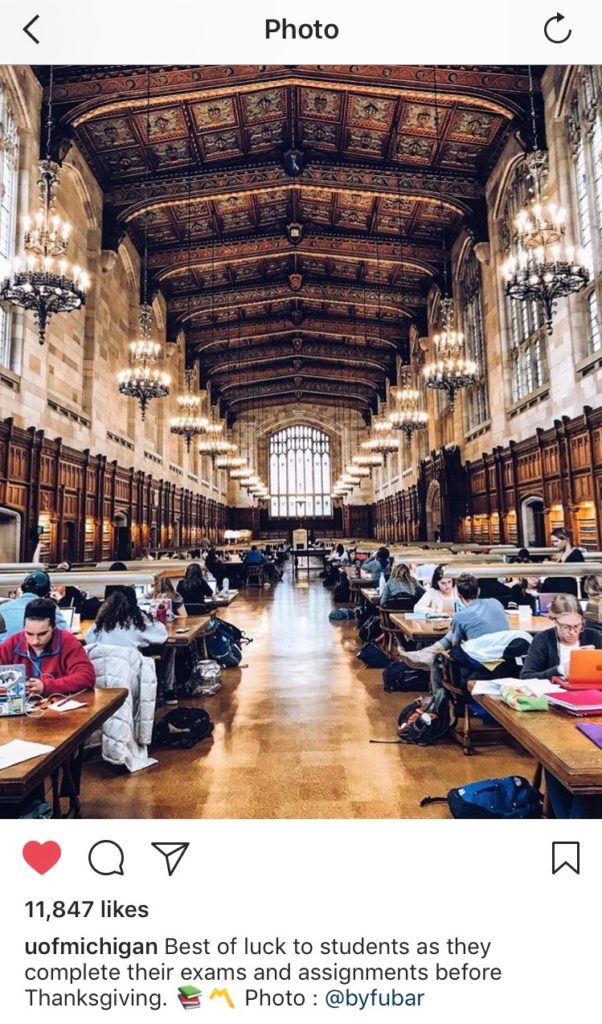 Also popular on Instagram this month was our new #WolverineWaldo series, an homage to the popular Where's Waldo? puzzle books. The photos feature our very own "Waldo" sporting maize and blue in various locations around campus.
Snapchat
On November 21, members of the Pi Kappa Alpha fraternity took over our Snapchat for their annual Pike Rivalry Run. Each year before the Michigan vs. Ohio State football game, fraternity members run a football from one campus to the other to raise money for the Patient and Family Support Services Program through the Coach Lloyd and Laurie Carr Cancer Fund at U-M's Comprehensive Cancer Center. This year, they raised more than $45,000.
To celebrate Thanksgiving, we gave away free Thanksgiving dinners at the MoJo dining hall to the first 10 people to send in a screenshot of our Snapchat story. Check out the full story here.
Spotify
Clement Turner and Kiran Bhumber, students from U-M's Department of Performing Arts Technology, took over the #UMichMixtape this month to promote the annual "Resonance Concert." The playlist featured electronic and avant-garde music all composed by women.
Thanks for following along! Check back next month for reflections and insights about our creative campaigns and top-performing posts of December.
This post was written by Mackenzie Francisco, UMSocial Intern. #StaySocial with her on Twitter @mackenzie_fran