M. Montgomery, author of Anne of Green Gables, once said "I'm so glad I live in a world where there are Octobers." We can't help but agree with her: here at U-M, October was full of innovation and excitement. With so many opportunities to capture content, it was a very busy month for the #UMSocial team! Follow along to find out how we spent our October:
Homecoming:
Every year, Wolverines from all corners of the world look forward to Homecoming weekend, cherishing the chance to revisit the people and places who made their college years special. We wanted this audience to engage with us, so we asked them to document their weekend using the hashtag #myhoMecoming. To encourage sharing, we displayed tweets that contained that hashtag on the Jumbotron at the Big House during the October 22U-M-Illinois game.
There were dozens of things to see and do, so we wanted to make sure our content reflected the diversity of the festivities. We took a cross-platform approach, utilizing all our channels to spread awareness about events and share compelling stories. Here's one example: this week, our #WolverinesofAnnArbor page featured a couple who started dating during their undergraduate years at U-M, continued their relationship through their graduation from the School of Dentistry in 2006, got married, and went on to work together at the same dental practice. For these two, Homecoming means reflecting on the tremendous personal and professional impact that U-M has had on them. Later in the week, we posted a continuation of their story on Facebook for #ThrowbackThursday, including more anecdotes about how they met and the evolution of their relationship. This gave our audience a chance to relate to them on a deeper level, and share their own stories with us.
We also used Homecoming as an opportunity to further explore the livestreaming trend by employing Facebook Live to cover the Michigan Spirit Association's first-ever 'Maizefest' pep rally. This event, which included guest appearances from U-M  student-athletes and performances from music and dance groups, was an energizing start to Homecoming weekend. Our livestream generated a great deal of engagement: the video received nearly 44,600 views and more than 2,700 unique reactions. Additionally, over 300 people commented on the live stream:
The climax of the weekend was, not surprisingly, the Michigan vs. Illinois game, and we wanted help all Wolverines have a safe and enjoyable gameday experience. To achieve this, we made a Snapchat story with information that appealed to users from a variety of demographic groups: we started with tips from DPSS about safe and legal tailgating, posted live score updates as the game progressed, and documented some fun gameday events such as the annual Alumni Association tailgate at Oosterbaan Field House. We also provided live coverage of the Big Sean concert at Hill Auditorium later that evening, capturing the electric energy of the crowds that continued long after the game was over.
Facebook:
Rich personal narratives from students never fail to resonate with our Facebook audience. That's why the #WolverinesofAnnArbor campaign has enjoyed so much success since its implementation in 2015. This month, our top-performing content was a WOAA piece featuring Dave Williamson, a U-M student who is the son of a former Olympic swimmer. Dave spent his teenage years in Ireland, and was not initially accepted to Michigan. This only motivated him to work even harder, however, and he gained admission to the School of Kinesiology as a Health and Fitness major the following year.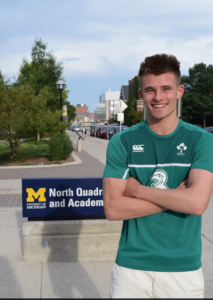 Dave's story had tremendous impact, with an estimated social reach of 171,212 people and more than 1,835 likes, comments, and shares. Many of our followers showed their support for Kevin and respect for his father's athletic career:

 Some commenters took it one step further and shared stories about their own journeys to U-M:

Twitter:
Many schools, colleges, and units across the university work together to provide resources for students and help them realize the benefits of a multidisciplinary education. This month, we highlighted U-M's interdisciplinarity by featuring a panel of students, faculty, and staff from the  School of Music, Theatre & Dance. All of our participants are incorporating Entrepreneurship into arts education, in an effort to make real societal and creative impact through the performing arts:
Our panelists touched on a wide variety of topics, from their opinions about the 'entrepreneurial mindset' to the importance of professional branding for performing artists to campus resources for young entrepreneurs, and much more.
Follow the whole conversation here.
This conversation had considerable impact: in the days leading up to and following the chat, tweets containing our hashtag generated x impressions, reaching an estimated social audience of: X people.
Instagram:
On October 6, the University of Michigan launched its first-ever university-wide strategic plan for diversity, equity, and inclusion. The plan is a high-level introduction of core strategies and goals, demonstrated across 49 individual plans created by the university's 19 schools, colleges, and administrative units.
While the plan itself is complex, its message is not: every voice matters at U-M and no student should feel ostracized or disrespected for their beliefs. Hate has no place on this campus, and we're better together than we ever could be apart. We decided to execute a campaign to make this strategic plan personal,  with explicit messaging to students via Instagram, a platform where they are highly active. We published a photo series in which students of all backgrounds held signs stating the plan's key initiatives in various places on campus. These photos, though simple, resonated extremely well with our audience:
For the past two years, we have executed a Halloween Campaign that encouraged users to share their seasonal festivities using the hashtag #MGoBoo. Many of our followers got creative and showed off their U-M pride through costumes and decorations. On Halloween, we released a motion graphic and wished our followers a very happy and safe holiday.This graphic was a big hit with our audience, receiving more than [x] views:
Snapchat:
 This year, the University of Michigan Edward Ginsberg Center partnered with the voter registration platform Turbovote to help students register to vote in Ann Arbor. We connected with the Center and created an interactive Snapchat story in which our team walked our followers through the sign-up process. This story was an effective way to synthesize social engagement with civic engagement, as well as re-iterate the importance of voting as a constitutional right.
Thanks for following along with us this month, and keep an eye up for more exciting content coming in November. Stay social and, as always, #GoBlue
This post was written by Sarah Barnitt, UMSocial senior intern and Bachelor of Science in Information Junior. #StaySocial with her on Twitter and Instagram @SarahBarnitt