For the past 50 days or so, we've all watched our makeshift "countdown to graduation" tallies dwindle closer and closer to zero. Some of us have diligently kept track of every passing day, while for others it's only gradually set in — as subtle and unexpected as a Michigan spring. Although the thought of donning a billowing robe and holding a diploma in hand is incredibly exciting, it's common for other more negative emotions and anxieties to cloud this fervent anticipation.
In fact, in an article published by the Washington Post, Julie Fraga, a San Francisco-based psychologist, explains that college graduates are at an especially high risk of depression and anxiety during this tumultuous period. "Postgrad depression is under­reported because graduation is like motherhood: culturally seen as a seemingly joyful time, which makes it even more shameful for someone to admit that it's not," she writes.
Although not classified as an official diagnosis by the American Psychiatric Association, postgraduate depression — marked by intense sadness, loss of motivation, and overwhelming feelings of isolation — has been noted by a number of psychologists and mental health advocates to be a serious issue faced by young adults entering the workforce for the first time.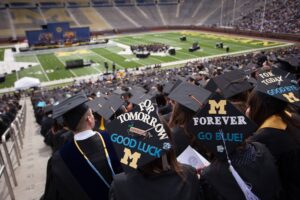 Of course, not every student will experience intense anxiety or depression.  But we should remember that it's okay to not feel absolutely thrilled about the prospect of graduating, even when society says we should. Some students are returning home to apply for jobs, while others will be moving across the country to start new lives only a few days after receiving their diplomas. Conflicting feelings are completely normal. Rather than feeling ashamed, we can assuage our anxieties by speaking openly about mental health and making concrete plans to ensure healthy mindsets as we begin our next phase of life.
Furthermore, as Facebook serves up a flashy highlight reel of everyone's summer plans and Instagram becomes awash in sentimental grad photos it's easy to feel inadequate as we compare our own postgraduate trajectories to the carefully crafted posts of others. A 2018 study from the University of Pennsylvania shows just how insidious social media usage can be in regard to mental health. Participants who reduced their social media use to just 30 minutes a day reported notably reduced levels of anxiety and depression after a three-week period — especially those who came into the study noting that they had already poor mental health.
It is important to remember that what people share on social media doesn't always represent what's really going on in their lives. People don't generally post pictures when they're stuck inside a tiny office cubicle for hours. Rather, they want the world to know when they're at a rooftop happy hour on an unseasonably warm Friday night, and will continue to use these same images for weeks on end. Similarly, when I worked in DC last summer, I only posted two photos from my entire internship. These photos were not representative of my typical day-to-day but from special moments such as getting to go inside the Supreme Court. However, I could have completely fooled my audience into thinking I watched Justice Ruth Bader Ginsburg regularly. Essentially, if social media has you really down, work on fostering connections and relationships in real life; you'll most likely find yourself not even thinking about what's going on inside your phone.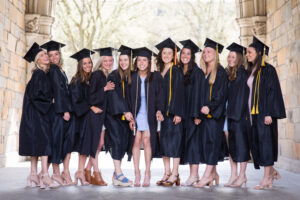 LSA senior Sylvie Evarts will be working as an investment banking analyst at Nomura in New York after graduation. She explains that uncertainty has been causing her anxiety, especially when it comes to having to formulate new goals and start new friendships. "Leading up to graduation, we have been grounded by the structure of attending the best high school, college, and obtaining the most prestigious internships," she said. "However, after graduation, there's no a set endpoint or goal that we must strive to achieve. Aside from my career, I am nervous about moving to a new city and leaving many of my best friends behind at Michigan."
While we transition from structuring our lives around semesters and exams to paychecks and board meetings, it is easy to struggle to find a sense of purpose. How can I define my success aside from getting good grades? Does what I'm doing in the office even matter? How do I replicate those close-knit communities I enjoyed in college? It can be daunting to live outside the comfortable boundaries of campus.
However, Sylvie knows that many people from college will also be in the city, and she can use those familiar faces for support as she begins this new chapter of her life.
"I have found comfort in the fact that there will be Michigan students no matter where my work takes me. I already have many friends from Michigan who will be working in New York with me next year," she said. "Additionally, it helps to remember that my first job will not be my last job, and I still have so much time ahead of me to pivot careers at any point. It's easy to get caught up in people saying that 'college is the best four years of your life,' but I know this is just the start of many exciting years to come."
Sylvie's future roommate, Ross senior Rebecca Solberg, will be working as an Investment Solutions Analyst at JP Morgan. Despite working from sunup to sundown when she was an intern there last summer, Solberg said she managed to still be social and expand her friendship circle. She knows it's important to maintain balance.
"Last summer I would get into work at 6:30 in the morning and leave any time between 7 and 11 in the evening. The people, and variety of work made the days enjoyable and fast. I would go to meetings with friends, coffee chats, and sometimes happy hours," she said. "I also tried to walk home after work,  which was always my time alone where I could relax and debrief."
As Rebecca notes, making time for yourself after a busy workday—going to a happy hour with your favorite coworker, or walking home to clear your head—can improve your mood significantly. In college, people constantly tell us to pursue our passions, yet this refrain can quickly be forgotten in the monotony of the working world. Use your weekends to join a club sports team, learn to cook, visit friends who live in another city — anything that makes you feel excited and centered. And if you're really stressed after work? Nothing feels better than a long, rambling walk or run outside to spike your endorphins and get your blood flowing.
If you are seeing a doctor or therapist, it's even more essential that you use the final weeks of school to conduct a plan to continue these practices after graduation — especially since you will lose access to university services. It can take weeks, or even months, to get on a new counselor or therapist's schedule, so planning ahead is key. You can easily use online resources such as Psychology Today's Find a Therapist tool to track available mental health professionals in your new city. If you feel intimidated by having to connect with someone brand new, many therapists will even offer to conduct sessions over the phone or Skype.
By focusing on tangible ways you can alleviate feelings of depression and anxiety, the uncertainty of the future can become more exciting rather than scary. Kate Owens, a senior majoring in Movement Science, will be moving across the country to work as an EXOS health specialist at Google after graduation. Although she has never lived outside Michigan, she trusts herself that she is making the right career choice for her. "I envision a world so open in front of me that I can't help but feel invigorated as I take these next steps into untraveled territory. For it is only by doing things one at a time, coupled with trust both in ourselves and our experiences, that we will realize all that is meant to be done," she said.
Remember, if you currently feel overwhelmed by depression and anxiety surrounding your career path, the University Health Service has carefully delineated a multitude resources available for your use at the campus, local, and national level.  Whether you need to visit U-M Counseling and Psychological Services, or take part in a student group such as Wolverine Support Network, there is always someone available to listen to your thoughts.