September: a new term begins, bringing with it new routines, new relationships, new goals—and of course, a new class of eager Wolverines. Each student comes to campus with a unique perspective, and we aim to reflect that by showcasing the diversity of our campus in all our content. Follow along for a recap of some of our favorite September moments:
Twitter:
We wanted to make sure that our newest class of Wolverines felt prepared and welcome before they even stepped onto the Diag. That's why, in August, we gathered a panel of current students and alumni to share their advice for incoming freshmen. The panel comprised Abi Walker, junior and member of the Synchronized Skating Team; Abby Grajek, alumna and Upper Bodies Structures Engineer at Ford Motor Company; Aerielle Kim, sophomore and director of marketing at Wolverine CuiZine; and Andrew Humphrey, alumnus and Emmy Award-winning meteorologist at WDIV-TV Local 4.
Each participant contributed meaningfully to the discussion, offering pertinent advice for the #Victors2020. To follow the full conversation, check out our recap.
Facebook
On September 6, QS Top Universities released their 2016-2017 World University Rankings. The University of Michigan was named as the top U.S. public university, moving ahead of UC-Berkeley and UCLA. Overall, U-M ranked 23rd on the list of 900 colleges and universities. We were grateful to receive this honor and expressed our pride by posting a gif on our Facebook page: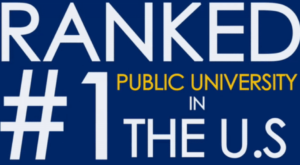 This announcement was a big hit with our audience, generating more than 2,000 reactions and 470 shares.It's not surprising that athletics content performed very well this month, as Wolverines from all walks of life came together to cheer the maize and blue to victory. We capitalized on Facebook's affinity for video content by posting this short clip of the action straight from the student sectionL
Youtube:

On September 5, we released "Welcome HoMe." This video provided viewers a whirlwind "Blue-Bus" tour of the most iconic parts of campus, featuring talented student-musicians from the Michigan Marching Band and the a capella group 58 Greene. This was a great opportunity to capitalize on the excitement that accompanies every new semester, as well as to feature the people and places that truly make U-M hoMe for every student.
Instagram: 
This month we partnered with Michigan Global News for an Instagram Takeover featuring the Prison Creative Arts Project, which gives art and music students the opportunity to bring the arts to marginalized populations such as prisoners and hospital patients. We watched as as students who participated in the program this summer in Rio de Janeiro reflected on how the experience had a meaningful impact on their work and sense of self. Captions in both Englishand Portuguese helped authentically capture the story's global impact.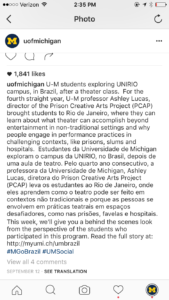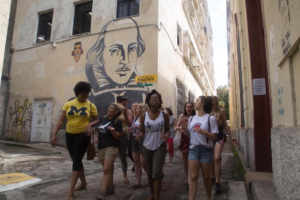 Our most popular Instagram post of the month brought our followers right to the 50-yard line at the Big House. Captured in the moments before the Wolverines took on the Colorado Buffaloes (for a 45-25 win ;)), this image was not only the most popular of September, it was also one of our most popular posts of the year to date, receiving more than 7,700 likes and more than 50 comments.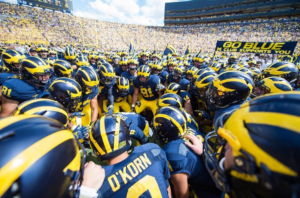 Snapchat:
There are fewer experiences nearer and dearer to our Wolverine community than an afternoon in the Big House, so we made a point to capture the excitement of the first home game of the year on Snapchat. In this story, we shared safety tips and important game day reminders, and captured plenty of the action right from the sidelines.
As the semester moves forward and students become more preoccupied with academic, extracurricular, professional, and social commitments, it's more important than ever to remind them to prioritize their mental health. We teamed up with Counseling and Psychological Services (CAPS) to capture their "Positive Chalking on the Diag" event. This CAPS team called the student body to action, asking them to write positive messages on the ground for their fellow students. We also invited students to "snap" us back with their own messages of community, compassion, and hope if they couldn't physically make it to the event. We added the user-generated messages to the end of our story to further spread the positivity throughout campus.