What happens in an operating room is a mystery to most people—even to those who've had surgery.  Patients are generally sedated, and parents and family usually aren't allowed past pre-op because of  infection control and safety protocols.
Unknowns can be scary for patients and families alike. But social media lends an opportunity to open those doors and peek inside.
C.S. Mott Children's Hospital had long been interested in live-tweeting a surgical procedure, but was waiting for just the right opportunity. Both the family and the surgeon needed to be familiar—and comfortable—with social media. And it was important to find a doctor who would be ok with the additional "audience" that would come with being followed into the OR.  We also wanted to showcase a procedure with a predictable outcome that would move along at a steady pace over a relatively short amount of time.
A few weeks ago, that perfect opportunity presented itself.  A family who has embraced social media during their daughter Abbee's struggle with severe scoliosis posted to their Instagram account, announcing an upcoming surgery—the little girl's 10th procedure related to her spinal condition.
The family's comfort with social media and the fact that they were already well-acquainted with the OR experience were indicators that we'd found the situation we'd been looking for. The surgery, called a VEPTR procedure, is relatively short—another of our requirements. And because VEPTR is an outpatient procedure, Abbee would be going home the same day, which is great because who doesn't like a happy ending?
Our objective in live-tweeting a surgical procedure was  to shine a light on the experience of parents and families, and highlight how child-friendly Mott makes the process. From the moment Abbee and her family first stepped through the door, to a smiling Abbee sipping a juice box in the recovery room following surgery, Mott healthcare professionals made sure her experience was as positive as possible, and we were able to share that journey with our audience.
We began by launching a blogpost to share Abbee's story, helping provide context for the journey our audience would take. Live tweeting was followed by a Facebook gallery of highlights, and the creation of a Twitter Moment to help curate the entire experience for those who missed it.
We also used our blog to create a listicle of select moments from Abbee's journey.
We saw more likes and retweets over a standard day on the @MottChildren Twitter account, and, most importantly, responses from the audience expressed how warm and child-friendly the philosophy of care at Mott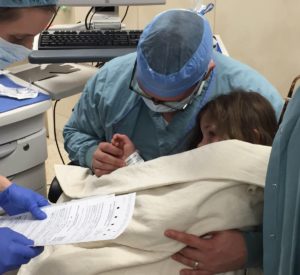 Initially, not everyone was convinced that live-tweeting a surgical procedure was a good idea. But this first venture went a long way toward addressing those concerns, and increasing everyone's comfort level. We're looking forward to future opportunities to get back into the OR and share more "patients-first" stories from U-M Hospitals and Health Centers.
This is a guest post c/o the University of Michigan Health System and C.S. Mott Children's Hospital.