We produce a lot of content—like a lot. So whenever we can find a new tool, tip, or trick to improve the process and innovate our delivery, we're going to check it out. Here are just a few of the handy apps that are currently making our life at UMSocial a little easier:
Canva is a user-friendly tool that allows you to create quick and easy visuals and animations (beta). Adobe Photoshop is still a staple of our operation, but Canva allows team members of all skill levels to leverage the preloaded brand colors and available creative templates in pre-sized social measurements to facilitate the workflow. Available for mobile and desktop, the two are seamless, and allow you to edit a project from one to the next. Basic access to Canva is free; some image assets, however, may cost you a dollar or two. For a more robust option that allows you to customize your environment, Canva does offer a paid option.
Unfold
Need a quick and easy way to put together a visual story? Unfold is another one of our favorites. Its primary use is to create visual Instagram Stories. We like this app because we can incorporate U-M's colors and font. The app also has a variety of templates to choose from that offer different designs for each slide. The app is very user-friendly and makes it easy for even newbies to navigate and create a simple fun story. 
The Stories Edit app by Playnoly is another favorite we use for our editing processes. Stories Edit allows you to choose from a variety of templates and styles that can be customized to your liking. One of our favorite features is that you can use Stories Edit on your desktop! The app provides options to include hex codes so we can adhere to U-M's brand color guidelines. If you want a nice, clean Instagram story with some pizzazz and the ability to make cool picture collages, this is the app we recommend. To learn more about what else Stories Edit has to offer, check out the website.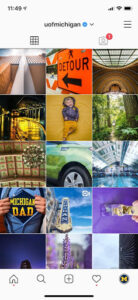 Need help figuring out how you want to lay out your Instagram feed? Use the Preview Instagram app! We use Preview to give us a visual sneak peek to see what our image feed will look like and to keep U-M's brand fresh on the Instagram page. Our team wants to make sure that we build a cohesive and professional image feed that is aesthetically pleasing to our page visitors. The Preview app gives us the option to visualize and set tones and themes each week, providing the audience with different, cool layouts. Preview also has the capability to let users schedule out their images;  however, we only use it as a template to rearrange and organize our imagery.
Pixlr is a great app if you want to polish your photo editing skills. We love Pixlr because of its capability to fix or enhance images. The app is very simple to use, and you can edit pictures right on your phone without having to upload them to your computer, and you also won't need to use Photoshop or other editing software. You can also use Pixlr to create photo collages for other visual projects. So if you need to make your picture pop, we definitely recommend downloading Pixlr. 
Post written by Tatyana Fykes, #UMSocial Content Specialist for the Presidential Initiatives at the University of Michigan