Valentine's Day has become a rather special occasion for us here at #UMSocial. In years past, we've celebrated by sharing student and alumni #UMichLoveStories, and authoring, crudely designing, and lovingly distributing our own Comic Sans valentines. This year we set our aspirations high again, aiming to both engage our online communities and our student, faculty, and staff communities here on campus.
With new staff and talents on hand, an opportunity presented itself to revisit our design and distribution approach. Featuring clever new puns and animated elements, we rolled out six maize and blue Valentine's Day messages in our Instagram feed in the week leading up to the big day. We invited followers to both tag their special someone in the comments and visit the link in our bio to reveal other creations.
Shifting gears to our on-campus communities, we sought to find a new way to bring joy and a little love to people's lives, while also creating a content-capturing event. Recognizing that no one gives unconditional love better than a pet, we reached out to our local therapy and service dog contacts to facilitate a surprise and delight for our students, faculty, and staff. Intentionally located outside our infamous West Hall Engineering Arch, historically the site of numerous budding and long-lasting romances, we brought the purity of #PuppyLove to life, providing the opportunity to passersby to pet, play, and pose with some furry friends on their way to and from their midday classes and meetings.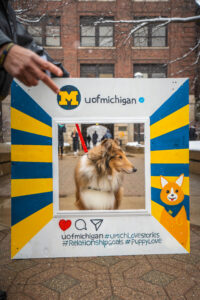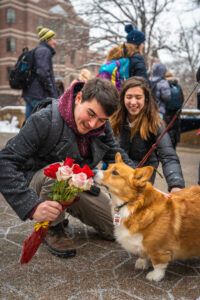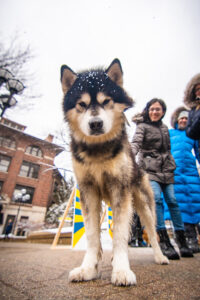 Underlying the creativity of both these efforts lay the strategy that always drives #UMSocial's work. We wanted to ensure we were providing attendees with more than just a welcome reprieve from their daily stresses. We spent weeks coordinating with campus facilities and operations, and reached out to the Department of Safety and Security's Special Victims Unit, Wolverine Wellness, and SAPAC to secure a central location and provide resources that promote healthy relationships and help people of all ages navigate issues of sexual assault, mental health, and substance abuse.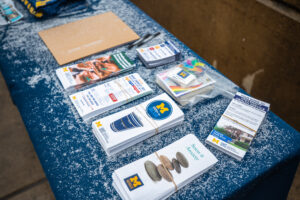 Despite the frigid Michigan weather, the event was extremely successful. In just 60 minutes we engaged hundreds with a welcome reprieve from the stress of a school/work day and distributed educational materials. There were many selfies taken and words of gratitude expressed, like "This just made my day" and "I really needed this." 
Special thanks to Legend, who regularly visits Michigan Medicine and the Ann Arbor VA;  Hawkeye, from University Health Service; and of course Reggie the Campus Corgi.