You check Facebook, after closing Instagram, while a Snapchat notification comes in. And then your Tinder date cancels…and somehow, in all this, you remain unfazed by the number of social media accounts that are running your life. We have become numb to the idea of being "too involved." We can't be the only ones dealing with "Twitter elbow" (caused by propping yourself up and checking your phone before you even get out of bed in the morning). Running through the apps on our cluttered phone screens is just another mundane daily task, like brushing our teeth, that we've incorporated into our lives.
Is there even room for another social networking app? Possibly. But chances are it won't be Vero.
Vero skyrocketed to the top of the iOS app store last week (even though it was created in 2015), according to App Annie (Petrova & Weaver, 2018). But sudden high traffic can lead to that situation we call a traffic jam. The app experienced some "growing pains," and execs quickly took to Twitter to apologize to their users and thank them for continued patience. But was it too late?
Their mission is to provide a "Truly Social Network that celebrates people's passions without algorithms, ads, or bots" (Vero, 2018). Sounds good, you're thinking, but what makes this social network any different than the five I already have? Their "free for life" service, for one. Originally offered to the first million users as an incentive to try the app, it's now been extended to all users due to "high demand" and to make up for "service interruptions," but only until further notice. The targeted approach is different, too: content doesn't just go out randomly to all friends and followers. You can specify different groups (friends, acquaintances, coworkers, and so on) and post content separately to whichever groups you want. The other big draw of Vero is that it isn't manipulated by an algorithm. Posts from accounts users appear in chronological order (like they used to on Instagram).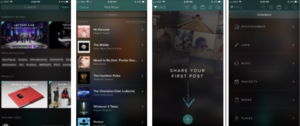 The app aims to take care of the "imbalance" that has formed between the interests of the platforms and the interests of their users (Vero, 2018). They want to end the highlight reel mentality social media has created and allow users to control who (specifically) sees what so they can behave more naturally and try to avoid that FOMO feeling seemingly "perfect" social profiles instill in us. Vero wants you to just totally be yourself.
The subscription-based business model does not serve up ads—at least, not yet. The feed is interesting. As we've discussed before in this space, Facebook has been throwing different algorithms at us every which way over the last few months. Vero does not curate or manipulate your feed at all. You decide who you want to see by connecting with or following them…and that's exactly who you will see. And if you use it for business, like we do here at UMSocial, you will not have to pay a single dime (for now…) to reach your audience or "boost" posts. That alone is enough to make many people sit up and take notice.
Don't get too excited, though. The app went from an overnight sensation to a total flop in about a minute and a half. A lot of people who eagerly jumped on board at the beginning started abandoning ship; and a #DeleteVero movement is now enjoying a wave of popularity (Molina, 2018). What went wrong? The app did not immediately deliver—and in this age of short attention spans and instant gratification that is just about the worst thing that can happen. It was supposed to "save social media," but the servers were not equipped to handle the pressure of too many people trying to get that "free for life" access. Unfortunately for Vero, word travels fast in the Twitterverse: disappointed users tweeted their frustrations almost immediately and questioned the CEO, his credibility, abilities, and arguably unsavory background, and damaged the Vero brand, perhaps irrevocably. As they say, you don't get a second chance to make a first impression.
Added on to a long list of woulda-coulda-shoulda also-rans that were going to slay Facebook and Instagram—including the likes of now-forgotten social saviors Ello, Mastodon, Peach, and Sarahah—the future of Vero does not look bright (Segarra, 2018). But did we really need another social media app anyway?
It does pose the question though… what are we missing from social media that we would like to see or that we do not already have?
As Always,
Be social. Stay social. #UMSocial
Post written by McKenna Whipple, Social Media Content Strategist at The University of Michigan.
Kalenderian, Michael. (2018). The internet has already fallen in and out of love with Vero. VICE News.
Mathies, Daven. (2018). What you should know about Vero, the sketchy social app that came out of nowhere. Digital TRENDS.
Menegus, Bryan. (2018). We Regret to Inform You That Vero Is Bad. Gizmodo.
Molina, Brett. (2018). Delete Vero? A movement has already started to ax the new social app. USAToday.
Petrova, Magdalena & Weaver, Darren.  (2018). Why this social media app is beating Facebook, Instagram and Snapchat in the iOS app store. CNBC.
Segarra, Lisa Marie. (2018). Vero Is Taking On Instagram By Fixing the One Thing Everyone Hates About Instagram. Time.
Vero. (2018). Announcement. Vero Labs, Inc.
Vero. (2018). Vero Manifesto. Vero Labs, Inc.