UMSocial and Public Engagement partner with schools, colleges, groups, organizations, and units across campus and the community every day to elevate a wide array of messaging. These partnerships are crucial to successful communications and ensuring transparent dialogues.
Throughout 2021, as the University of Michigan community transitioned back to campus, society continued to face challenges and seek answers from thought leaders. With the breadth of partnerships, U-M was able to provide insights and information on topics ranging from mental health to healthy eating and so many other focus areas. 
One of the most important collaborations we have is for the safety and security of our entire campus community. By creating information to help students prepare for game days, encourage safe behaviors for holidays and as students prepare for travel, and providing wellbeing resources, UMSocial and Public Engagement proactively work with campus leadership, Student Life, the Division of Public Safety and Security, Wolverine Wellness, and countless other units. With consistent content emphasizing Stay in the Blue, COVID-19 and flu vaccinations, and masking to mitigate transmission, UMSocial and Public Engagement through our partnerships with these important 
While we could never highlight all of our collaborative efforts, here are few we're especially proud of from 2021:
CAMPUS UNITS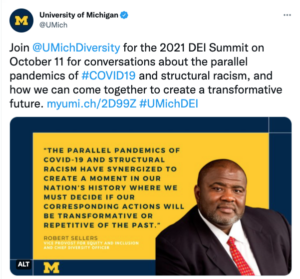 UMSocial and Public Engagement partnered with the Office of Diversity, Equity and Inclusion throughout the year to promote events, communicate important efforts, and encourage transparent dialogue. From the MLK Symposium to the climate survey to the annual Diversity Summit, amplifying the work of the DEI initiative and the students and faculty who are a part of it continued to be integral to the social strategy in 2021. 
---
In observance of Sexual Assault Awareness Month, we worked with the U-M Division of Public Safety and Security (DPSS), the Sexual Assault Prevention and Awareness Center (SAPAC), University Health Service (UHS), and Michigan Medicine to develop a series of podcasts and accompanying content detailing the commitment to supporting sexual assault survivors and educating the community on prevention strategies. 
---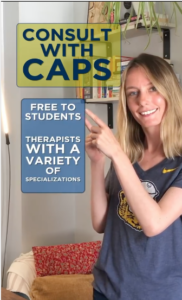 Mental health resources are vital for a thriving university community, so every year UMSocial partners with the Depression Center to promote mental health tips and resources on social media platforms. With the COVID-19 pandemic escalating feelings of isolation, and spurring college student suicides nationally, we increased the amount of well-being content created and shared this year. Through the development of themes and a new focus on vertical video, we developed innovative content that resonated with students on the platforms they engage with most often. 
---
We continued our collaborative relationship with the Office of Enrollment Management (OEM), focusing our efforts on increasing admissions content on the U-M social channels. We identified a consistent posting schedule which included a weekly student blog and weekly financial aid updates. We also identified new ways to elevate this partnership by promoting the application opening and early action deadline through vertical videos on TikTok and Instagram Reels, which are most commonly used by the college applicant demographic. 
---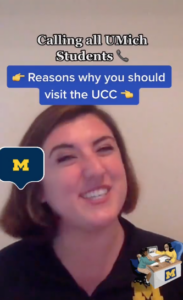 During the 2021 Commencement season, we held a virtual career panel that featured career counselors from U-M Engineering, Michigan Ross, and the University Career Center (UCC). The conversation focused on the uncertainty of graduating during a pandemic and navigating the next steps in your career journey. To take the collaboration further, we partnered with career counselors at UCC to create our own #TikTokResume, adding our own content to a trending hashtag garnering attention for helpful tips. The video highlighted reasons why students should visit the UCC and what the UCC has to offer every U-M student. 
---
To promote healthy living and raise awareness of U-M programs, we partnered with MHealthy, Recreational Sports, and Wolverine Wellness. Collaborating with these units from across the institution provided opportunities to amplify their message in unique, trendy, and insightful ways. Using vertical video, we connected with the U-M community by creating video content that spoke to a range of audiences.  
---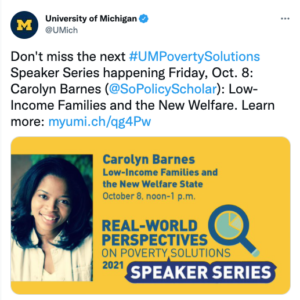 Poverty Solutions provides useful resources and educational tools for community members. Throughout 2021, we worked with Poverty Solutions to promote that information from experts and share other tips for navigating societal challenges. From highlighting the Child Care Tax Credit website to encouraging participation in the annual Speaker Series events, UMSocial and Public Engagement continued the collaboration.
---
Leading up to the launch of the Firearm Injury Prevention Institute, UMSocial and Public Engagement collaborated with the Office of the Vice President for Research for a special series of Michigan Minds podcast episodes about firearm injury prevention research. 
---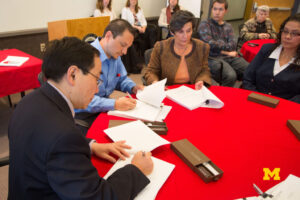 By working with the Native American Graves and Repatriation Act (NAGPRA) unit within the Office for the Vice President of Research, we were able to highlight the importance of the institution's work to transfer human remains and associated funerary and sacred objects to the Indigenous peoples who have the legal right to them. 
---
During National Nutrition Month, we partnered with MDining to create a series of Michigan Minds podcasts, which focused on nutritional eating during the COVID-19 pandemic, social media food trends, and healthy eating habits for college students. 
---
STUDENT GROUPS
Student groups are an important part of the campus community, and it's a natural partnership to collaborate with them on content, resources, and information shared across U-M platforms. From working with Central Student Government (CSG) on Governor Whitmer's bill signing event on campus, to creating content with the Diversity, Equity and Inclusion student committee, to involving students who are a part of Wolverine Wellness in the content strategy and arranging account takeovers for consistent messaging that is beneficial to the student community, these collaborations allowed U-M Social and Public Engagement to share the most important information with  students and ensure that the entire campus community feels connected, informed, and represented.
SCHOOLS AND COLLEGES
In collaboration with the University of Michigan schools of Social Work, School of Information, and Education, UMSocial distributes timely and informative news pieces daily featuring valuable information from thought leadership at each school. By integrating these faculty research articles, alumni spotlights, newsletters, and more into the daily social content strategy, U-M has continuously amplified an array of innovative work and insightful scholarship—generating new knowledge to share with the community.