Content meetings at #UMSocial typically center on how best to communicate important research the University of Michigan has in the works, upcoming events, cross-campus collaboration opportunities, and institutional priorities via our wide array of social media properties. They also include reviewing the latest emerging internet crazes and discussion of timely cultural content. Through the incorporation of trends, highlighting of new platform features, and adoption of viral challenges, U-M is able to leverage the power of online communities to generate additional interest in our content. Widening our reach beyond our normal demographics, increasing the perceived quality of our content, and demonstrating an awareness of the conversation outside the traditional boundaries of academia.
Over the past few months, #UMSocial has placed additional emphasis on featuring imagery, video, and stories on our Instagram account that will resonate with a  younger user base. Data and engagement indicate that Instagram is a hotbed of the enrolled/prospective-student and young-alumni demographic. Vitally important to this approach is maintaining some sort of connection to our brand and our stakeholders—a fun challenge that sometimes means not every trivial internet holiday makes it into the newsfeed. Each individual topic receives an evaluation for a variety of applications: national holidays, for example, might get an image and animation, and be shared beyond Instagram. "Niche"  days, however, such as #NationalSushiDay, live only on the platform the trend presents itself best on, with appropriate conversational text and emoji.
The ever-changing landscape of social media creates an environment ripe for creativity. When new features (such as the Instagram Story question boxes) are introduced, we actively look for ways we can both showcase our brand within the format and educate users on how to utilize the new tool. From the introduction of bitmojis on Snapchat years ago to Facebook Live, Twitter moments, and IGTV, it is key to our social strategy that we continuously evaluate how best we can engage our audiences in an authentic manner.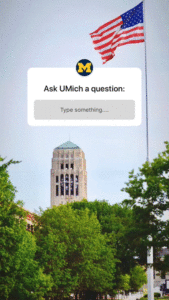 Clearly the most appealing and obvious way to leverage trends is to explore viral challenges. Hardly a week goes by without a new dance craze hitting the web. While the draw of going viral is wildly intoxicating, it is important to also evaluate the relevance of the trend in relation to your brand. Does the music have words that are not favorable to your audiences? Does the execution of the trend present a potential risk to your communities? Can you be timely in your release of the content? How can you potentially incorporate resources, information, or campus culture into the trend? Once you have asked yourself those important questions, you can dive into something like our #InMyFeelings challenge with Jordan Poole, confident that not only are you demonstrating a more personal side of your brand while doubling views and tripling engagement, you can also justify the time spent to your leadership.

Moral of the story?  Don't let trends drive your content strategy, but also don't be afraid to take risks and make your brand relevant. The key is balance. At #UMSocial our core objective is to educate individuals on U-M's amazing research and academic content—but that is hard to do if you don't have innovative content that draws people in. The real challenge is learning how to incorporate both. Just as the University of Michigan strives to be the leaders and best in research, teaching, and learning, #UMSocial will always strive to be the leaders and trendsetters within the social communications realm.

As always, Be Social. Stay Social. #UMSocial.
Post written by Senior Intern Julia Ross, copy edited by @NikkiSunstrum.
August 2, 2018