Class is back in session, the U-M football is undefeated, and the leaves are falling here in Ann Arbor. Always one of our busiest months, September presented a wealth of opportunities for UMSocial to highlight the happenings on campus. Follow along for some key highlights.
Facebook
On September 2, we shared Episode 1 of "The Victors," a new series highlighting Michigan Football's history and previewing the team's season ahead. The video was viewed more than 74,000 times, reaching more than 366,000 people.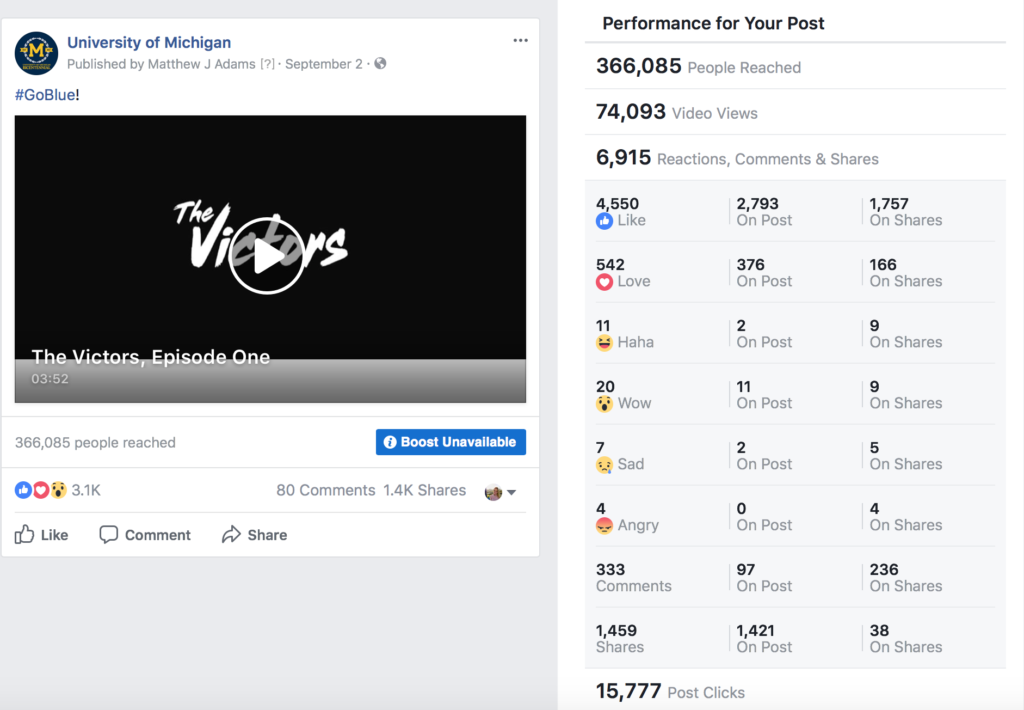 Also popular on Facebook this month was a livestream of Assistant Professor of Music and U-M carillonneur Tiffany Ng performing a reflective recital of September 11 memorial works in Burton Tower. The livestream had 67,000+ unique viewers, with nearly 32,000 of these viewers watching for at least 10 seconds.
Assistant Professor of music and U-M carillonist Tiffany Ng performs a reflective recital of September 11 memorial works on the 53-bell carillon of Burton Tower.
Posted by University of Michigan on lunes, 11 de septiembre de 2017
Twitter
On September 29, we hosted a #UMichChat about U-M from a student's perspective. We brought together campus leaders from Alpha Phi Alpha, Central Student Government, the Michigan Daily, and the Chinese Undergraduate Student Association to discuss the impact their organizations have on the U-M student experience and how other students can get involved. We also asked our panelists which aspects of U-M have been most valuable to them as students, what they wish they knew as freshmen coming into U-M, and what they see as U-M's biggest challenge as the university enters its next 200 years.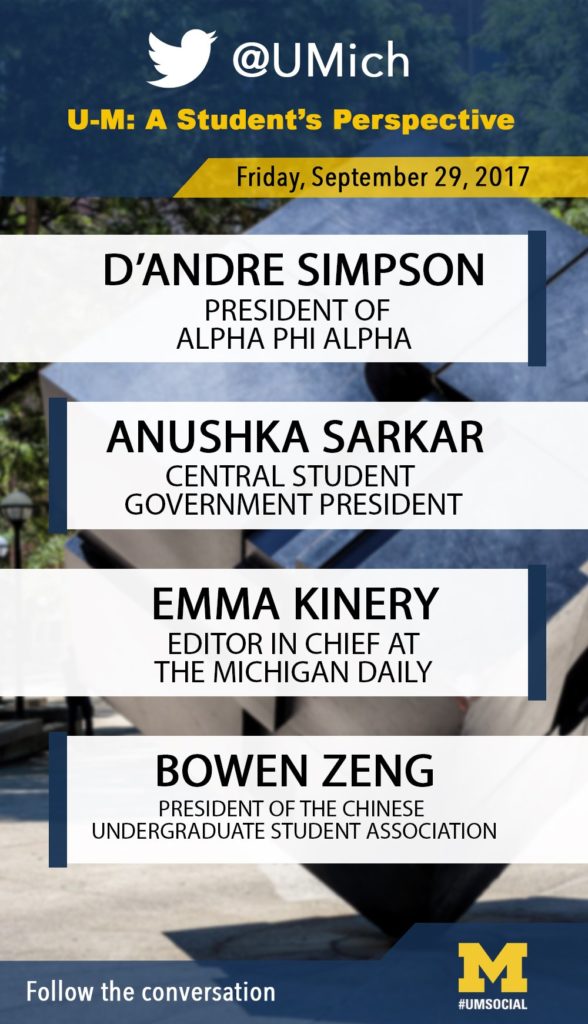 Our top tweet of the month was one of our daily bicentennial messages, which featured a picture of Michigan Stadium when it originally opened in 1927. This tweet garnered more than 37,900 impressions and received 3,000+ total engagements.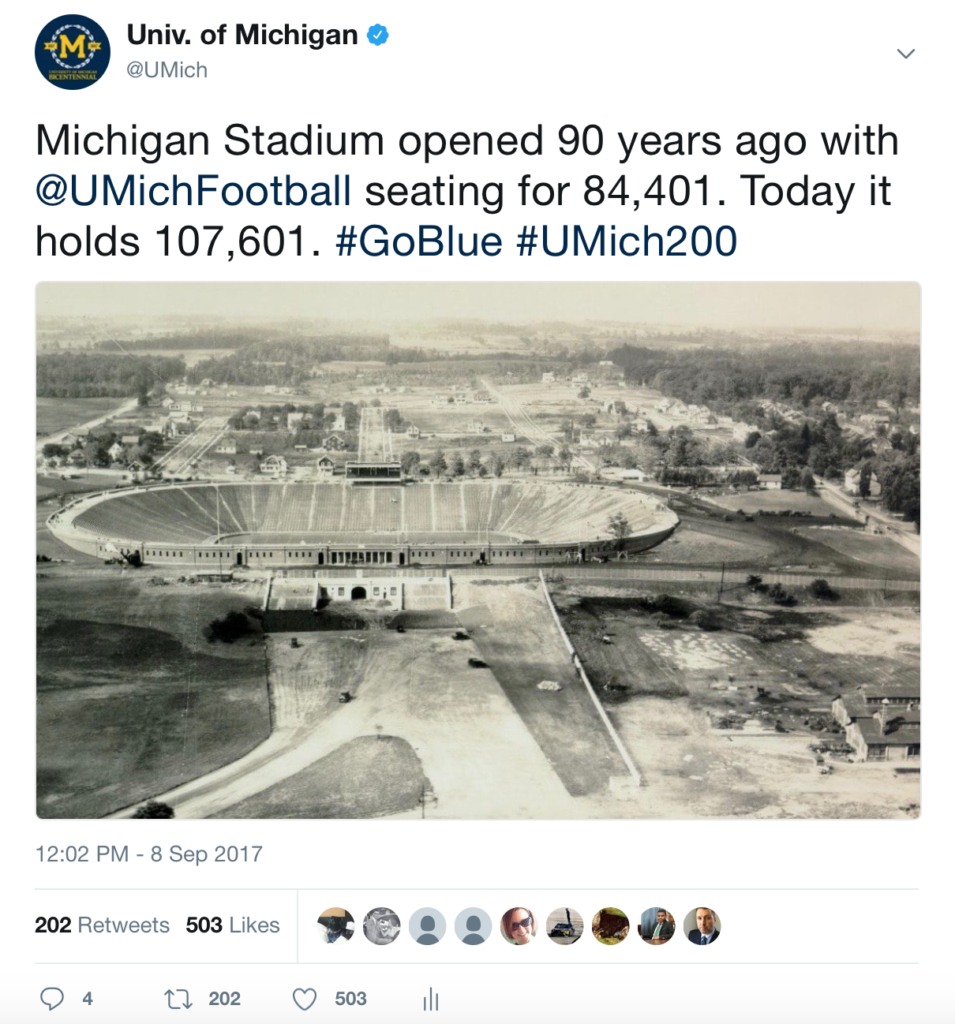 Instagram
Our top-performing Instagram post of the month was user-generated content featuring a maize and blue sweet treat basking in the glow of the Big House after our second win of the season. This post received 79.1K impressions and 7,575 likes.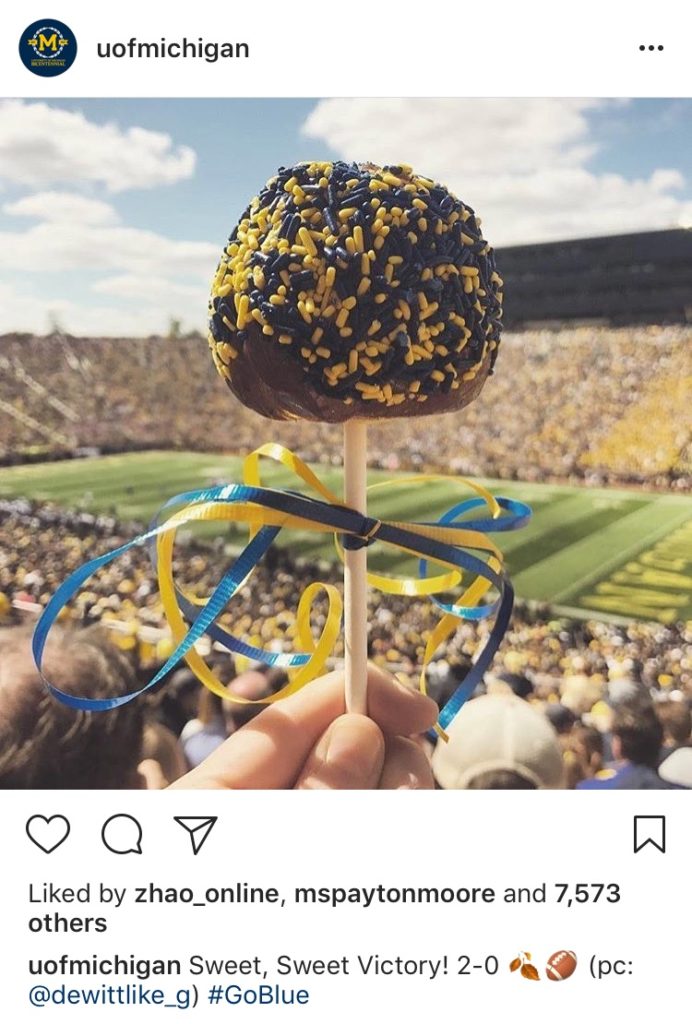 Snapchat
On September 14, Snapchat released an augmented reality feature that allows you to place moving 3D bitmojis in your snaps. We created a Snapchat story explaining how to use this feature and encouraging our followers to send us their 3D bitmojis moving around on campus.
Also popular on Snapchat this month was a story highlighting "Zero Waste Game Days." Michigan Stadium is striving to divert 90 percent of game day waste through recycling and composting.
Spotify
This month on Spotify, we launched "Out of the Tunnel," a new playlist in collaboration with U-M Athletics. The playlist features all the songs played in the Big House, updated after each home game. U-M Athletics shared our posts about the playlist to their own Facebook and Twitter pages in an effort to draw more attention to both the playlist and our Spotify account in general. It's been public for less than a month, and it's already the most-followed on our account with more than 440 followers.
Thanks for following along! Check back next month for reflections and insights about UMSocial activities in October.
This post was written by Mackenzie Francisco, UMSocial Intern. #StaySocial with her on Twitter @mackenzie_fran