This past September,  Snap Inc. released Spectacles, camera-equipped sunglasses that allow users to shoot first-person videos that can be wirelessly uploaded to and shared via the Snapchat app. The glasses are the first wearable product from Snap Inc. (Snapchat's parent company), and reflect the company's shift from focusing solely on content generation to adding consumer hardware to its product mix.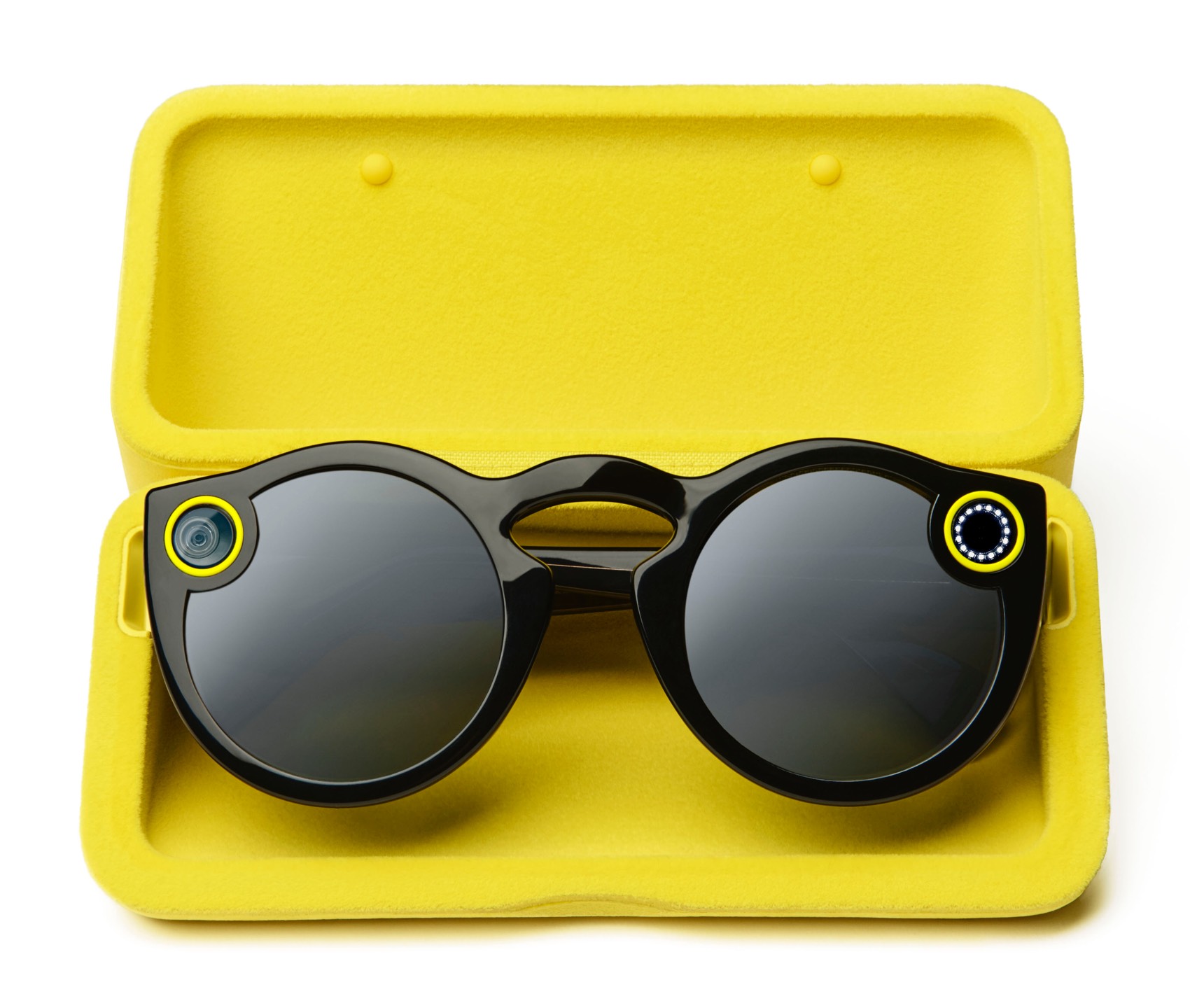 The advent of Spectacles also signals a divergence from traditional content production that is centered around mobile phones to an embedded-computing, internet-of-things approach.
First-person, visceral experience is the product's main selling point. The Snap.inc post first announcing the launch of Spectacles reads:
'Imagine one of your favorite memories. What if you could go back and see that memory the way you experienced it? That's why we built Spectacles.'
Documenting moments, recording memories. Spectacles appeals to the digital-age fascination with archiving one's life in real time—not a new phenomenon by any means, but one which has been greatly simplified by the availability of digital media. It's a high-stakes game for brands too, which have always faced the challenge of constantly evolving to meet the demands of a shifting world. They now they face the additional obstacle of finding new, innovative ways to communicate with their audience while remaining true to their own identity and the needs of their customer base. Spectacles, as well as other tools and features like Facebook Live, Periscope, and GoPro, allows brands to authentically connect with their audiences as they grow and change.
What makes Spectacles different? Unprecedented technology and visionary marketing.
Spectacles is a product of the current public enchantment with video content. Some would say it's a risky move: the digital video space is already saturated with existing products and platforms. However, Snapchat is poised to make major waves in this arena by adding another dimension to the video experience: the glasses can record up to 10 seconds of content from the first-person perspective of the wearer (analogous to the Snapchat app's video function). Spectacles uses a 115-degree angle lens to mimic the human field of vision, and the glasses have a 'circular video' functionality that plays on all devices and in all orientations.
However, it's not just the hardware itself that make Spectacles unique; the marketing and distribution strategy is also truly innovative. Spectacles was originally only available at a limited-hours store in Manhattan; the shop attracted huge lines of early adopters from across the country, garnering positive press for the fledgling product. Borrowing a page from the fashion industry's book, Snap Inc. also executed a pop-up Spectacles 'vending bot' that travels across the U.S and pops up daily in new places. Snap. Inc maintained this sales and distribution strategy until February 20th, when they announced via Twitter that Spectacles are now available for online purchase.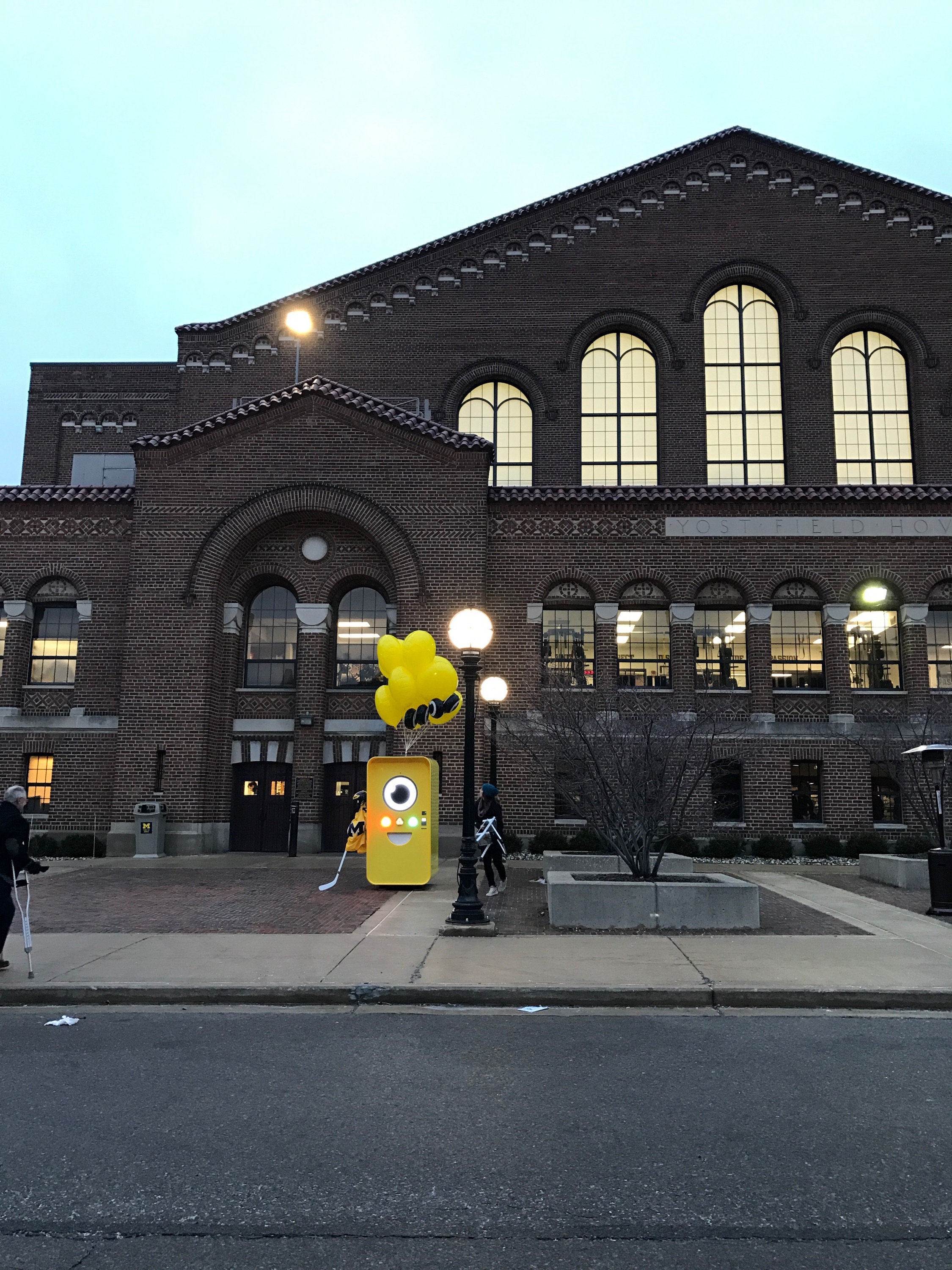 Needless to say, UMSocial was eager to get our hands on one. And on February 11, we got our chance. The Spectacles vending machine arrived in Ann Arbor, and UMSocial was among the first customers in line outside Yost Ice Arena to check it out.
#UMSocial and Spectacles: a match made in heaven.
The timing of the vending bot's arrival on campus was serendipitous, since we will soon be celebrating the third anniversary of our 'UofMichigan' Snapchat account. The kickoff of the university's yearlong bicentennial celebration also contributed to make now the perfect time to take our Snapchat content to the next level. Spectacles has the potential to enrich our video strategy and add another impressive aesthetic dimension to our content. This tool will allow us to continue to deliver fresh perspectives to our audiences, as well as educating stakeholders on how to deliver their messages in new ways.
We purchased two pairs of glasses, one for internal UMSocial use and one to lend out to U-M schools, colleges, and departments. UMSocial's collaborative Snapchat strategy  encourages individual units to leverage the main U-M accounts rather than maintaining individual accounts, so we are continually looking for ways to bring department-level content into our Snapchat channel. Lending out Spectacles will make it much easier to do so. It will also ensure that these stories will be told directly from the perspective of the people who are crafting them.
The 'first-person' perspective offered by Spectacles provides an even more visceral experience than traditional Snapchat stories. By using Spectacles, we will be able to bring even more facets of the Michigan experience to our audience than ever before. Event coverage and behind-the-scenes access via Spectacles will offer new opportunities to our campus partners to show off their programs, events, venues, interactions, etc. While traditional Snapchat stories have always allowed us to do this, Spectacles elevates the user experience: by offering the 'first person' view it will allow content creators to make more 'hands free' creative and artistic choices.
The Leaders and Best Reinventing the Status Quo:
It's not just the capabilities of Spectacles that make them a great asset to UMSocial; the ideology behind them perfectly aligns with the one of the keynote events of the U-M Bicentennial celebration. This colloquium, scheduled for October, will feature student projects that will re-envision the concept of the university campus. They will be judged on innovation and feasibility by a panel of experts. The purpose of this campus of the future initiative is to reimagine a concept that is deeply entrenched in tradition and routine the stereotype of wearable tech as a niche product only for fitness enthusiasts and 'tech geeks.' Brands such as Mountain Dew have already proven that Spectacles can elevate brand narratives as effectively as they can document individual experiences. Though they've only been publicly available for a short time, the product has the potential to revolutionize influencer marketing.
It's fitting that such a pioneering product came into existence under the direction of a Wolverine; U-M alumnus Steve Horowitz is VP of engineering at Snap. Inc. and is in charge of  the company's hardware product lines. A former SVP at Motorola, Horowitz has extensive experience with wearable tech and understands the requirements of bringing those technologies to a wider, more generalized audience. Snapchat CEO Evan Spiegel also understands the importance of making the product sleek and accessible. He understands that it has to look and feel like a product people use everyday: In a Wall Street Journal article announcing the Spectacles launch, Spiegel said  "It's about us figuring out if it fits into people's lives and seeing how they like it."
Well, the verdict is in.
Spectacles fits impeccably into UMSocial's strategy. We're confident that they will serve us well as our storytelling efforts continue to evolve.
Interested in Spectacles? Want to see how they work and what they can do? Check out our recent 'Spectacles 101' Snapchat Story!
This post was written by Sarah Barnitt, UMSocial senior intern. #StaySocial with her on Instagram and Twitter @sarahbarnitt