Recognizing over a decade of online content creation, the high-profile scrutiny of data privacy, and the enormous societal impact that platforms like Facebook, Twitter, Instagram, and YouTube wield, the University of Michigan's Social Media communications office (UMSocial) opted to once again set precedent in the field by hosting an inaugural State of Social event, bringing together some of the brightest minds in the industry to evaluate trends and strategy in this new year. Open to U-M staff, faculty, and students as well as the general public, attendees learned about  the latest trends in social strategy and pressing industry issues, and got a chance to expand their network of resources and best practices.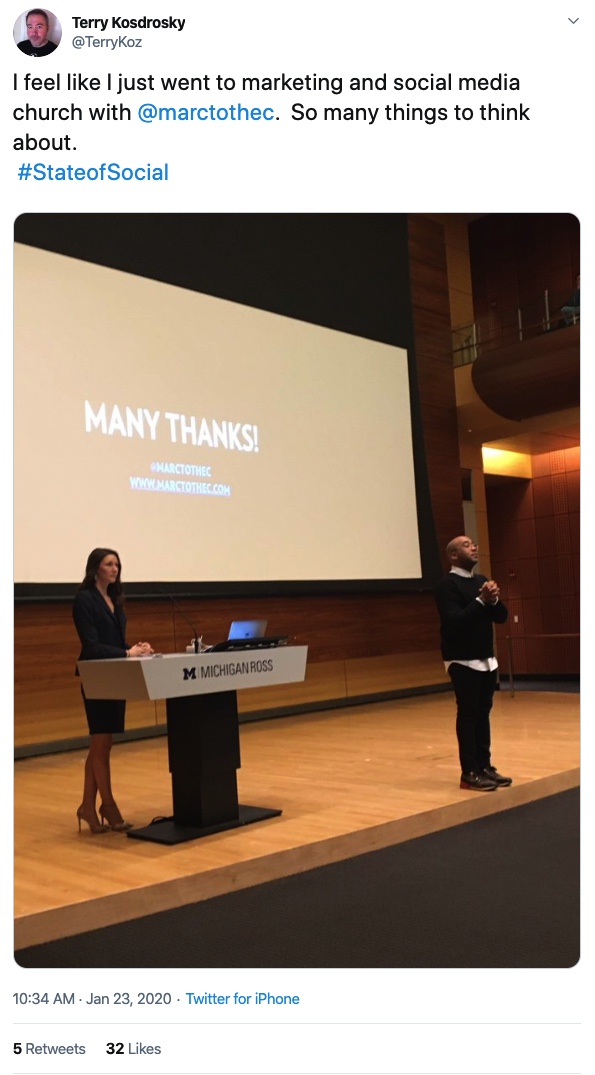 With more than 350 attendees filling the Robertson Auditorium at Michigan Ross on January 23, participants were captivated by three diverse and powerful presentations by compelling industry leaders: Eric Stoller, VP of Digital Strategy at Gecko Engage; Marcus Collins, Chief Consumer Connections Officer at Doner Advertising and Marketing Lecturer at Michigan Ross; and Eric Hultgren, Director of Social Media and Content Marketing at MLive.
"It was such an honor to be among such distinguished speakers and committed practitioners. The energy was high and extremely kinetic—as it should be for such a dynamic topic," said speaker Marcus Collins.
"The first State of Social was an incredible event from start to finish," said speaker Eric Hultgren. "I cannot recommend this event enough from the hospitality shown by the entire team to the format, and the large amount of information packed into a very manageable timeframe for most professionals. This event was simply fantastic, and to present alongside such inspirational humans made for a brilliant day."
The presentations included tips for engaging audiences through storytelling, the prominent role culture plays as a powerful marketing vehicle for brands, and how to improve social content strategy through planning. Among the topics discussed was the exploration of new platforms, such as TikTok, and the evaluation of audiences on often-overlooked platforms, like LinkedIn. The presentations led to enlightening discussions about the global impact of social media and industry best practices, with conference participants authoring over 500 live tweets, enabling the #StateofSocial hashtag to reach over 1.7 million online users.
"The State of Social was fantastic," said speaker Eric Stoller. "With attendees from all over U-M and beyond, the conversations and questions were some of the best that I've experienced at a higher ed event. This might have been a brand-new professional development opportunity, but I think it should definitely become part of a recurring social media series at the university." 
The event was designed to benefit the U-M community in addition to sharing insight with social media strategists and content creators from other institutions and industries. Approximately 75 percent of the 431 people registered for the event were U-M staff, faculty, and students.
"The U-M State of Social 2020 event was the most succinct and professionally enriching event I have ever attended," said Eric Shaw, Communications Specialist at the U-M Office of Research.
"The speakers were on point, knowledgeable, and spoke to the heart of what we strive to achieve at U-M. It was inspiring to know that we work in a professional environment at U-M where we have access to the leading practitioners in our field. The networking and engagement with other social media professionals on campus opened the doors to meaningful and lasting collaboration opportunities. The day went by quickly, was packed with great information, and I left with a mentally fresh perspective on what is possible."

Communicators and content strategists from across the three University of Michigan campuses found the event captivating and enriching.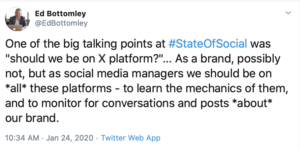 "The State of Social was a phenomenal event bringing together social media practitioners from across campus and the general public and connecting them with prominent thought leaders in this rapidly evolving landscape. Our entire Marketing and Communications team from the Center for Academic Innovation attended the event, which has prompted myriad exciting new ideas to grow our brand and social media presence inspired by the excellent keynote speakers. It was wonderful to see such a large and passionate community of social media professionals come together to network, learn, and grow," said Eric Joyce, Lead Marketing Specialist in the U-M Center for Academic Innovation.
Social media and communications professionals from other higher education institutions, including the University of Notre Dame, Michigan State University, Eastern Michigan University, and Grand Valley State University, attended the State of Social to hear from industry leaders about the latest social trends and tips for a successful strategy.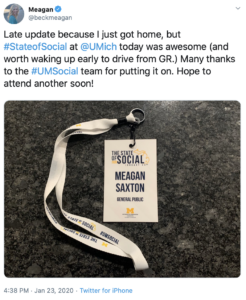 "This was a highly informative and fast-moving event," said Geoffrey Larcom, executive director of media relations at Eastern Michigan University. "The three speakers were dynamic and offered distinct, insightful, and often humorous perspectives on social media and how to maximize your organization's or group's impact. A terrific way to spend a morning in a great setting, and with some dandy networking time as well." 
Professionals from organizations outside higher education also found the conference useful and inspirational, and were impressed with the many ways they could apply the information shared in their work. They included representatives from the State of Michigan, local municipalities, K-12 school districts, convention and visitor bureaus, advertising agencies, and the healthcare industry.
"Each speaker was unique, intelligent, engaging, and left me inspired to do my job, and social media in general, better. A full day's worth of information packed into the perfect half-day," said Joseph Wesolek, engagement strategist at Beaumont Health.
"This event provided an exceptional opportunity to network, find inspiration, and connect with thought leaders," said Kelly Freridge, Chief Marketing Officer for the American Camp Association.
Digital marketing specialist Kelly Darcy said she found the State of Social relevant and useful to her work, which she explained as an "ever-changing field" that requires continuous learning and growing.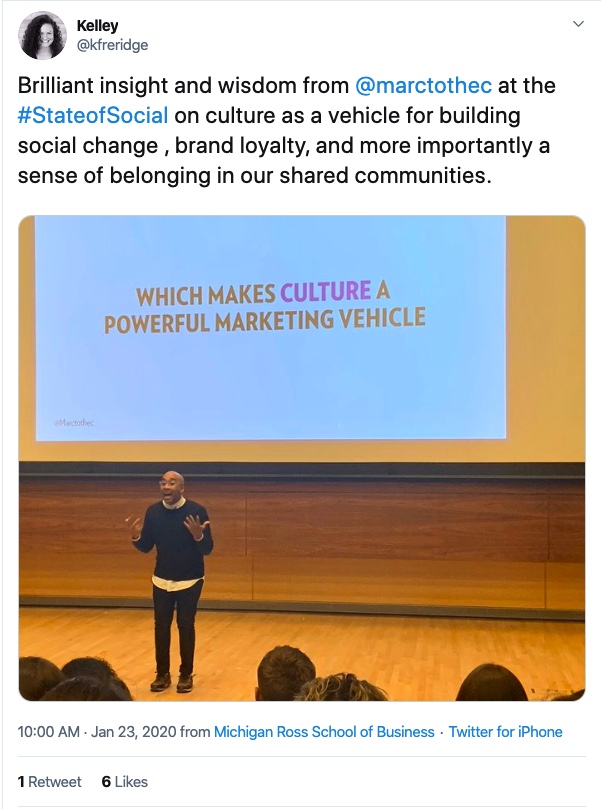 "This event was aimed to bring trends, best practices, and insights into the wacky world of social media management and digital branding. Whether you are a student, recent grad, or seasoned professional, the presentations given were insightful and unlike any other conference or summit I've been to before," Darcy said.
"The three panelists gave us variety and expertise and helped me look at social in new ways. Their advice was actionable, and I've already implemented a couple of tidbits. Attendees came from all over Michigan, and it really shows the reputation that we have here at Michigan, of being at the vanguard of social [media] and of thinking about where social is going," said Ed Bottomley, social media strategist at Michigan Medicine.
University of Michigan Social Media and Public Engagement Director Nikki Sunstrum was very pleased by the results and feedback on the event, "The success of the inaugural State of Social event is a clear indication of social media's continued prominence and promise as a strategic communications tool. I'm thrilled that UMSocial could once again assist in championing the value and impact of our industry and our place as an institutional leader in the field."
Collins also emphasized that the outcome of the State of Social demonstrates the significance of social media.
"The fact that the conference itself, on the topic of social, was promoted exclusively through social networking platforms goes to show just how powerful and important the topic truly is. Bravo to the #UMSocial team. I hope this is the first of more to come."