Arguably the MOST photogenic of all collegiate gathering spaces, this classic shot says 'I take academics and #aesthetics SUPER seriously.' And who could blame you? It's exuberant, it's dynamic, it's #iconic. Keep on 'grammin' that Diag. It never gets old.
Acai Bowl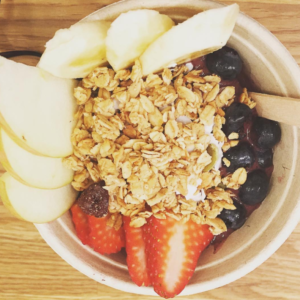 Pick your poison—Amers, Freds (RIP), homemade, whatever. This #superfood shot just screams 'I'm trendy AND I take care of myself.' With good reason: nothing says 'I'm nourishing my mind and body with wholesome and delicious food' like a pic of granola and fresh fruit. 'Gram on!
The Big House

Do we even need to elaborate? No better way to spend a Saturday than cheering on the Wolverines with 107,600 of your closest friends. #GoBlue

The Law Library

#MichiganorHogwarts? Yeah. We have a hard time telling the difference, too. No matter what: the Law Quad is definitely one of the most photogenic study spots on campus.

#GoBlue. If you didn't take a picture with a Michigan flag at an iconic landmark, did you ever really study abroad?

Ahh, sweet sweet coffee. An absolute essential for thousands of busy U-M students. Coffee is beautiful on it's own, but it's even better when it's a work of art. A masterfully crafted latte, americano, or cappuccino from one of Ann Arbor's dozens of coffee shops is always a hit on Instagram.

Friendly competition

For many Wolverines, the annual U-M vs. MSU rivalry football game is an opportunity to visit with our friends up at Little Brother College and determine who will get bragging rights for the year. No matter what the final score is, you can be sure that hundreds of photos will be posted to Instagram, all containing maize/blue AND green/white. The Wolverine victory just makes it all that much sweeter.

#HAILMichigan. The partnership between NIKE Jordan and Michigan Athletics is the perfect synthesis of legacy and innovation. Plus, this new gameday gear makes for one awesome Insta.

For those who leave Michigan, but for whom Michigan never leaves. Hundreds of alumni return to campus every year to relive their glory days; and no #hoMecoming is complete without an Insta to commemorate the event.

70 degrees on November 18, snow and freezing rain on November 19. Did you expect anything less? Michigan weather may be unpredictable, but true Wolverines secretly wouldn't have it any other way.