The year 2021 brought new challenges and delightful surprises for UMSocial and Public Engagement. Our team grew and evolved, as did the needs of our communities, both in person and online. Emphasis on public health messaging continued, elevating vaccinations became a priority, and the need to engage and educate our diverse audiences on critical topics and the impact of our institution grew significantly. Throughout the year, we continued to conduct and share transparent dialogues, engage with students using new platforms while making strategic updates to existing ones, and bring the campus experience to life for all Wolverines through reflective and inspiring videos. Major milestones like Spring Commencement, academic awards, new programming, and the start of the in-person fall semester were celebrated, while facilitating outreach and maintaining connections with the campus community. We also developed and emphasized key institutional messages, mitigated risk, answered questions with insights from faculty experts, and shared valuable resources to provide support and information as the pandemic and COVID-19 guidance evolved. Through our content and collaborations across the institution, and in partnership with higher education peers and state government colleagues, we navigated 2021 online with the same mission to empower and educate as we always have, and we look forward to doing the same in 2022.
Here some of our highlights from 2021:
CONVERSATIONS FOR CHANGE 
On June 4, nearly one year after the original Constructive Conversations for Societal Change, U-M leadership, faculty, and students gathered for a virtual conversation to reflect on the progress made in the past year and discuss the problems that still plague our communities and nation related to racism, violence, and inequality. 
M GO GRAD 
Spring Commencement brought extra joy to campus as some students were able to gather at Michigan Stadium to celebrate together. With the ceremony still being held virtually, and family and friends honoring graduates from all over the world, UMSocial created opportunities for students to interact and celebrate from anywhere. Through photo submissions, frames and lenses for social accounts, Zoom backgrounds, a graduation cap designs contest, video tutorials on how to wear a graduation cap, and so much more, the #MGoGrad experience was brought to life for all Class of 2021 Wolverines.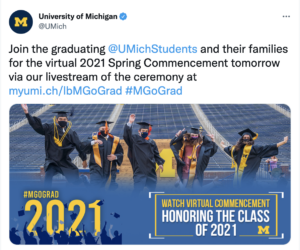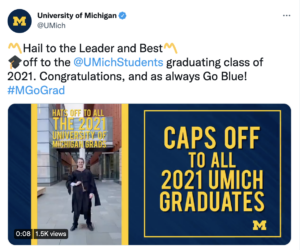 LEADING AND LISTENING
Transparent conversations with leadership are essential at the University of Michigan, especially when there are important messages to convey about keeping campus safe for everyone. Leading up to Homecoming weekend, U-M President Mark Schlissel talked with UMSocial student intern Cam Turner on a number of topics, including his excitement about the upcoming Homecoming events, his expert insights on the evolution of the COVID-19 virus, and the dedication of the campus community to staying safe and healthy. 
Many other U-M thought leaders also joined UMSocial to weigh in on various aspects of the fall semester through open dialogues such as this to continuously keep campus engaged and informed. Watch all the videos
WELCOME HOME 
The return of students to campus for fall semester—and many first- and second-year students coming to campus for the first time—was certainly cause for celebration. Through an array of content guiding students through what to expect, and a video welcoming everyone hoMe, UMSocial helped mark this monumental moment and make it even more memorable.  
BUILDING COMMUNITY
"Michigan students are known to be smart, talented, and willing to work hard. And over the past 18 months, you have also shown perseverance and resilience, exemplifying what it means to be Leaders and Best." – Provost Susan Collins
In September, U-M leadership welcomed incoming and returning students during move-in, convocation, and U-M Football's season home opener. An exciting time for everyone, UMSocial documented the first full week of fall on campus and produced a video and subsequent content reflecting on the significance of the moment and the challenges the campus community faced to get there.
UNDERSTANDING THE ASSIGNMENT 
Acknowledging the growing community on vertical video platforms like Instagram Reels and TikTok, UMSocial took to adopting trends with the goal of deepening engagement with our prospective and current student demographics. Our efforts to launch a more robust vertical video strategy complete with fun, impactful, and innovative videos featuring students and faculty from across campus has been met with significant praise.
EDUCATING AND INFORMING
Navigating the COVID-19 pandemic has presented challenges, but UMSocial, in collaboration with university leadership and public health experts, has been able to continuously provide updated health recommendations, mitigation measures, and resources for testing. Recently, the Centers for Disease Control and Prevention announced a new recommendation for all individuals 18 and older to receive COVID-19 booster shots. Through this UMSocial video, students shared their messages of encouragement to their peers and Associate Vice President of Student Life for Health and Wellness Dr. Robert Ernst offered details into the benefits and advocated for everyone to "Go Blue and Get Boosted."
CURATING CAMPUS
Carefully cultivating the visual identity of our campus community is a critical component of UMSocial's communications strategy. Through creative Instagram campaigns to celebrate commencement and new graduates, recognize the crucial role of diverse communities throughout history, or elevate and acknowledge our research and institutional impact, UMSocial sought to bring forth an multitude of innovative ways to showcase the beauty and breadth of excellence our campus offers for a wide array of audiences this year.


UNPRECEDENTED COLLABORATIONS 
What brings U-M and Michigan State University together? Student safety. 
Leading up to the U-M vs. MSU game in East Lansing, UMSocial teamed up with U-M Associate Dean of Students Sarah Daniels, MSU Assistant Vice President and Dean of Students Anthony Williams, Jr., students from both institutions, and Sparty to talk about safety tips for celebrating responsibly and respectfully.
GIVING THANKS
Friendships, opportunities to grow, and being a part of the Wolverine family are just a few things that U-M students are grateful for this year. Wolverines across campus shared with UMSocial what they were thankful for leading up to the Thanksgiving holiday. 
MICHIGAN MINDS
Leading up to Veterans Day in November, a student cadet and faculty who work directly with veterans through legal services and mental health care outlined the importance of observing Veterans Day and what our community can do to demonstrate their gratitude for those who have served.